MGM By The Numbers: Springfield Casino Opens With A Flourish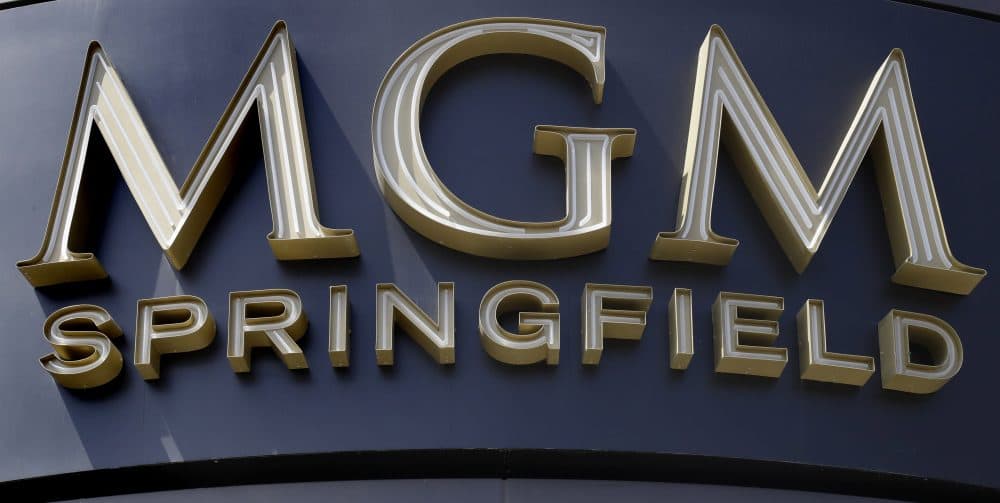 This article is more than 2 years old.
Massachusetts' first resort casino with expansive gambling and entertainment options is opening Friday with a Las Vegas-style flourish.
A procession through downtown Springfield will kick off with Budweiser Clydesdale horses and other entertainment in the morning.
Doors officially open 11 a.m. at the casino, hotel, entertainment and retail complex, which is considered the first of its kind in Massachusetts.
Plainridge Park, a more modest slots parlor south of Boston, has been open since 2015 and Wynn Resorts promises to open a $2 billion casino development just north of Boston next year.
The Native American tribes that operate Connecticut's Foxwoods and Mohegan Sun resorts also are proposing a Hartford-area casino to directly compete with MGM Springfield.
Here is a look at some of the game-changing MGM casino's numbers:
7: Years since Massachusetts legalized casino gambling in 2011, paving the way for MGM and other casino companies to seek state gambling licenses.
3 years and 5 months: Amount of time from the project's March 24, 2015, groundbreaking to its official Aug. 24 opening.
$960 million: Total project budget, which came in higher than the early estimates of $850 million.
3,000 people: People employed on opening day.
35 percent: Number of those who are Springfield residents.
$25 million: The amount Springfield is expected to receive annually from MGM once the casino opens its doors. (The city also received a $15 million upfront payment from the company.)
14.5: Roughly the number of acres the development covers, or about three city blocks.
250: Rooms in the casino's five-floor boutique hotel.
2,550 and 120: Number of slot machines and table games, respectively, on the casino's 125,000-square-foot gambling floor.
200 yards: Roughly the distance a more than 130-year-old historic brick church was moved to accommodate the casino development. It now anchors the casino's public plaza.
$25,000: Cost of an "Indian Sidecar" at the casino's Commonwealth Bar. The drink is made with a cognac from 1901 and an actual motorcycle by Indian Motorcycle. The company was founded in Springfield in - you guessed it - 1901.
4 a.m.: Last call for alcohol, at least if you are still gambling. Casino bars and restaurants will still honor the state's 2 a.m. cutoff.
1891: The year basketball was invented in Springfield by gym teacher James Naismith. The sport's local roots figures heavily into the casino's sports bar, Tap.
2: Number of U.S. presidents who stayed at the historic Chandler Hotel, the facade of which was incorporated into the casino's steakhouse. The presidents were James Polk and James Buchanan, the nation's 11th and 15th presidents, respectively.