A New Bill Could Allow Bird, Uber And Others To Bring Scooters Back To Mass.
Massachusetts state Rep. Michael Moran plans to file a bill this month that would exempt electric scooters from a law requiring turn signals and brake lights, paving the way for a possible spring pilot program. The measure could make the small, dockless vehicles available for rent throughout Greater Boston.
Since last summer's brief — and unauthorized — deployment of scooters in Cambridge and Somerville by Bird, the list of companies interested in operating fleets in Greater Boston has grown to include Uber, Lyft, Lime, Razor, Spin and BeeScoot, according to the Metropolitan Area Planning Council (MAPC).
The MAPC has begun to convene transportation officials from Boston, Cambridge, Somerville and Brookline — the four cities that participate in the Bluebikes bike-share program — about twice per month to coordinate a potential scooter-share experiment.
But putting scooters, as currently constructed, on public streets would require action by the state Legislature. A law passed more than a decade ago requires motorized scooters to be outfitted with brake lights and turn signals. The vehicles made by the companies hoping to do business in Massachusetts do not meet the standard.
"It's another alternative means of transportation, which we all want to see out there," said Moran, a Democrat who represents parts of Boston and Brookline. "The more options people have, the better."
While Moran's bill would remove the turn-signal and brake-light requirements, it would impose new mandates. Scooter companies would have to carry insurance, and would pay taxes of $0.20 per ride. The money would be shared equally between the state and the city in which a scooter is rented.
"The devil is going to be in the details," said Scott Mullen, Lime's Northeast general manager, noting the bill remains in draft form and has not yet been filed. "What does he mean insurance? Per-ride fees: We're not necessarily against that. ... We're going to be following this very closely and being as involved as we can be to make sure whatever comes out is something the region will benefit from.
"We have to get this right, meaning companies need to be able to operate sustainably and be able to come to the region and provide our services."
It is unclear whether Moran's bill will garner enough support to pass. Shortly before Moran's chief of staff confirmed the plan to file, in response to a WBUR inquiry, the MAPC's director of government affairs, Lizzi Weyant, said the council had not yet found a champion in the State House.
One prospective ally, Assistant Senate Majority Leader Patricia Jehlen, who represents Somerville and part of Cambridge, rebuffed the council.
"We were made aware that MAPC is looking for legislative sponsors," said Tara Smith, a spokeswoman for Jehlen, "but Senator Jehlen is not planning to sponsor the bill to make the legislative change at this time."
Boston City Councilor Matt O'Malley, who favors a scooter-share program, suggested at a public hearing in September that a change to the law would come easily.
"I know several state senators — including Sen. Joe Boncore, who represents part of Boston — have said we should remove that" turn-signal and brake-light requirement, O'Malley said. "They're willing to do legislation that will carve out electric scooters."
In recent days, however, Boncore did not respond to WBUR inquiries about his plans. And an O'Malley spokesman said only that there are "some rumblings about micromobility legislation on Beacon Hill," tempering the councilor's previous remarks.
Other state lawmakers are noncommittal.
"I'm not sure what we should do in the scooter space," said Sen. William Brownsberger, who represents part of Boston.
Brownsberger hosts a legislative planning meeting Monday that will include Cambridge Vice Mayor Jan Devereux, who favors a scooter pilot.
"This may be an agenda item," Devereux said, "along with bike safety."
Brownsberger said the meeting is "more focused" on bike safety but said "there is an overlap [with scooters], and perhaps it will come up."
A spokeswoman for Sen. Sal DiDomenico, who represents part of Cambridge, said, "I am not aware of any conversations our office has had with the city of Cambridge, in terms of what legislative changes they are looking for. However, our office would certainly be open to hearing their concerns and listening to their suggestions."
At public hearings in Boston and Cambridge last fall, some city councilors said they believe the existing law was intended to regulate mopeds, not the lightweight, stand-on scooters that have become popular among riders — and investors — only recently. Yet no city has been willing to issue permits for scooters that fail to comply with the law.
Scooter companies appear reluctant to add the required features, especially the blinkers.
"You've got a brake in the left hand, you've got an accelerator throttle in the right hand; how do you control those directionals?" Lime's Mullen asked in a WBUR interview in September.
The MAPC last month hosted a private meeting with representatives of the seven firms that want to operate in Greater Boston; a recurring argument was that additional features may be impractical, said Kasia Hart, the council's transportation policy and planning specialist.
With no imminent scooter redesigns, Beacon Hill will likely determine the fate of a spring pilot program.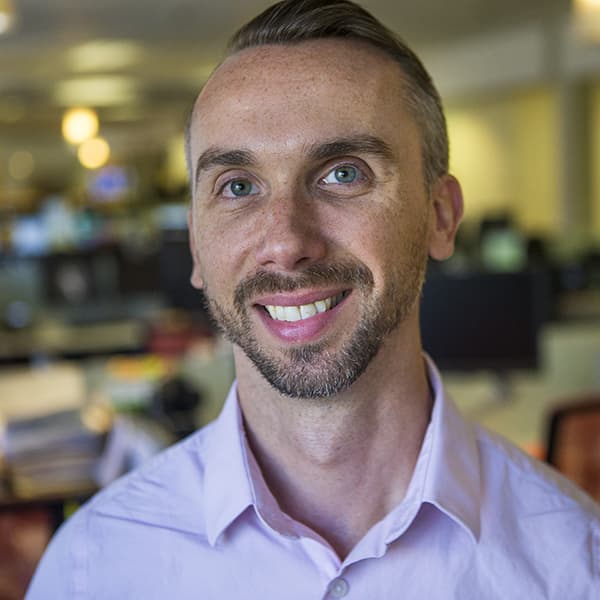 Callum Borchers Reporter
Callum covers the Greater Boston business community for Bostonomix.