Schumacher's Fall: A Heavy Price For Taking Too Great A Risk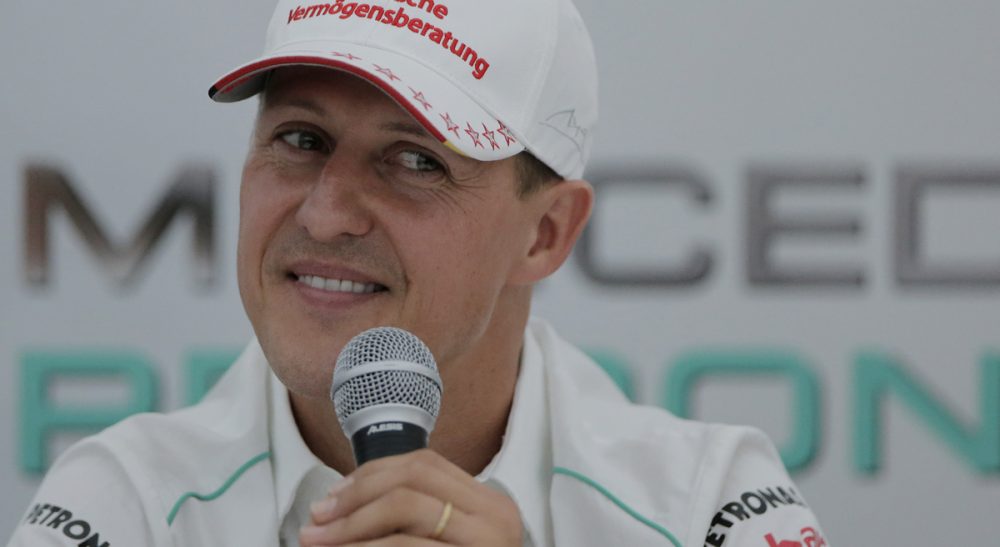 This article is more than 6 years old.
I have been skiing most of my adult life. I covered World Cup races at Waterville Valley and cross-country skiing at the 1980 Winter Olympics for the late, great United Press International.
I thought I was familiar with most ski terms, from the old standards like T-Bar and Black Diamond to the newer ones more in line with snowboarding. But until former Formula One racing icon Michael Schumacher was seriously injured skiing just before New Years Day, there was one I had never seen: off-piste.
That is the French phrase that has been used to describe where Schumacher was skiing when he fell and hit his head on a rock, forcing doctors to put him in a medically induced coma from which he has not awoken. He is still in critical condition.
Where do you draw the line between the obvious, immediate feeling of sadness for the victim and his family, and the eventual, from-the-gut feeling of rage that it was all so preventable? How do you balance those?
The phrase sounds so innocuous — off-piste. But it is a dangerous and, as we have seen, fatal phrase because it means off trail. That is where 45-year-old Schumacher was skiing when he was hurt.
Was it a tragedy? Of course it was. But was it an accident? No, it certainly was not. He made the decision to veer off the beaten, groomed, marked path to venture into areas where one is not supposed to go — and he has paid a heavy price.
I keep waiting for someone on the national news broadcasts in the United States to mention this rather important factoid when Schumacher's story is read. Never happens. They mention he was skiing with his teenage son. They mention he hit his head on a rock. They mention that he was wearing a helmet. They never, ever, say that he was skiing where he shouldn't have been skiing.
The redoubtable, Paris-based Eleanor Beardsley of NPR reported on the Schumacher situation, but then added the following.
"His accident has dominated news coverage across Europe. German Chancellor Angela Merkel is said to be deeply shocked by Schumacher's injury. But Schumacher's is not the only ski accident victim this year. In the last week, nine people, including a 15-year-old boy, have died in the Alps. Like Schumacher, they were all skiing off-piste — that is, away from marked and groomed runs."
(Recently, Merkel herself was injured cross-country skiing, fracturing her pelvis. She apparently was not going off-piste.)
Nine fatalities in one week! Five of them were in one day across the French and Italian Alps. The 15-year-old boy was killed after being swept away by an avalanche. Two Italian snowboarders, ages 30 and 33, were also killed when an avalanche carried them more than 300 feet down a mountainside.
In the U.S., the late Sonny Bono is one of the most well-known off-piste skiing casualties, slamming into a tree at a Nevada ski resort. People do it all the time, especially in Europe.
"Skiing off-piste well away from prepared runs (and the crowds upon them) is the essence of the sport,'' British ski writer Peter Hardy wrote after the Schumacher tragedy. "No feeling on earth can match the enjoyment of a descent in deep powder with friends on a perfect blue-sky morning. But it is essential to remember that — like the sea — conditions in the mountains can occasionally be both unpredictable and dangerous in the extreme. Avalanches, hidden crevices and rocks — as we have seen with Michael Schumacher's accident — all come in to play."
The essence of the sport? All come in to play? What is this man thinking?
Where do you draw the line between the obvious, immediate feeling of sadness for the victim and his family, and the eventual, from-the-gut feeling of rage that it was all so preventable? How do you balance those?
I'm sure Schumacher's family isn't thinking about the race car driver's horrible judgment lapse. But, down the road, they should. Because while it's irresponsible and impossible not to feel for the family, it's just as irresponsible and impossible to neglect to note that the whole thing should never have happened.
Schumacher made a conscious, personal choice to go off the marked path, even if it was a short, unmarked path to another marked trail. No one made him do it. He has spent his entire adult life pushing the proverbial envelope, whether on a Formula One race course or on an unmarked trail in the French Alps.
Maybe to him it was no more risky than a high-speed, angled turn at Monte Carlo or Monza. He never had much trouble with those. Then again, he wasn't driving off-piste.
---
Related: