Caring For The Survivors, Caring For Ourselves
They've gotten Boston Strong tattoos, sought treatment for PTSD, written songs and essays, and told their stories to reporters, friends and loved ones. They've done yoga, checked dreams off their bucket lists and developed friendships with the patients they treated. For many of the medical professionals who cared for the survivors, these activities have helped them process the intense emotions they experienced after the Marathon bombings. But what we have discovered is how much healing is yet to be done.
Beginning last October, the Schwartz Center for Compassionate Healthcare and the Conference of Boston Teaching Hospitals held eight sessions — called Schwartz Center Rounds — for the hospital staff, Boston Athletic Association volunteers and first responders who treated the bombing victims. Our goal was to provide a confidential forum for them to express their emotions and do some collective healing. More than 300 people attended these sessions — the last one was on April 9 — and for many, the feelings are still raw.
People who don't work in health care may be surprised to know how much we worry and suffer when our patients suffer.
The dominant emotion expressed at these forums was guilt: guilt that they hadn't done enough at the scene, that they hadn't asked survivors their names as they triaged them, that they weren't trained in trauma care or that they had left before the bombs exploded and opted not to return to the scene. One social worker said she sat in the emergency room with the family of one survivor, feeling totally inadequate. "I didn't know what to say. I feel like I didn't do enough, didn't say enough. I just sat and cried with them," she recounted. She was one of many caregivers who wept as they told their stories.
The guilt and feelings of inadequacy are not surprising. People who don't work in health care may be surprised to know how much we worry and suffer when our patients suffer. It's part of our DNA. And while we often set aside those emotions in order to do our jobs, they don't go away. Empathy and compassion sometimes spill over into personal distress. It's then that health care providers have to take care of themselves so they can continue taking care of others. We were impressed by the many things Marathon caregivers are doing to heal themselves. Importantly, they are continually reminding themselves that every person who was transported from the bombing scene to local hospitals survived.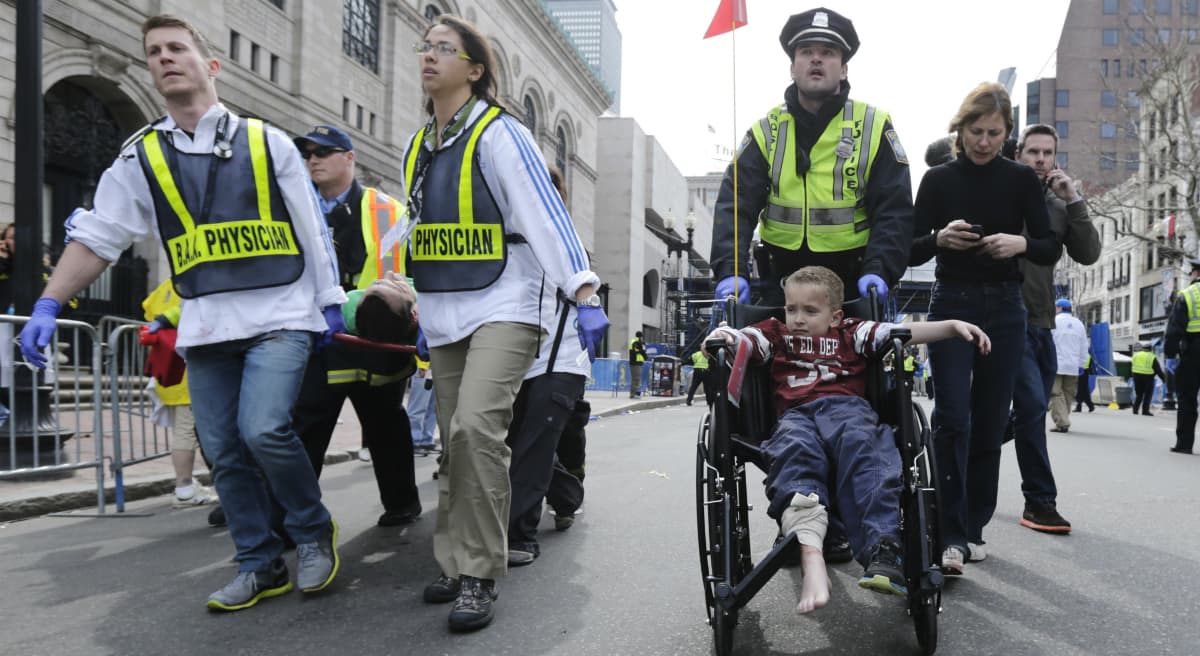 People also spoke about the incredible cooperation they witnessed at the bombing scene among caregivers — who in many cases had never worked together before — and afterwards in local emergency rooms. "We found an amazing machine in the medical tent," said one ER doctor. "It was very chaotic, but very organized. It was a profound feeling of community." Some hospitals have gone on to institutionalize the spontaneous collaboration that occurred after the bombings, including Boston Medical Center, where departments — from surgery to physical therapy to social work — are working together more closely than ever before.
This week's anniversary has re-triggered feelings some caregivers thought they had worked through months ago. People have shared feelings of sadness and anxiety, especially in the wake of the recent deaths of firefighters Michael Kennedy and Edward Walsh. As one first responder at a recent session put it: "As EMTs, we keep walking into the same thing. For many of us, it hasn't healed. It's still raw."
The dominant emotion expressed at these forums was guilt...
Despite the trepidation, many attendees said that they are returning as medical volunteers for the April 21 race. And some are even running the Boston Marathon for the first time — as a way to conquer their fear, honor their patients, fulfill a life-long dream and for a host of other reasons.
So many of our patients are frightened by their illnesses or injuries, unsure of what the future holds and intimidated by a medical system that can be impersonal, fragmented and overwhelming. As clinicians, it's our job to care for all patients with compassion, all the time, every time, regardless of what brought them to us.
---
Related: