Who Cares Why Jill Abramson Was Fired, Why Wasn't Arthur Sulzberger, Jr.?
So many, many reasons to fire that pushy, bossy, mercurial, condescending, divisive, polarizing Jill Abramson from her perch as the first female executive editor of The New York Times that I hardly know why we are even discussing it.
Abramson apparently angered the male subordinate who now succeeds her by offering a woman an editing job on par with his own without consulting him. So disrespectful.
She allegedly objected to being paid less than her male predecessor. So presumptuous.
She reportedly developed much too high a profile outside the office, appearing on television and professional panels without her publisher's express approval. So self-aggrandizing.
[Sulzberger] has racked up a record of incompetence and mismanagement that is hard to duplicate, even in the disastrous world of modern newspaper publishing.
And, way off the record, a lot of unnamed reporters think she is, you know, kind of a bitch.
So predictable.
The full story of Abramson's dismissal will spill out in the next few weeks despite the publisher's curiously censorious directive that corporate silence prevail; no organization leaks more copiously than a newspaper.
But anyone who has spent any time inside a newsroom knows that the stunning revelations we have heard already about Abramson's management style are just too damning to countenance. An editor who makes unilateral hiring decisions? Who actually reads the newspaper's editorials on pay equity? Who is demanding and occasionally ill tempered? Who goes on Charlie Rose without a permission slip? Unprecedented.
The Times won only eight Pulitzers during Abramson's three-year tenure as executive editor, underscoring her obvious unsuitability for the top job at the world's most important newspaper but perhaps raising a more confounding question: How is it that Arthur Sulzberger, Jr. has not been fired as publisher of The New York Times?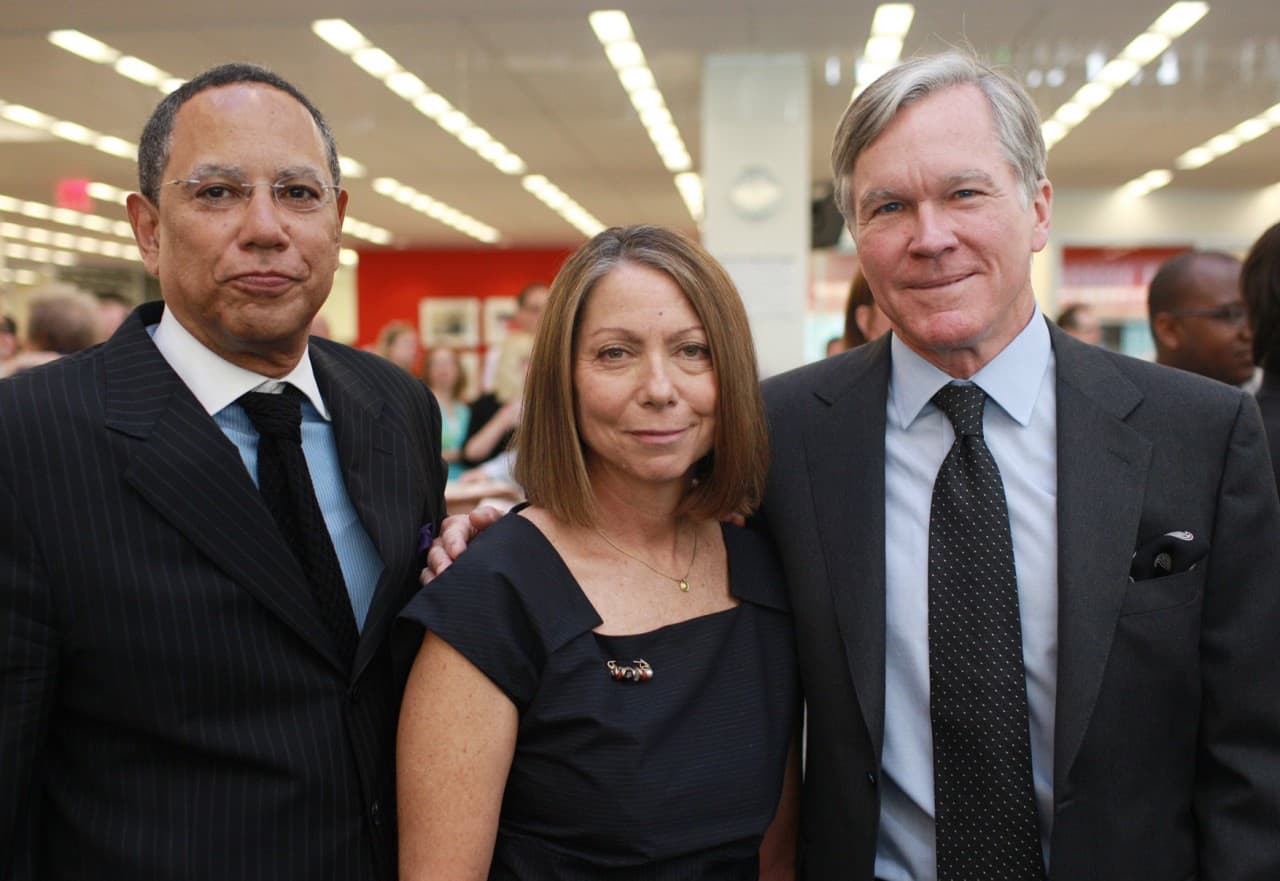 Ever since Young Arthur, now 62, succeeded his father, Arthur Ochs Sulzberger, as publisher of The Times in 1992 and as chairman of the company in 1997, he has racked up a record of incompetence and mismanagement that is hard to duplicate, even in the disastrous world of modern newspaper publishing.
A quick review:
Abramson, 60, is the second executive editor Sulzberger has personally selected and then summarily fired in the last 11 years, the first in 2003 following the worst plagiarism scandal in Times history.
In 2011, allegedly on the advice of his new girlfriend, he abruptly fired Janet Robinson after she had served six years as his chief executive officer and loyal lieutenant. The $14 million payout to Robinson surely softened the blow but should have enraged stockholders.
His newspaper now leases back space in the $850 million Manhattan skyscraper he helped build in 2007 when his company's stock was in freefall.
He made billionaire Carlos Slim even richer when he borrowed $250 million at extortionist interest rates in 2009 to stave off bankruptcy.
That same year, he threatened to shutter The Boston Globe, which the Times had purchased for $1.1 billion in 1993, if the newspaper's unions did not buckle to his demand for wage and benefit concessions. He then dumped the Globe last year in a fire sale to John Henry for less than $70 million.
Only last month an internal report by a committee led by his own son and Times reporter A.G. Sulzberger excoriated the company for its lax response to the challenge of digital publishing.
Does the buck never stop at Pinch's desk?
Because the Ochs-Sulzberger family controls the New York Times Company through a special class of stock, lesser shareholders have had little influence on the publisher's continued, ineffectual presence in the executive suite he occupies thanks to nepotism alone.
It is long past time for those stockholders to revolt. I mean, if it wouldn't be too pushy.
---
Related: