The Ultimate Christmas Playlist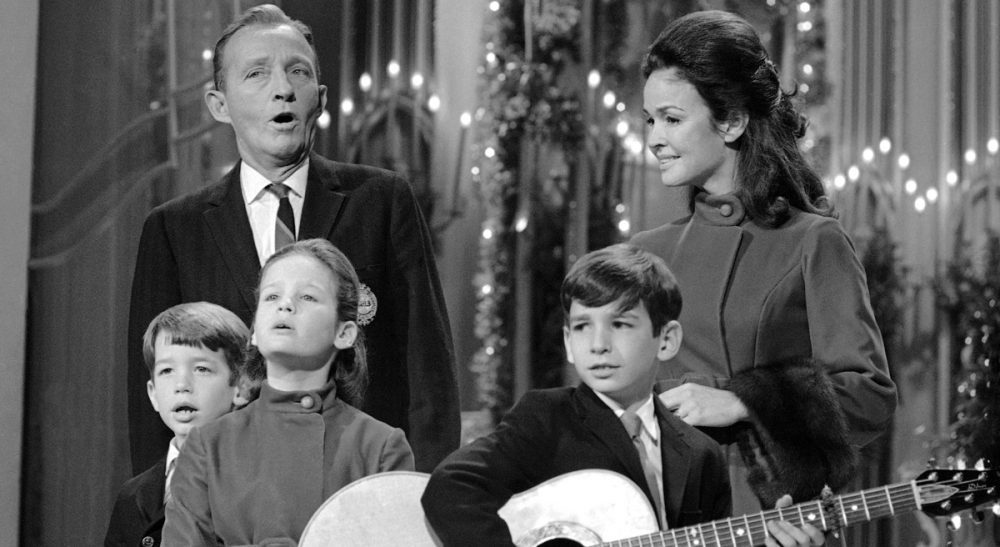 This article is more than 5 years old.
Every year at this time, I crank up Pandora to the "Christmas Memories" station for an unending stream of holiday music. I always think to myself, who is doing the programming? Why am I hearing Jo Dee Messina? The Eurythmics? Ariana Grande?
With that in my mind, here's a totally biased list of what songs should be on every loop of Christmas music on every station, streaming or on your car radio. I have not included Christmas carols; after all, how hard it is to ruin "Silent Night?" I also may have missed one or two, but these stand out in my mind.
"White Christmas" — Bing Crosby
Duh. This is the Secretariat-in-the-Belmont of all Christmas songs. It's so good it was included in both "White Christmas" and "Holiday Inn." Any person in charge of Christmas music programming who includes any other version of White Christmas should be fired.
---
"The Little Drummer Boy" — Harry Simeone Chorale
Even though this song was recorded in 1955 by the Trapp Family Singers (yes, that Trapp Family from "Sound of Music") the 1958 version by Harry Simeone and his chorale is stunning. It balances the low "rum-pum-pum-pum" with the high-pitched "I played my drum for him" and other lines. No one does it better.
---
"Winter Wonderland" — Johnny Mathis
Mathis would also make an appearance on this list for "O Holy Night" but I regard that as a carol. Countless versions of this song — including one by, ahem, the aforementioned Eurythmics — have been recorded, but this one stands the test of time. It's tailor-made for Mathis.
---
"The Most Wonderful Time of the Year" — Andy Williams
The late, great Mr. Williams has two on this list — and could have more for he was the quintessential holiday songmaster. And, for people of a certain age, his Christmas show on television with all his family was must-see viewing. Staples has used the second song for its back-to-school ads.
---
"There's No Place Like Home For The Holidays" — Perry Como
The man born Pierino Ronald Como sang this song so well that he recorded it twice, once in 1954, where it reached No. 8 on the billboard charts, and again in 1959. Como also could argue for a spot on the Mt. Rushmore of holiday music singers for he handles all of them beautifully. But this was his most famous.
---
"Have Yourself A Merry Little Christmas" — Frank Sinatra
Like you could have list of Christmas songs and not have one from old Blue Eyes? Judy Garland first sang it in the 1944 MGM musical "Meet Me in St. Louis." Sinatra recorded it in 1957 after the writer changed "until then we'll have to muddle through somehow" to "hang a shining star upon the highest bough" to make it more Christmas-y.
---
"Grown-Up Christmas List" — Barbra Streisand
How can Streisand not be on any list of great songs? With that voice?
---
"Do You Hear What I Hear?" — Bing Crosby
This song was written in 1962 as a call for peace during the Cuban Missile Crisis. The Harry Simeone Chorale first recorded it in 1962 and Crosby added his famous touch to it in 1963. Countless others followed but the Binger's version remains the most played and most familiar.
---
"Jingle Bell Rock" — Bobby Helms
I can still remember my sister having the 45 version of this hit when it came it out in 1957 with Helms on vocals. No one has done it better since. Helms was mainly a country singer and he had another 1957 hit, "My Special Angel," which topped the country charts (and was later covered by the rock band The Vogues.)
---
"Santa Claus is Coming to Town" — Bruce Springsteen
I didn't like this when I first heard it but have since done a 180 on the Boss' version of his classic. This live performance in 1975 blends Springsteen's different take on the song — which is why it stands out — with deep, bass interjections from the late, great saxophonist Clarence Clemons.
---
"Rockin' Around The Christmas Tree" — Brenda Lee
Lee recorded this song in 1958, so it has been a keeper. It got noticed again by a whole new generation as part of the 'Home Alone' soundtrack in 1990, when Kevin played it to make the prospective burglars think there was a party going on at his otherwise unoccupied house.
---
"The Christmas Song" — Nat King Cole
Better known as "Chestnuts Roasting on an Open Fire," this song is joined at the hip to Cole, who first recorded it with his trio in 1946 and whose 1961 version of the same is the one that we usually hear at this time of the year. Again, any programmer who plays this song sung by someone else? Fired.
---
"All I Want For Christmas Is You" — Mariah Carey
I personally tilt to the version by Olivia Olson (Joanna) in "Love Actually," who was 10-years-old when she did it. But this song has Carey's DNA all over it; she also co-wrote and co-produced the song. It was released as a Carey single in 1994 and quickly spawned two music videos. Wonder what Irving Berlin would think of that?
---
And Others . . .
"Merry Christmas, Darling" -- Karen Carpenter
"Feliz Navidad" -- Jose Feliciano
"Silver Bells" — Bing Crosby
"Frosty The Snowman"  —  Gene Autry
"Rudolph The Red-Nosed Reindeer" — Burl Ives
"Sleigh Ride" — The Boston Pops
"The Chipmunk Christmas Song" — The Chipmunks