Did Mitt Romney Make A Gentleman's Agreement With Jeb Bush?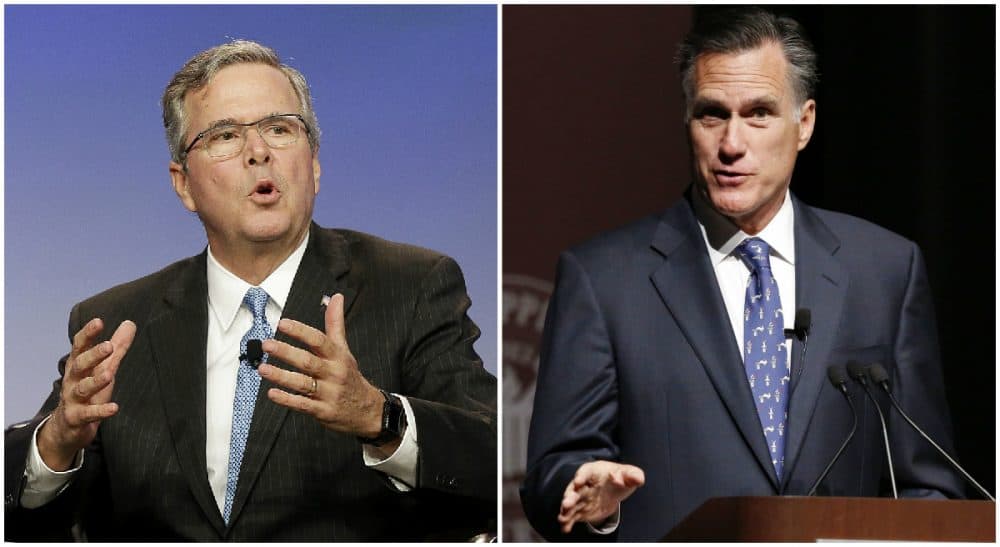 This article is more than 6 years old.
Notwithstanding Mitt Romney's self-effacing demurrers, his third quest for the White House seemed a foregone conclusion way back in June 2013.
Mitt's rather abrupt and perhaps hasty departure Friday from the 2016 presidential sweepstakes caught many by surprise: family, confidants, journalists (including me) and pollsters.
It shouldn't have.
The big question: Is this Mitt Romney's last hurrah? The timeline for the past two months offers some insights into what may have led to Friday's decision, and, importantly, what may lie ahead for Republican and Democrat contenders in 2016.
Consider the following: 
Pre-Christmas 2014: Romney advisors say he has not yet made up his mind, family members say otherwise.
16 December: Jeb Bush announces that he is exploring a presidential run.
Late December: Team Romney straps together repositioning scenarios — Mitt as populist, focused on the needs of the poor, more open and pastoral. Advisors suggest competition could be stiffer than in 2012. Presumably some of these advisors include those who persuaded him to withdraw from the 2008 race instead of provoking a floor fight at the Convention. Major donors are pressing him to run but warning the window of opportunity could shut within 30 to 60 days.
7 January: Mitt meets important allies and key advisors in California. Bush is attracting senior party operatives with ties to Romney including campaign finance lawyer Charlie Spies, who served as counsel to Romney and co-founded the super PAC that backed his 2012 White House bid. Spies set up two PACs  supporting Bush's new political operation, announces an ambitious schedule of events with former Romney backers.
9 January: Romney attends a private gathering of donors hosted by Woody Johnson, owner of the New York Jets, and other key supporters.
13 January: Romney quickly reassembles his political team. He seems ready to launch on schedule within a week or two, as projected.
16 January: Mitt speaks in San Diego at Republican National Committee winter meeting. His tone is fresh and amiable, he lays out his people agenda for 2016. For the first time ever, he discusses his pastoral service as a bishop for the Mormon Church. The authentic Mitt returns.
21 January: Bush and Romney both shun the archly conservative Americans For Prosperity meeting in Palm Springs, California.
22 January: Mitt and Jeb meet in Utah to talk about 2016. Neither reveal what was discussed. Both have very similar, politically moderate constituencies and are interested in inequality and strengthening the middle class. Confidants of both men say that Bush and Romney are trying to get a better sense of where each other stand organizationally, politically and personally, especially in Romney's case. Bush associates aren't convinced Romney is serious about running. A cooperative agreement is hatched along the lines of let's not divide the party. Various "what if" scenarios are discussed.
26-28 January: Some of Mitt's key backers say (through newspapers in Salt Lake City) they are drifting to Bush, wax wistful about Mitt although, as one family member tells me, they are kind of "barf" on concepts defining the New Mitt.
28 January: Mitt speaks at Mississippi State University, discusses his mistakes in 2012 and describes his agenda for 2016: fighting poverty and inequality, strengthening foreign policy and creating more economic mobility.
29 January: David Kochel, a former key Romney staffer, joins the Bush team.
29 January:  Mitt announces he will make a decision by Friday. Clearly someone was pressing. And it wasn't Mitt's wife, Ann. "She, more than anyone, wanted this one to happen," a relative says.
30 January: Early in the day, Mitt withdraws from the race despite favorable poll numbers and reasonable financial support in place.
The roster of Romney backers that shifted to Bush over the past month is deep. It includes several heavy-hitters like Dirk Van Dongen, who praised Bush for his goal to rebuild the middle class.
Will Romney's loyalists join the powerhouse Bush team, ensuring that a moderate gets the party nomination? The answer may come out of a fundraiser February 18th in Chicago, arranged by Lisa Wanger, Romney's Midwest campaign finance director who raised $25 million in 2012.
Right now, other prospective Republican candidates may be reassessing their options for 2016. No doubt Democrats may be edgy too.
Epilogue: An always reliable family member suggests: "Jeb and Mitt met in Salt Lake. It wasn't small talk. Clearly they talked over some 'what if' scenarios. Don't be surprised if Mitt is Jeb's running mate."
Could be. Or, of course, it could have worked the other way too.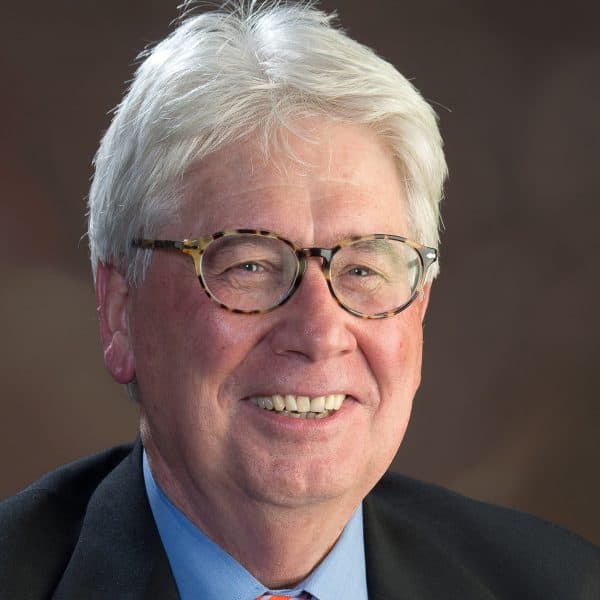 R. B. Scott Cognoscenti contributor
R. B. Scott is a journalist and author of the biography "Mitt Romney: An Inside Look At The Man and His Politics" and a novel about growing-up Mormon, "Closing Circles: Trapped In The Everlasting Mormon Moment."