Video Games Should Be Included In The Olympics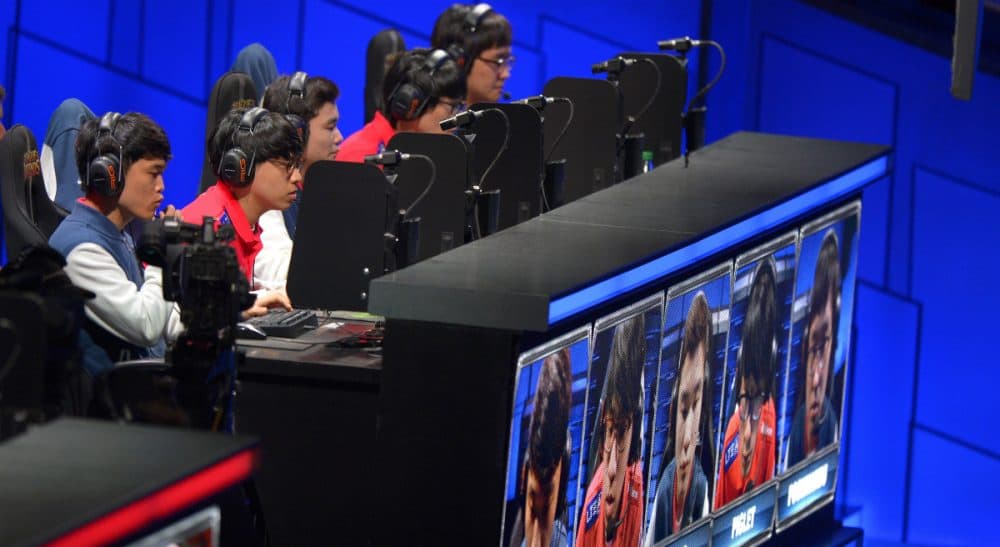 This article is more than 7 years old.
With Boston officially the U.S. Olympic Committee's choice to host the 2024 Summer Olympics, and officials' plans for how the city might pull it off now public, it's time to raise a more pressing question.
If riflery and curling can pass muster as Olympic sports, why not video games?
Over its history, the International Olympic Committee's thinking on what constitutes a medal-worthy sport has proven inconsistent. Remember those nail-biting, international competitions in croquet and Jeu de Paume? How about the grueling showdowns in underwater swimming, the standing high jump and the dueling pistol? I didn't think so.
With these obsolete games in the rear view mirror, the matter of video games at the Olympics deserves serious consideration down. It's a notion that's been raised before, most recently by a former chief creative officer for Blizzard, the company behind the online role-playing game "World of Warcraft."
If riflery and curling can pass muster as Olympic sports, why not video games?
The idea is as not as far-fetched as you might think. Like other Olympic events, digital gaming requires concentration, rapid reflexes, strategy and endurance — not to mention countless hours of training.
Besides, "the Olympic Charter does not provide a clear definition of a sport." And that's according to the IOC's own Olympic Programme Commission. Theoretically, any competitive activity can qualify, as long as it's not what the IOC calls a "mind sport," like chess or card games. This is why no one gets a gold medal in poker.
Also, sensibly, any sport that relies on "mechanical propulsion," such as automobile racing or power boating (once an Olympic sport, believe it or not) is prohibited. But sports requiring devices or machines to compete, like cycling, aren't disqualified. Following this logic, video games shouldn't be banned just because gamers need an Xbox 360 to play them. Plus, if a mostly artistic sporting event like rhythmic gymnastics (added in 1984) is Olympic-worthy, why not a video game that requires just as much finesse and agility? Point being, what is a sport, what is a hobby, what is a pastime, and what is an art form can be more than a little subjective.
Besides, Olympic sports are supposed to have "universal" appeal to be admitted by the IOC. Hence the reason American football does not quality — sorry, Tom Brady. For a new sport to make the cut, it must have a "higher level of global participation and interest than sports currently in the Programme." This is actually a strong argument for video games to be included.
Tastes change. These days, lots of people play video games. Certainly they outnumber those who practice rhythmic gymnastics.
The Olympics have reflected how trends and popularity of various sports have waxed and waned over the ages. Archery debuted at the 1900 Olympic Games, but was removed from competition from 1920 to 1968 before being reinstated for the '72 games. Discontinued sports like golf and rugby are due to return in 2016. And if you really want to make your head spin, consider baseball: America's favorite pastime was "in" from 1992 to 2008, out for 2012 and 2016, but athletes will again play ball in 2020.
Video games certainly meet that "higher level of global participation" threshold. (I'd wager that more people worldwide probably play "Call of Duty" than baseball and archery combined.) They are also well-established spectator sports with millions of fans. Gamers can earn a good living, and "e-sports" are supported by professional organizations and competitions. In some countries, South Korea for example, gamers are revered as LeBron James or Serena Williams. In 2013, in a ground-breaking move, the U.S. government decreed that players of the multiplayer online battle arena video game "League of Legends" are indeed professional athletes; the government now awards foreign nationals visas so they can enter the U.S. to compete in tournaments.
And yet none of this has persuaded the IOC.
Here's how integrating video games into the Games might work. Much like in track and field, wherein athletes specialize in sprinting, high jump or the hammer throw, video gaming could be broken down into "events." There could be racing games (such as "Need for Speed: Rivals"), shooting ("BioShock Infinite"), fighting ("Ultra Street Fighter IV"), or virtual sports ("Madden NFL"). If favoring a particular gaming company's products flies in the face of Olympic values, non-brand-specific video games could be devised that test skills like accuracy, coordination, and, er… killing zombies. I'm guessing gaming companies would donate their services in support of the Olympics (as well as enjoy the good press).
I'm not sure we're ready for a gold medal match in 'Grand Theft Auto' or 'Super Smash Bros.' But we're getting there...
Perhaps the final, unstated IOC test is that Olympic sports must exist in the "real world." They must involve tangible bullets, or footsteps, or balls — not "virtual" ones. But, as we know, that boundary between real and virtual fades more every day. And while athleticism is clearly valued by the IOC, with the advent of motion sensing game platforms such as Xbox Kinect and Wii, e-sports have the potential be as "athletic" as lower-impact events such as archery and shooting.
I'm not sure we're ready for a gold medal match in "Grand Theft Auto" or "Super Smash Bros." But we're getting there, and the fantasy does reveal the IOC's rather arbitrary and discriminatory criteria in selecting its sports. As video games continue to grow in popularity, and require more athleticism from their players, it's only a matter of time before the public demands virtual Olympic sports alongside real ones.
Worst case? The IOC can always change its mind. It wouldn't be the first time.