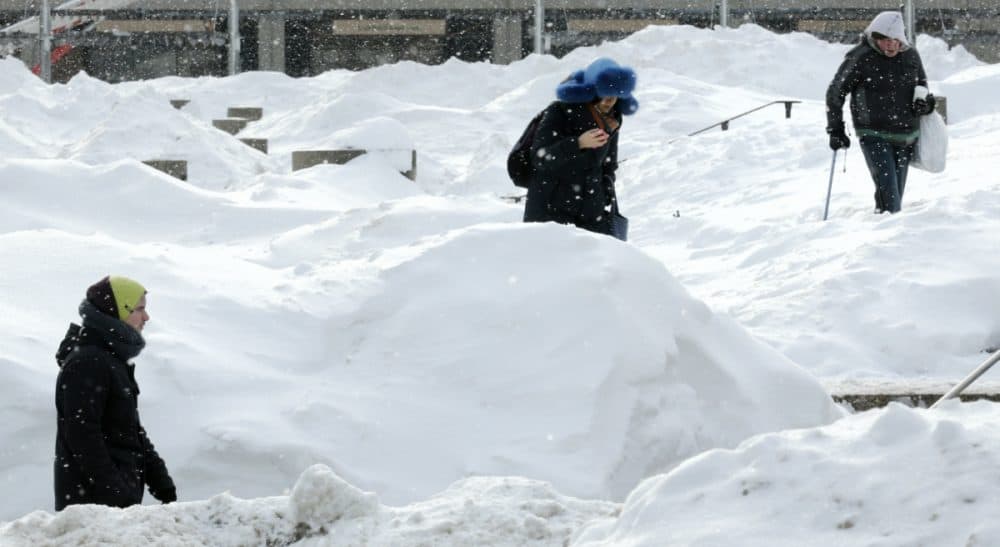 This article is more than 6 years old.
After discovering multiple weather-induced interior leaks in her family's Sudbury home, writer and Cog contributor Christine Hensel Triantos — a veteran of 17 Massachusetts winters — decided to vent her wintry frustrations in verse. 
--
Boston, February
Torrents of snow petals, tossed from the sky
The first fall is gorgeous; let no one decry
That glittery blanket, the sparkling white spread--
Sweet garnish of winter, like coconut shred.
The subsequent snowfall has less the mystique.
Advancing the season, its welcome oblique,
This new winter tempest is met with less cheer
And presents overall a diminished veneer.
The third time it happens, the deep sighs abound.
The flakes fall with grace, but no joy can be found.
The broad blanket thickens, the roadways grow narrow.
Ice forms on houses and courses through marrow.
The fourth winter storm, in less than three weeks,
Causes angst and short tempers and burst-ceiling leaks.
Four feet and counting, the magic has passed,
The trains are not running ... Wait, what's that forecast?
Good God, are you joking? Another twelve inches?
How do we cope until Ma Nature flinches?
Winds whistle and howl, and the frigid air bites,
There is license to kill the phrase "winter delights."
The battle is futile; cruel weather has won.
We've valiantly fought, but at this point we're done.
We'd surrender right now, but the act would be risible --
In six feet of snow, our white flags are invisible.