To My Selfie-Obsessed Fellow Travelers, An Apology — And A Plea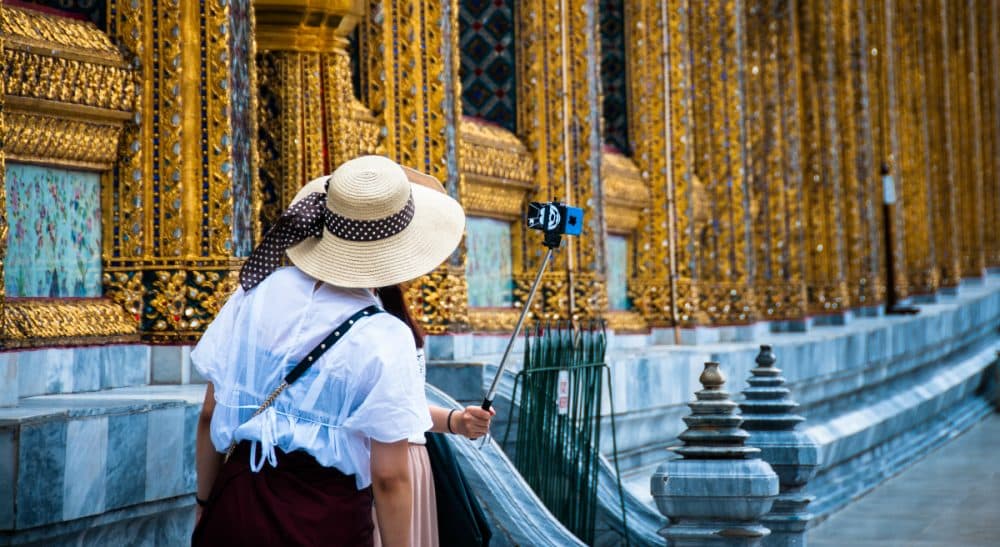 This article is more than 5 years old.
Bangkok's Temple of the Emerald Buddha was clogged with visitors when we were fortunate enough to visit earlier this year. Its overall extravagance and riotous colors — red roofs, gleaming gold-plated spires, mother-of-pearl inlaid doors — suggested nothing of the simplicity and serenity that an ill-informed American like me associated with Buddhism. But then, Wat Phra Kaew isn't merely a temple. It resides within the walls of the Grand Palace, where for a few centuries, Thai kings justified these lavish buildings as fulfilling their role as protectors of the monastic community, implicitly linking spirituality with their own power. In the nearby Wat Pho, successive generations of rulers built ornate towers (called stupas) ostensibly to honor their parents. It would have been immodest to explicitly build such monuments to themselves.
The superficial reasons for this trend are obvious. Selfies fuel social media sites, making it easy for others to follow us on our spectacular adventures.
But no such humility (real or faux) prevailed among the throngs of tourists wielding "selfie-sticks" — telescoping bars designed to hold smart phones so that their owners can get a better angle when photographing their own mugs. Beneath the flags held aloft by the stoic and well-practiced tour guides, small knots of visitors looked not at the buildings, but at themselves posing in front of them. Their sticks formed a propelling whir of smartphones, like a sea of umbrellas on a rainy Manhattan street, threatening to poke the eye or jab the back of the unwary.
A few days later, the selfie-craze became even more apparent as we joined hundreds of tourists jamming the banks of a small lake in front of Angkor Wat, the 1,000-year-old temple in Cambodia. We'd arrived there at 5:30 in the morning, waiting for the sun to rise behind its lotus bud-shaped towers. But huddled in the dark, we felt more as if we were at a Fleetwood Mac reunion concert, the glow of smart phones replacing lighters, dotting the dawn with blue rectangles of light. Instead of watching the ancient sandstone blush as the sun's rays infused it, a shocking number of our fellow pilgrims stood with their backs to the temple, mugging for cameras that they held at the end of an extended arm or selfie-stick.
The superficial reasons for this trend are obvious. Selfies fuel social media sites, making it easy for others to follow us on our spectacular adventures. They enable us to even more directly shape how others perceive us, allowing us to visually reinforce our (cringe) "personal brand." In Bangkok, I couldn't help but feel that they were unintentionally ironic monuments to the self — a faster, cheaper, plebian alternative to the gold-plated and mosaic stupas.
But there's more to it than that. Though I shot no selfies, took shamefully few pictures of my husband, and posed only grudgingly when others offered to take photos of us together, I was almost obsessive in my picture-taking. And despite my sanctimonious distaste for the apparent narcissism of those who put themselves in every frame, I'm not sure that my motives were all that different from theirs. I was here, my pictures declare, and this is what I saw.
I'm not sure that my motives were all that different from theirs. <em>I was here</em>, my pictures declare, <em>and this is what I saw</em>.
"Life itself is not the reality," photographer Frederic Sommer once said. "We are the ones who put life into stones and pebbles." While I'm not sure that I agree with the first assertion, I can't deny the truth of the second. If I'd simply wanted to show friends and family the strange grace of the massive Cambodian temple, the wiry tangle of the elephant's eyelash, the scalding pallet formed by the monks' saffron robes against the bright red taxi around which they huddled, I could have found those pictures online or handed over my guide book. But my favorites among my own travel pictures do more than chronicle. In the instant of releasing the shutter, they let me aspire to make something extraordinary out of what presents itself, to put my own interpretive stamp on the sights and sounds that are ordinary to those who generate them. They capture a moment, yes, but they are also an expression of a sort of vanity.
So to my selfie-stick-wielding fellow travelers, I offer an apology for having so harshly judged you. But I also urge you to learn from the great French photographer, Henri Cartier-Bresson, who wrote, "To take photographs means to recognize — simultaneously and within a fraction of a second — both the fact itself and the rigorous organization of visually perceived forms that give it meaning. It is putting one's head, one's eye, and one's heart on the same axis."
I entreat you to worry less about getting your smart phone aligned with your face, and more about engaging your head, eye, and heart with the teeming life around you.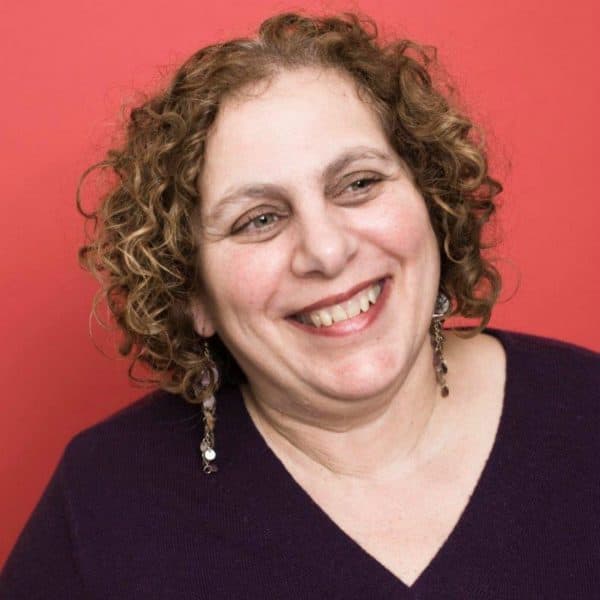 Julie Wittes Schlack Cognoscenti contributor
Julie Wittes Schlack writes essays, short stories and book reviews for various publications, including WBUR's Cognoscenti and The ARTery, and is the author of "This All-at-Onceness" (Pact Press, 2019).