Remembering Franz Wright, Poet Of Anguish And Transcendence
This article is more than 7 years old.
We do not often associate poets with routine unless we hope to insult them. On the contrary, the more erratic and irreverent their behavior seems to be, the more we hold them up. Dylan Thomas and Allen Ginsberg come quickly to mind, and, in recent years, Franz Wright.
Wright, who succumbed to cancer last Thursday at age 62, was renowned for his battles with addiction and mental illness, as well as for his sometimes combative outbursts. To detractors, this behavior undermined his qualities as a poet, but to his many readers, they were the attributes of a gifted writer whose verse flourished on extremes. Regardless, few in either camp would call anything to do with Franz Wright routine.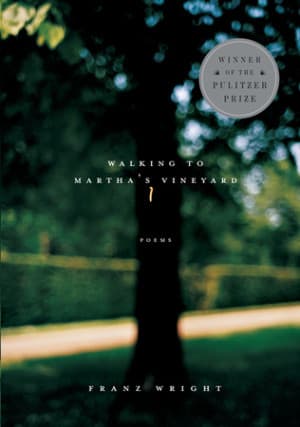 Awarded the Pulitzer Prize in 2004 for his collection "Walking to Martha's Vineyard," Wright authored more than a dozen volumes of poetry and translation. Wright wrote in ways often considered anathema in modern poetry. His spare, direct poems were an accumulation of elegantly constructed simplicities, frequently exploring imagery and ideas of brutality. In his poem, "East Boston, 1996," he wrote:
at best, the fact awakened some diverting speculations
on the comparative benefits

of waiting in front of a ditch to be shot

alone or in company
of others, and then whether one would prefer
these last hypothetical others
to be friends, family, enemies, total
or relative strangers. Would you hold hands?
Wright hovered around images, layering them in order to arrive at moments of astonishing beauty. "East Boston, 1996," returns to questions of mortality and concludes with a prayer:
If it is to come
it will come of itself like a separate

being,
a mystery, working

unseen as a wind causes still
leaves or water to move once again.
And hide me in the shadow of Your wings.

Let the heart be moved again.

Having fought addiction his entire life, Wright was obsessed with the near-universal human dependence on routine. He saw abuse as the unwilling subjection of others to routines, yet he also respected that they were inescapable and often borne of moments of great joy. A small measure of freedom came with choosing to which ones you would allow yourself to be subjected. Given the choice of atheism, Wright chose Catholicism. Given the choice of sacrificing his ways of writing for a life as a college poetry teacher, he chose writing.
Wright wrote in ways often considered anathema in modern poetry. His spare, direct poems were an accumulation of elegantly constructed simplicities, frequently exploring imagery and ideas of brutality.
Franz Kafka wrote: "Leopards break into the temple and drink all the sacrificial vessels dry; it keeps happening; in the end, it can be calculated in advance and is incorporated into the ritual." Wright wrote about this incorporation of sacrilege into the ritual of daily life with a wry, wistful compassion. He wrote as if he knew the Leopards, but also the unnamed priests and parishioners of our temples.
Wright's poems reflect his belief that the most overlooked tragedy of abuse is the permanent, traumatic memory of its surprise. The suddenness with which harm first comes, so often emerging from within the relationships and experiences that, up to that moment, we had associated with love or comfort.
He recounted his own experience with abuse, not simply to say that he was like the rest of us, but to hint at why he continued to look at it without flinching. With painstaking craft, his poems monumentalized cruelty, holding it firmly in place in order to redeem the beauty of the unexpected and the fleeting.
In the wake of abuse, Wright seemed to say, horror remains, but, if relentlessly observed, it needn't calcify into despair. The unforeseen moments of curiosity, humor, love and wonder that Whitman called experience can be, with poetry, reclaimed from the clutches of suffering.
Wright knew that if you look at the world long enough this way, your relationship to objects, people, time, memory and the material world shift. Your starting point becomes compassion. You can face with clarity the irreconcilable ways in which life and time run up against one another. "How does one go about dying?" Wright asked in his poem "On Earth." "Who on earth/ is going to teach me?—/ The world/ is filled with people/ who have never died."
---
Author's note: I first met Franz Wright in 2005, when he read in celebration of the opening of my Waltham, Mass., bookstore. Over the years, he was a frequent visitor to the bookshop, became a beloved friend and neighbor, and shared a handful of small works with me to publish, including the 2011 chapbook of poems, "Kore."
---