Why Was It So Easy For Me To Believe That Josh Duggar Had Abused Children?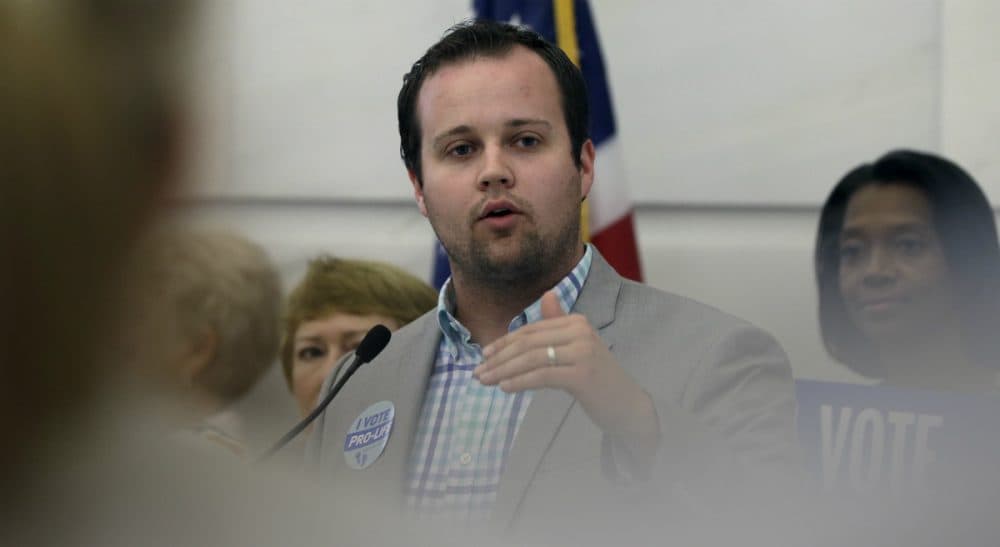 This article is more than 7 years old.
I'm a 20-year veteran of sexual assault and domestic violence advocacy, so revelations about abuse usually don't faze me. But when I read that conservative Christian reality star Josh Duggar had admitted to sexually abusing young girls, including his sisters, my first reaction was, "Of course he's an abuser. What do you expect from an anti-gay, Christian fundamentalist?" As a feminist and a lesbian, it's easy for me to find fault with conservative Christians like Duggar. I abhor his values. I disagree with his politics. So the revelation of his abuse cemented my already negative opinion.
...my first reaction was, 'Of course he's an abuser. What do you expect from an anti-gay, Christian fundamentalist?'
But what if, instead of Duggar, In Touch magazine had evidence that a prominent feminist or gay rights activist had abused? Would I dismiss In Touch as a tabloid rag incapable of credible journalism? Would I be more forgiving of someone I respected if she or he expressed remorse for having abused at the age of 14?
My reaction to the Duggar case is consistent with a well-researched psychological phenomenon known as confirmation bias, which holds that most of us seek, interpret or remember information in ways that bolster our beliefs. Psychologists have found evidence of this bias in controlled laboratory experiments and systematic observations of real-world decision making. In a very public example of confirmation bias, libertarian economist Daniel Klein wrote an op-ed for the Wall Street Journal, which used the results of an ideological differences survey to argue that people with right-leaning politics were smarter about economics. However, when a less biased analysis was done, people who shared Klein's values did not outperform others.
When this type of bias affects our understanding of sexual abuse, the consequences can be serious. Perpetrators of child sexual abuse are almost always people close to home. According to the U.S. Department of Justice, 30 percent of people who sexually abuse children are family members. Another 60 percent are people close to the child such as babysitters, coaches and family friends.
When our biases cloud our observation, we miss important opportunities. I've seen this in my own life. When I was in college, I worked at the local domestic violence advocacy organization. I also co-led the student feminist organization with two women who were a couple. Two years later, I learned that one of those women was abusing the other. Though I was suspicious of the men some of my friends dated, I didn't notice any of the familiar dynamics of abuse when both partners were female, even though I'd had training about same-sex domestic violence.
I am especially attuned to the stigma and prejudices against my community. The Family Research Council, Josh Duggar's former employer, has argued for years that "homosexual" men are more likely to sexually abuse children. Would my desire to fight this stigma make me unwilling, or at least hesitant, to believe an allegation made against a gay man?
I'm also critical of organized sports, so I spent a year obsessed with Penn State assistant football coach and, now, convicted child molester, Jerry Sandusky, and reading everything I could about what Penn State did wrong. Mostly I confirmed my beliefs that, in a male-dominated sports culture, athletes and coaches were treated with impunity. So when the late Penn State football coach Joe Paterno told colleagues and others not to report sexual abuse allegations against Sandusky, they didn't. As a result, more children were harmed. A 267-page independent investigation drew similar conclusions to mine. (See my confirmation bias at work!) I can't name a similar time I invested comparable energy in researching an abuser I admired.
Would I be more forgiving of someone I respected if she or he expressed remorse for having abused at the age of 14?
The Duggars were irresponsible when they sent Josh away to work construction instead of getting him qualified treatment. And it's tempting to say they made a bad choice because of their radical Christian beliefs. But if I'm serious about doing my part to prevent abuse, I can't see the Duggars as "those people" who messed up because of their offensive values. I instead need to see them as people who made mistakes that I could make, too, if I'm not careful.
Preventing child sexual abuse, or mitigating its traumatic effects when we can't prevent it, requires us to acknowledge painful truths. We have to face the reality that people who are supposed to be each other's strongest champions and closest relatives can sometimes be the ones that cause the most harm. It makes perfect sense to want to believe that anyone we respect is incapable of perpetrating such violations. But if we want children to be safe, we must resist our own biases and be clear-eyed about all the communities we call home.