Women, War And Male Acceptance
Last week, Capt. Kristen Griest and 1st Lt. Shaye Haver became the first women to graduate from Army Ranger School. The historic occasion was well covered by the media, and rightly so. Their achievements are a sign of tremendous progress by women, but I think they are a sign of even more meaningful progress by men.
Not to belittle the accomplishments of Capt. Griest and Lt. Haver, but surely they were not the first women in America capable of making it through Ranger School. They were merely among the first who were allowed to try. Such has been the path of other trailblazing military women: the first to attend West Point (1976), the first to fly combat aircraft (1993), and the first to serve on nuclear submarines (2011).
As we celebrate historic firsts, however late they come, we should demand to know what took so long.
Women reached those milestones as soon as the barriers against them were lifted. The breakthroughs didn't come after years of failed attempts. The women were ready. It was the men who were not.
When the Navy lifted the ban on women in combat in 1994, I was assigned to the first nuclear aircraft carrier with a co-ed crew. Like many of my female shipmates, I already had experience at sea. I was a qualified Surface Warfare Officer who knew how to drive a ship and run a division. We hit the deck running, so to speak, and the same thing would have happened had the ban been lifted five or 10 years earlier.
Consider the experience of women in WWII: the WASPs (Women Airforce Service Pilots) were technically civilians but they served so capably that the commanding general of the U.S. Army Air Forces, Henry "Hap" Arnold, admitted, "Now in 1944, it is on the record that women can fly as well as men."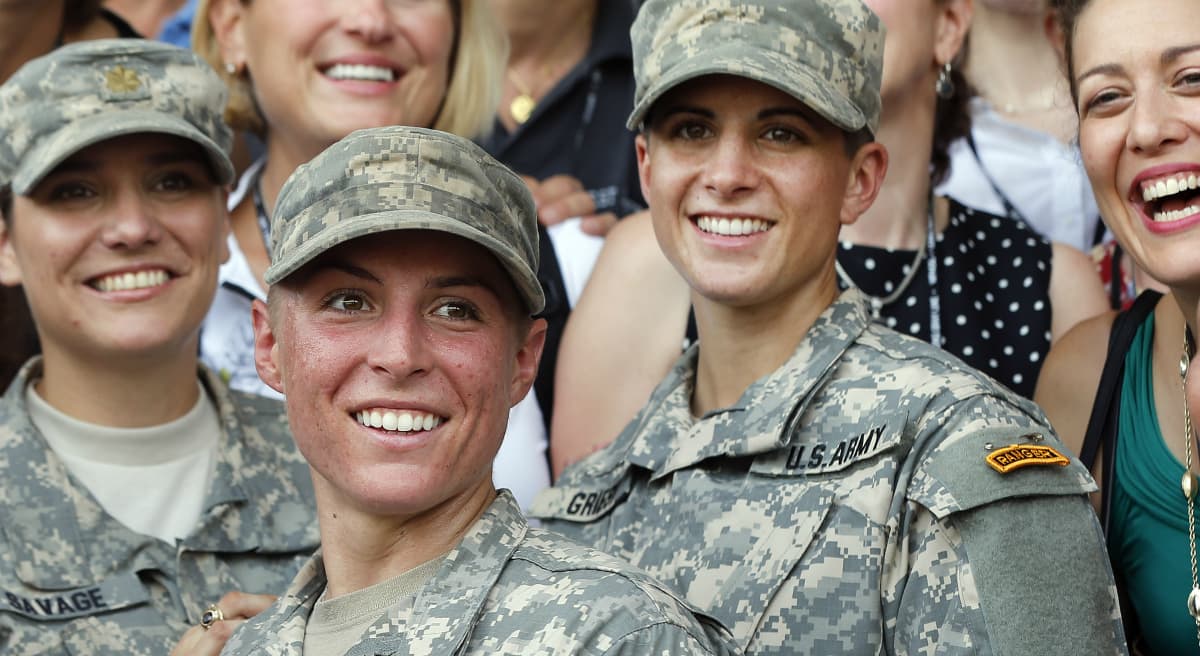 On the record or not, the men in charge didn't change the exclusion policy. The Army and Navy didn't allow women to fly military aircraft again until 1974. The opportunity to fly in combat wasn't made available until 49 years after Hap Arnold observed that women were perfectly capable of flying all sorts of aircraft.
As we celebrate historic firsts, however late they come, we should demand to know what took so long. Every day that military jobs remain closed to women is another day that our fighting forces are a little less effective.
Thanks to bold moves by former Secretary of Defense Leon Panetta (who demonstrated the kind of progress more military leaders need to show), most of the remaining exclusions are gone or soon will be. But the most prestigious front-line combat roles remain closed to women, including the role of Army Ranger.
The women were ready. It was the men who were not.
Maybe that will change now that two women have graduated. Like many of the other women who were "first" at something, these two hit the ball out of the park. The press conference on Aug 20. featured high praise for both female officers from their fellow graduates. Second Lt. Zachary Hagner confessed that when he could go no further carrying a heavy machine gun, nine male soldiers declined to help him, claiming they were "too broken, too tired." Capt. Griest was the only one who stepped up.
Lt. Michael V. Janowski, who was Lt. Haver's "ranger buddy" for part of the training, credited her with motivating him to succeed. "I probably wouldn't be sitting here if it weren't for Shaye," he said, adding, "I would trust her with my life."
History will remember Capt. Griest and Lt. Haver as "firsts," but let's not discount the meaningful progress made by men like Lt. Janowski and Lt. Hagner. They now know that a combat unit that includes Capt. Griest and Lt. Haver is better for it.
And a military that allows the best to serve, regardless of gender, is a better military. What are we waiting for? Keep making progress, guys. The time has come.