In Theory, Everyone Wants To Slow Climate Change. In Practice? Not So Much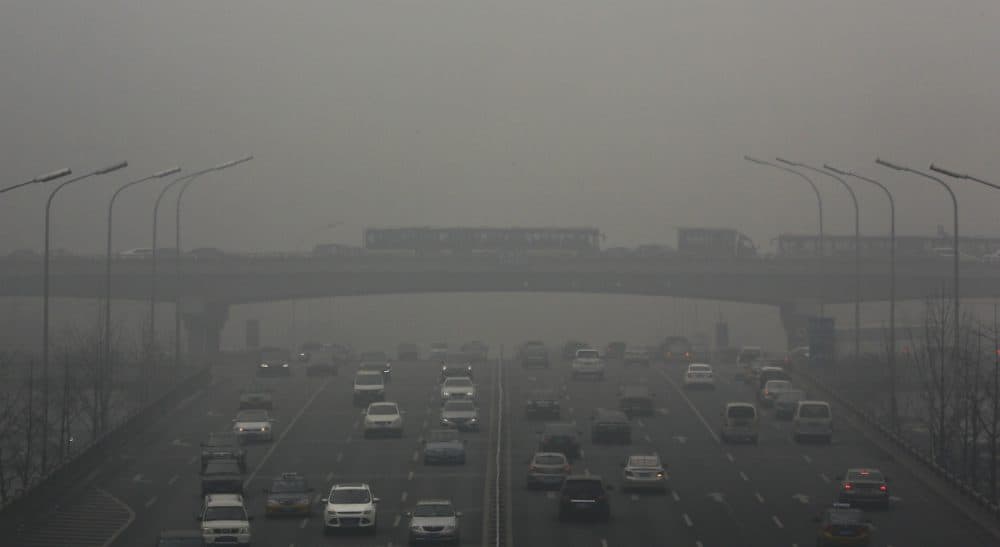 This article is more than 7 years old.
World leaders are meeting in Paris, the beginning of a two-week effort to tackle the massive, thorny and alarming problem of global climate change. Getting nearly 200 countries to agree on anything is a daunting task. Even more daunting, however, will be the folks back home.
From the pope on down, it seems as if almost the entire world (with the exception, apparently, of the Republican presidential field) is rooting for the Parisian talks to be a success. But lofty words about being green ultimately run up against blunt economic realities. A case in point: gasoline. Reducing CO2 emissions means using less fuel. But in fact, things are going in the opposite direction. Gas, it turns out, is too cheap.
Even the best of agreements may founder in the practicalities of getting them done.
That's news you might be inclined to dismiss. After all, decades ago gasoline was just pennies a gallon: 57 cents, in fact, back in 1975. Today, we're not surprised to see it priced nearly $4 a gallon.
Except that, adjusted for inflation, the 57 cents from four decades ago is now the equivalent of $2.57. And $4 gas, you may have noticed, is no more. It dropped to $3.50 a year ago, to $2.50 earlier this year and now, with just a little searching, it's below $2 — currently $1.95, for example, at Stan Hatoff's in Jamaica Plain. And many analysts think gas will go lower still, perhaps, even, to $1 a gallon. The real price of gas, in other words, is at historic lows.
At the same time, cars have become more efficient. Back in 1975, the average car got 13.5 miles per gallon. Today, with dramatic improvements in technology, efficiency has more than doubled, to over 27 mpg. Run the numbers and you'll see that, back in 1975, the real out-of-pocket cost of driving was 19 cent a miles. Today? A paltry 7 cents.
No wonder our streets and highways are clogged with traffic. Norwood to downtown costs $7 via commuter rail. That's 21 miles by car — or an out-of-pocket cost of $1.47. Which would you choose?
Judging by the jams on Route 93, I guess we know the answer.
I know what you're thinking: It's more complicated than that. Drivers have to pay for parking (or maybe not; employers often pay). Driving in rush hour takes longer than a train (unless there's an all-too-frequent breakdown in the commuter rail). Cars are subsidized (but so too public transit — and often for more per mile). There are other costs of driving, such as ownership and insurance (but those are fixed anyway; if you own a car already, a few extra miles really is just the cost of fuel). More efficient cars help cut CO2 emissions (but they also encourage more driving).
So yes, an apples-to-apples comparison is complicated. Still, I think you get the point.  If the cost of driving is going down, people will, pretty naturally, drive even more. They'll buy bigger cars while sales of electric and hybrid vehicles — very cool, no doubt — will plummet. Public transit — with its lack of privacy and competition for a seat — will look less and less attractive. Carpooling will decline.
And CO2 emissions will climb.
Global climate change may be terrifying, but it's a distant, far-off terror. For many -- probably most, in fact -- money in the pocket counts for more.
So what's a government that just signed some accord in Paris to do? One obvious approach is simply to boost the price of gasoline, adding in taxes that bring fuel to $4 or $5 a gallon. Such an increase would spur all sorts of wonderful behaviors. It sounds great in the abstract. But in practice?
Some states, such as California, have in fact imposed a "global warming fee." But that additional tax is just a dime a gallon, hardly enough to counter the dramatic drops we've seen in fuel costs. Anything truly significant — say $2 a gallon or more — would be near impossible. The politicians who would do so would make easy targets on Election Day, and for good reason. For a typical family driving 20,000 miles a year, (and assuming a car with 27 mpg) such a boost in gas taxes would amount to close to $1,500 annually — OK for the rich, perhaps, but hardly acceptable for the already stretched middle class.
Thus the challenge that the U.S. and other countries face in the aftermath of the Climate Change Conference: Even the best of agreements may founder in the practicalities of getting them done. Global climate change may be terrifying, but it's a distant, far-off terror. For many — probably most, in fact — money in the pocket counts for more.