Masking The Real Dangers Of Hockey's Full Face Shield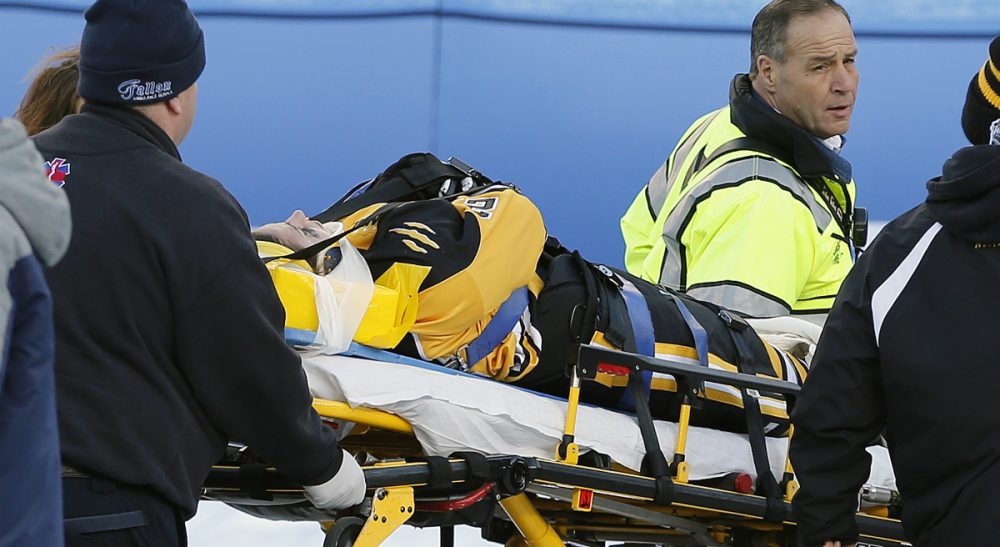 This article is more than 5 years old.
Denna Laing, the 24-year-old professional hockey player who suffered a severe spinal cord injury in the first Outdoor Women's Classic, is just the most recent hockey player in the Boston area to face paralysis after crashing headfirst into the boards. It begs the question: Isn't there more the sport can do to eliminate these tragic accidents?
Laing, who grew up in Marblehead, went to Noble and Greenough School and then was a two-time captain at Princeton University, was playing for the Boston Pride of the newly formed National Women's Hockey League. Late in the first period of the Dec. 31 exhibition game at Foxborough's Gillette Stadium, she stepped on a stick and hurtled into the boards. Laing was taken off on a stretcher and rushed to Massachusetts General Hospital. Days later her parents revealed she had no feeling in her legs and limited movement in her arms.
Specific details about the extent of the spinal cord trauma have not yet been released, but she crushed "multiple vertebrae" and clearly has a long, challenging road ahead of her. "She remains positive and strong," her family posted on Facebook. "Which helps us through this difficult time." Indeed, Denna was able to post a note saying the injury didn't spoil "the best day of my life," and later tweeted a video from her hospital bed smiling and saying "I'm back." A website has been set up accepting donations for her medical care. But for the entire hockey community, and especially her family, teammates and friends, it is heartbreaking.
Instinctively, before there were face masks, players checked their speed when approaching the boards.
I know it too well.
Twenty years ago, in his first shift of his first game for Boston University Terriers, Travis Roy went headfirst into the boards, crushing two vertebrae and leaving him a quadriplegic. In the months following we did a book together, "Eleven Seconds," which chronicled the excruciating process of how he moved on to the next phase of his life.
It was an honor to work with such a courageous, selfless young man, and his life since the accident has been incredibly productive. He has raised millions of dollars through the Travis Roy Foundation for spinal cord research and individual grants to paralysis victims.
He never lost his love of hockey, but he hates his wheelchair. Travis posted a message on Facebook after Denna's injury that concluded:  "I must say the older I get, the more I hate paralysis! I know the emotions that Denna and her family are feeling right now, and quite frankly it turns my stomach. I hate that this happened to another person in the hockey family…"
Severe spinal cord injuries in hockey are rare, but the fact is 50 years ago, when I was a teenager playing the sport, they were unheard of. Accurate statistics are difficult to find from those years, but according to the Canadian Journal of Neurological Sciences, between 1948 and 1973 in the two major Toronto hospitals there were no cases of severe spinal cord injuries caused by hockey. Zero in 26 years. Between 1974 and 1981, there were a total of six cases of severe spinal cord injuries in those same hospitals, five coming between Sept. 1980 and Oct. 1981.
What changed? The full face shield on helmets became mandatory in Canada's youth hockey leagues in the late 1970s. As an unintended consequence, between 1982 and 1986 there was an average of 15 severe spinal cord injuries per year from hockey in Canada alone.
Statistics from the U.S. are not readily available, but it is fair to infer they followed a similar pattern. A 1995 report by the American Academy of Pediatrics concluded:
"The introduction of mandatory head and facial protection has been effective in virtually eliminating ocular, facial, and dental injuries in youth hockey, but it has also been problematically linked with an increase in catastrophic spinal injuries. Players adopt a false sense of security when donning the equipment, leading them to take excessive and unwarranted risks because of the protection they are supposedly afforded. The addition of these protective devices has also altered how officials perceive game situations, leading them to be more lenient in administering penalties. The net result has been an increase in illegal and injurious behaviors, such as checking from behind."
In 1995 alone there were 26 cases of severe spinal cord injuries from hockey worldwide. Most were caused by a player going headfirst into the boards, but not necessarily as the result of a check. Sometimes, as was the case with Travis, a player simply lost his balance while going too fast. The boards don't give. Instinctively, before there were face masks, players checked their speed when approaching the boards.
Yes, with such a change in youth hockey there will be stitches. There will be missing teeth. But maybe, just maybe, there will be no more kids spending the rest of their lives in a wheelchair.
Hockey leagues at all levels have been cracking down on checking from behind, and preaching "heads up, don't duck" when a player slides into the boards. Those steps have reduced the number of spinal cord injuries significantly. But they still occur, and in the last six years there have been three in Greater Boston. In 2009, Thomas Smith of Swampscott was paralyzed after hitting the boards during a practice with the Boston Bullets. In 2010, Norwood High School's Matt Brown went headfirst into the boards and was paralyzed from the waist down. Now there is Denna Laing.
What can be done? In the years since his injury, Thomas Smith has invented a "Look-up Line": a zone within 40 inches of the boards that is painted orange and works like baseball's warning track. The hope is players see it and exercise extra caution. USA Hockey has not endorsed the "Look-up Line," but individual rinks are allowed to try it, and they will study the results. My own feeling is the zone would need to be at least six feet from the boards to be effective.
What I would really like to see is for the full face shield to be voluntary, not mandatory.  Youth players should have the opportunity to choose a half face shield for protection, which is what a majority of players in the NHL use. As fast and violent as the NHL game is, I cannot find a single instance of an NHL player being paralyzed during a game. Not one. With a half shield your eyes are protected, but your mouth and chin are still very much exposed, instilling an instinctive measure of caution. Yes, with such a change in youth hockey there will be stitches. There will be missing teeth. But maybe, just maybe, there will be no more kids spending the rest of their lives in a wheelchair.
Why not try it? Let the parents and the kids decide which risk they would rather take.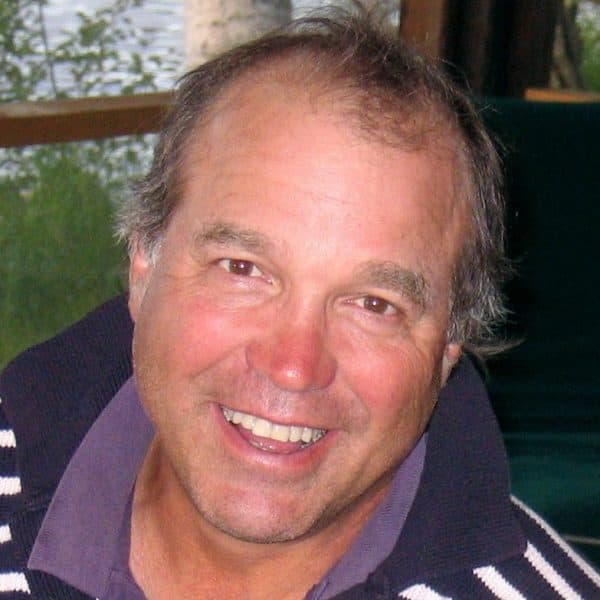 E. M. Swift Cognoscenti contributor
E.M. Swift wrote for Sports Illustrated between 1978 and 2010, covering a wide range of sports but specializing in the Olympics. He is now a freelance writer living in Carlisle, Mass.