Now That's How You Deliver A State Of The Union
Now that's how you do a State of the Union.
In a country that so often blames politicians for broken promises, give Barack Obama credit for keeping one. Before Tuesday's State of the Union address, the president vowed to use a different playbook than the usual drone of missions-accomplished and demanded laws-essential-to-life-as-we-know-it.
That's fine by this citizen. Ever since Woodrow Wilson and FDR overturned longstanding tradition by speaking their SOTUs — most presidents had been content to send written messages to Congress — the affair has become a hybrid of policy primer and propaganda. It frequently flubs on both counts. Legislative proposals in State of the Union addresses have an underwhelming record of passage. As one dyspeptic but not-misguided critic groaned after last year's SOTU, the post-Christmas ritual is like "one last fruit cake that nobody wants and quickly tosses away."
the president accurately gauged a national mood buffeted by profound change, good and bad...
Americans seem to agree, voting with their remotes: TV viewership of Obama's annual pontifications has been tanking (though it's unclear how many watch online live-streams).
So it was not just a relief but fitting that Obama used the last SOTU he'll ever give to forego a primer for a 30,000-feet-up overview of the state of our Union, with The New York Times headline capturing the main theme: "Obama Confronts America's Fears."
That message was more important than any policy rundown, for the president accurately gauged a national mood buffeted by profound change, good and bad, from medical advances and mushrooming global education to terrorism and inequality. During past such transitions, "There have been those who told us to fear the future, who claimed we could slam the brakes on change, who promised to restore past glory if we just got some group or idea that was threatening America under control," he declared.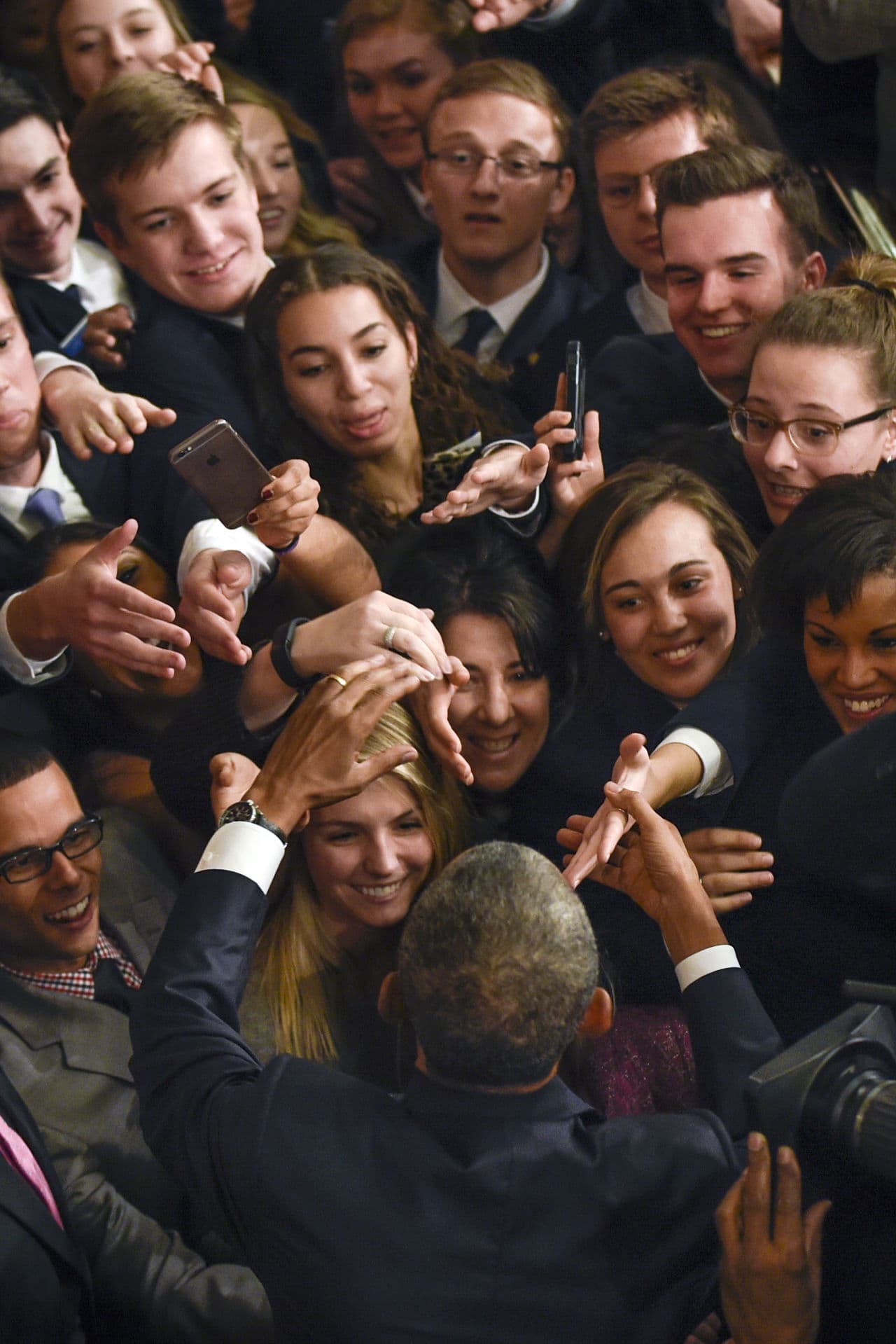 Indeed, we've seen all of these movies before. Immigration and changing demographics? Been there in the 19th century, when waves of incoming Irish and German Catholics gave rise to the xenophobic and aptly named Know Nothing Party. Inequality screwing the have-nots? Done that during the Gilded Age, when glaring gaps in wealth fostered resentment against Chinese immigrant workers (banned by law from the U.S. for six decades, beginning in 1882) and labor unrest that makes the Occupy movement look like a cotillion.
"And each time, we overcame those fears," the president reminded listeners, by heeding reasoned prudence and compassion. He admirably admitted one failure in tamping down those fears, which has been his inability to tamp down incivility in the national discourse. "A president with the gifts of Lincoln or Roosevelt might have better bridged the divide," Obama confessed. On the other hand, he indulged in a little, typical SOTU strut. There was a "but" to his message of fear, involving his boasts (justified) about helping the economy avoid a rerun of the Great Depression and winding down two wars that bled America, literally and financially.
The speech baffled some. Obama's broadside against fearmongers, observers universally agreed, aimed squarely at Donald Trump. One liberal pundit bemoaned that the president had to get in The Donald's mud, finding the speech "fitting" but also "bewildering" and a "sad denouement" to an historic presidency. Meanwhile, the conservative National Review said Obama inadvertently reminded the nation of what it calls his feckless foreign policy.
But for my money, Obama wisely opted to open the last year of his presidency with a broad-brush assessment.
These disagreements are legitimate, certainly. But for my money, Obama wisely opted to open the last year of his presidency with a broad-brush assessment. Reporting on the state of the union is a constitutional requirement, but there's no mandate that says the report has to be in person and broadcast. If that's the route presidents choose, then at least Obama served up a history-informed sermon to push us to our best.
As for leaving out the laundry list, as one former presidential speechwriter said of these January addresses, "They're kind of boring speeches."