When Charlie Met Marty: A Political Bromance As Antidote To Partisan Toxicity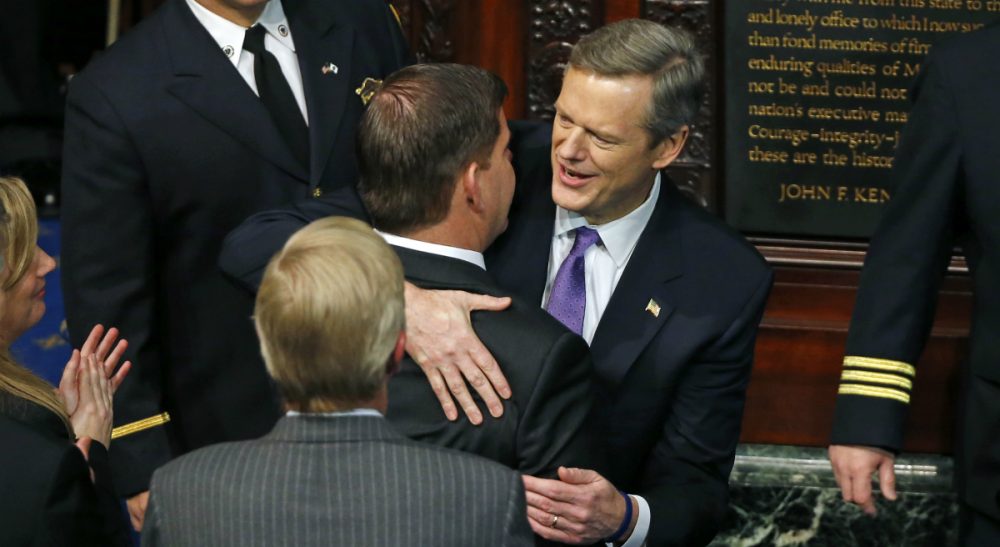 This article is more than 5 years old.
Sometimes a picture really is worth a thousand words. Or maybe 10 thousand. Or maybe 10 million—or however many hideous, divisive words will have been spilled by the time this vitriolic presidential campaign season comes to its none-too-soon conclusion.
A recent photo in The Boston Globe showed a fiercely Democratic mayor and a sturdy Republic governor sitting elbow to elbow, shoulder to shoulder. Mayor Marty Walsh is speaking into Gov. Charlie Baker's ear. The governor is smiling.
...my husband and I tried to watch the most recent GOP presidential candidates' debate. ...We lasted maybe five minutes...
Imagine that as you try to envision House Speaker Paul Ryan, a former Republican vice presidential candidate, mustering up an expression of anything resembling approval or, heaven forbid, amusement, while our Democratic president delivered his State of the Union address. Imagine that as you mute your television rather than suffer through the anti-smile acrimony of the 2016 presidential election cycle.
Political junkies, veteran correspondents who have trekked through more counties in Iowa and New Hampshire with more presidential aspirants than either of us would like to count, my husband and I tried to watch the most recent GOP presidential candidates' debate. We believe in educating ourselves and in trying to understand as many sides of every issue as we can before we cast our votes.
We lasted maybe five minutes before the toxic venom emanating from those men threatened to overtake us. All this animosity from the party that gave us Abraham Lincoln?
Not long ago, I attended a holiday luncheon in Portland, Oregon. I sat down and extended my hand to the woman to my right. She was white-haired, wearing a garnet-colored suit and a matching scarf from Paris. "Antoinette Hatfield," she said. In the Pacific Northwest, the widow of much-beloved former Republican Gov. and U.S. Sen. Mark Hatfield occupies the status of royalty. This elegant, thoughtful observer of her  party's evolution could not say enough bad things about the tenor of the present presidential election, particularly within the Republican camp.
What she did say, almost wistfully, was that when she and her husband arrived in Washington in 1967, the first people to invite this pair of Oregon Republicans to dinner at their home were Birch and Marvella Bayh—Democrats of Indiana. Party lines ran strong and hard when it came to legislation, she conceded. But gutter-sniping was neither cool nor couth. Republicans and Democrats knew how to play nice together.
A little decency, my friends, could go a very long way.
Which brings us back to the Marty-and-Charlie picture. Democratic voters strongly outnumber Republicans in Massachusetts, but unenrolled voters greatly exceed them both. Even with a resoundingly Democratic State House, recent Bay State Republican governors have managed to do all right—unless maybe you count that awkward moment when Mitt Romney had to watch Massachusetts become the first state to legalize same-sex marriage.
The Globe has called the Walsh-Baker tête–à–tête a bromance, as good a term as any for what might just be smart, bipartisan expediency. It could also be civility, something that retains a certain strength here in the place where government started in the United States, even as it seems to be vanishing from the broader political dialogue.
Oh my, this does sound like a cranky cry for a nationwide chorus of "Why Can't We Be Friends?" If so, here's an idea: Why not send that cheery Marty-Charlie photo to every presidential candidate and, for that matter, every member of the U.S. Congress? A little decency, my friends, could go a very long way.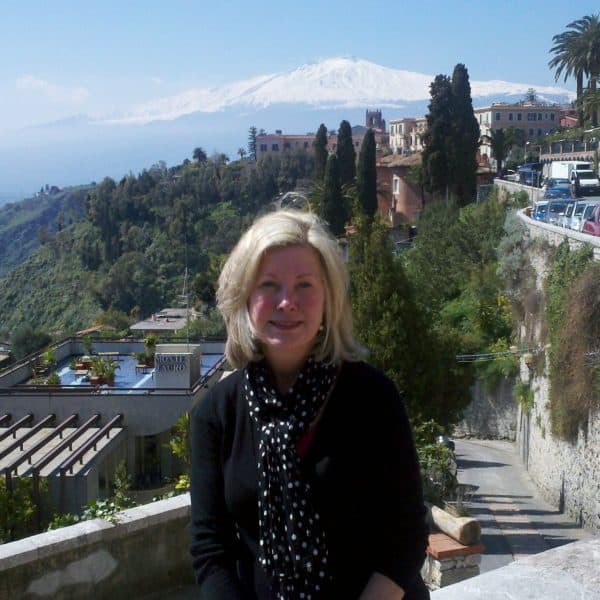 Elizabeth Mehren Cognoscenti contributor
Elizabeth Mehren is an author, journalist and Boston University professor.