Congrats, N.H. Winners — Now, Some Questions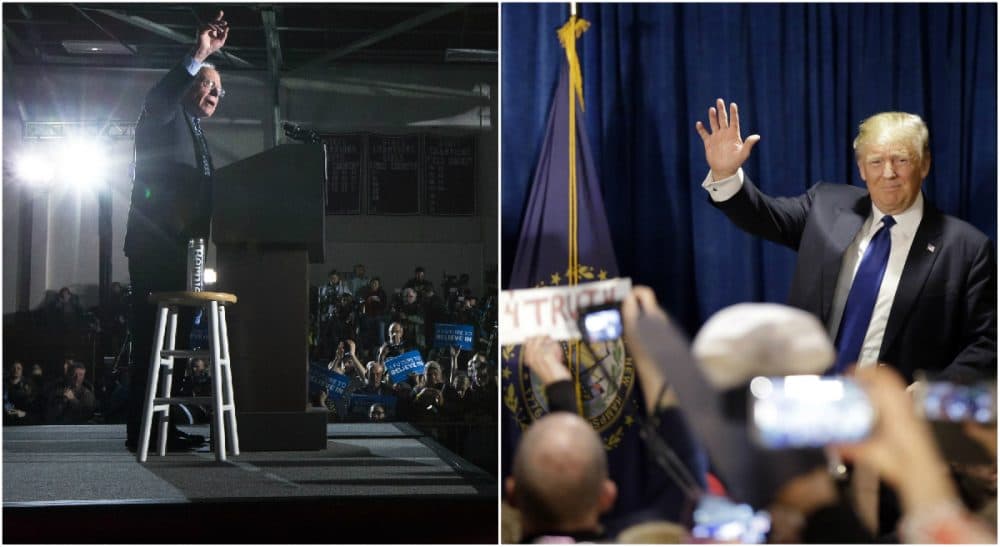 This article is more than 4 years old.
The New Hampshire primary results weren't surprising, if you define surprising as "predicted by the polls." Bernie Sanders channelled outrage over inequality and Granite Staters' jones for insurgents to stomp Hillary Clinton, who won the Democratic contest there eight years ago; on the Republican side, Donald Trump, for one night at least, was the winner he's been telling us he is, ad nauseam, since entering the race. The second most-watched result of the night — Ohio Gov. John Kasich's second-place showing on the GOP side — allows him to fight another day.
The TV networks projected both parties' victors by 8 p.m. on Tuesday, so virtuoso were the Trump and Sanders performances. Ultimately, however, elections are about the voters as much as the candidates, about the country's future as much as any individual's. With that in mind, here are questions for the New Hampshire winners and challengers — one issue, each, affecting our collective welfare...
Trump: You are the hardest candidate at whom to target a single question, as your platform and stream-of-consciousness victory speech in New Hampshire have more fill-in-the-blanks than a Mad Lib. But here goes: Many of your supporters do not have college degrees, which severely disables them in the 21st-century economy. I didn't see anything about making skyrocketing university costs more affordable on the issues link of your website; do you have any ideas for helping these folks, and would it cost Uncle Sam anything? (Your tax cut plan depends on unspecified spending cuts to avoid swelling the deficit, which doesn't reassure that you'll be able to find money for college or anything.)
Kasich: By universal consensus (OK, that's me and some newspaper editorials), you're the thinking person's moderate of the Republican field. Your expansion of Medicaid, the health program for the poor, makes you an admirable outlier among Republican governors. Yet you want to repeal Obamacare. Given that Republicans in Congress have voted 63 times to repeal that law — and given that so many of your fellow Republican governors refuse to do what you did and extend health care to their poorest citizens — do you really believe refighting this difficult battle will produce a better system?
Here's hoping the candidates address such questions. The answers will affect us all.
Moreover, most Americans want care available to everyone, even those with pre-existing conditions. The only way to do that while keeping premiums affordable is to require everyone to buy insurance (the hated "individual mandate"). Conservatives once acknowledged this; Obamacare was invented by the conservative Heritage Foundation. Your plan doesn't acknowledge the need to require insurance. Would you be content with less than universal coverage?
Sanders: You've endorsed a single-payer (government-financed) health system. It's worked in other countries, but they're not using your plan. That plan, according to the economist who tried to help your home state of Vermont fashion its own single-payer system, would cost almost double your estimate. Commendably, your campaign has responded with its own, detailed numbers. But if further analysis calls your assumptions into question, do you have a Plan B? What additional revenue sources would you tap to pay for your system, or what medical expenses would have to go uncovered to make the numbers add up? Or would you compromise on all-out public insurance? (Former president Bill Clinton says that other nations' mixed public-private systems achieve universal coverage while operating as cost-efficiently as Canada's single-payer system, which you admire.)
I knew it! — more shilling from a Clinton flack. (I just threw that in to save Sanders's most vituperative fans some time.)
Clinton: Your concession speech in New Hampshire covered your life of activism, passionately underscoring that your differences with Sanders are over means, not values and goals. Those are important differences, certain to be discussed and dissected in the months ahead. So let's ask about something where you seem to have a genuine difference: your more hawkish take on foreign intervention. President Obama has refused to create a no-fly zone in Syria, partly because of the ground troops that would be necessary to help  enforce it. You supported such a zone, as well as arming "moderate" militants fighting the Syrian regime, who probably would have lost them to better-fighting ISIS militants. Obama also acknowledged that toppling the Libyan regime uncorked chaos there and was a mistake; during a debate, you declined to call that a mistake.
Sanders has hammered you over your vote for the Iraq war. You did call that a mistake, and having supported the war and lived to regret it, I believe you're sincere in that admission. Question: Given all these failures, what limits do you see,  and would you respect, on the exercise of American military power in the  Middle East?
Here's hoping the candidates address such questions. The answers will affect us all.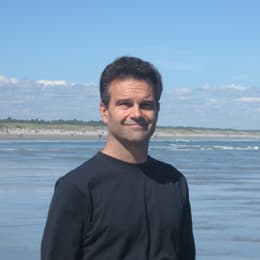 Rich Barlow Cognoscenti contributor
Rich Barlow writes for BU Today, Boston University's news website.