For ExxonMobil, An Inconvenient Truth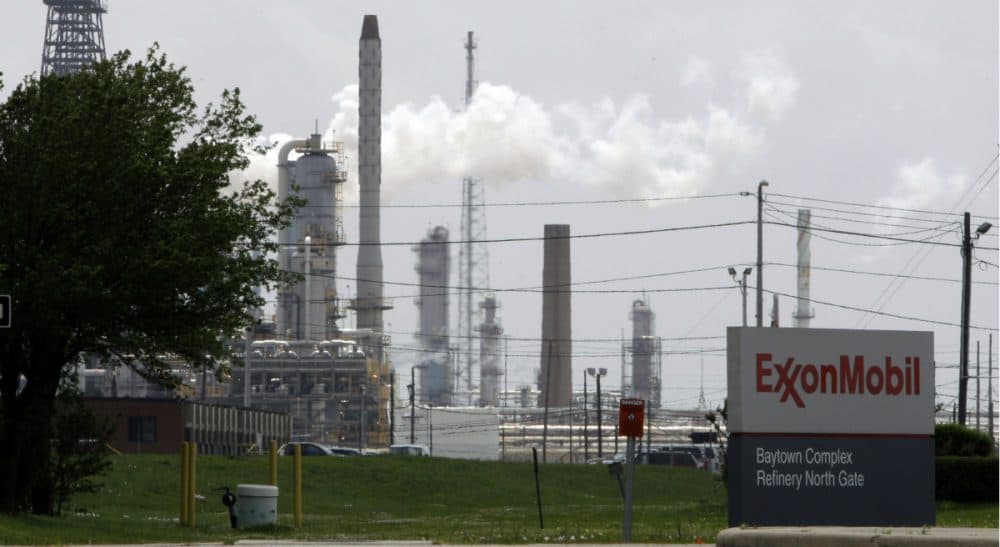 This article is more than 6 years old.
At the end of March, Massachusetts Attorney General Maura Healey opened an investigation of ExxonMobil to determine if they lied to their shareholders about business risks stemming from climate change. Massachusetts joins California, New York and several other states in probing the corporate colossus.
At issue is the discrepancy between ExxonMobil's internal documents and their public posture. For about a decade, it's been known that ExxonMobil was funding groups whose purpose was to create doubt about the science of climate change. But it was first reported just last September that ExxonMobil had done extensive research in the late 1970s, much of it not made public, showing that the burning of oil and natural gas leads to global warming. Now, with a growing coalition of attorneys general delving into decades of company records, public awareness of ExxonMobil's alleged misdeeds is burgeoning. The social and political elements of the story give it unique potential to shape public opinion around climate change.


Fossil fuel companies that deceived must be held accountable. That's why we too have joined in investigating Exxon.
— Maura Healey (@MassAGO) March 29, 2016

Unlike this story, news reports that are pure science have little sway over people's attitudes about climate change. For example, a recent story about this past February being the hottest month on record doesn't alter the thinking of people whose underlying beliefs make them unreceptive to scientific evidence.

As the Australian academician Clive Hamilton observed, "climate denial is due more to a surplus of culture than a deficit of information." Climate change skeptics often harbor political, ideological and religious convictions that are at odds with what the problem entails.

Facing the challenge of the climate crisis demands placing a high value on principles like shared sacrifice, collective action and stewardship of the environment. But those values don't resonate on the political right, where beliefs in individual autonomy, limited government and mankind's dominion over the natural world are more strongly felt. Because those deeply held convictions can derail critical thinking, the strength of the science often doesn't matter.
The ExxonMobil story is important because it collides head-on with the standard denial narratives.
The climate deniers are dug in. They've been armed by right-wing think tanks with an arsenal of specious rejoinders that have surprisingly tenacious currency:
the climate has always been changing...
there's been no global warming since the 90s...
carbon dioxide helps crops grow...
it's a liberal conspiracy, a hoax...
For his part, Donald Trump recently remarked, "I'm not a big believer in man-made climate change," casually dismissing an edifice of rigorous scientific data, as if one's opinion on climate change were a matter of personal taste on a par with how you like your steak.
The ExxonMobil story is important because it collides head-on with the standard denial narratives. It undercuts the argument that climate change is a conspiracy of the left, a means for liberal professors in ivory towers to wheedle grant money from public coffers. It refutes the claim that climate change was concocted at the United Nations as a means to give government elites more power.
It's not because ExxonMobil lobbied to block federal measures aimed at limiting emissions of greenhouse gases. Nor is it that they paid handsome sums to scientists like Wei-Hock Soon of Harvard's Smithsonian Center for Astrophysics, who built a career around arguing that global warming is largely due to the sun.
What really matters is that ExxonMobil's own scientists, using their own climate models and data they collected themselves, came to the firm conclusion that the burning of fossil fuels was responsible for an accumulation of carbon dioxide in the atmosphere, and that this would have alarming consequences for the earth's ecosystems. Seeing the ramifications of that conclusion for their business, they adopted a strategy of spreading misinformation and manufacturing doubt.
The shrinking minority whose political identity causes them to cling to the notion that climate change isn't our common problem will now have to reconsider.
Now, Massachusetts and 18 other states are asking if ExxonMobil committed civil fraud. The parallels to the tobacco industry's cover-up of the dangers of smoking are manifest. If ExxonMobil made statements to its investors that were inconsistent with what its internal research had revealed, then it's likely there are grounds for prosecution.
Media attention to a protracted court battle would amplify the message that ExxonMobil — the apotheosis of American business power, whose stock value rests on vast reserves of oil and gas — itself substantiated the central tenet of climate change, viz., greenhouse gas emissions from burning fossil fuels are cooking the planet.
The shrinking minority whose political identity causes them to cling to the notion that climate change isn't our common problem will now have to reconsider. When it comes to the science, they still won't listen to Bill McKibben. But maybe they'll listen to ExxonMobil.