Standing Up By Sitting In: Student Activists Move The Needle On Fossil Fuel Divestment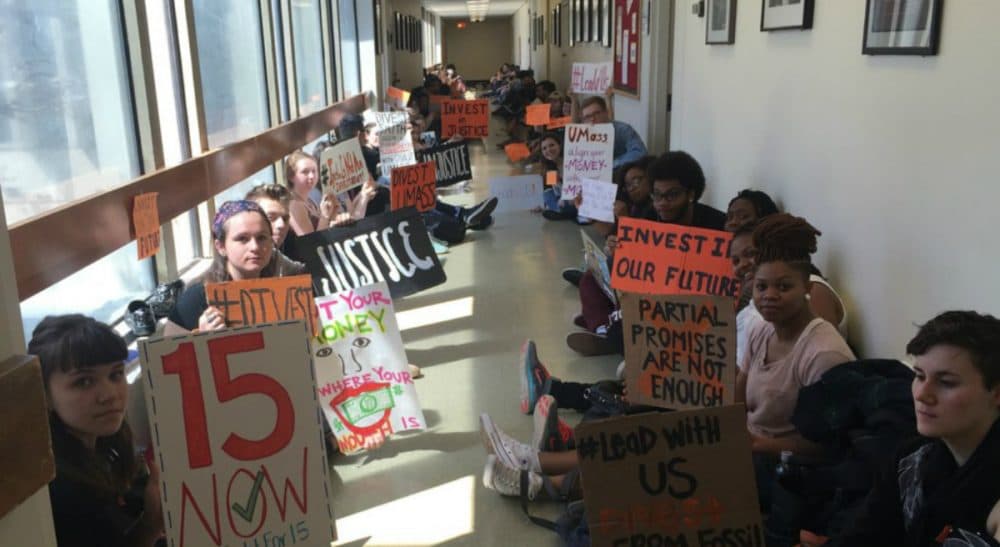 This article is more than 5 years old.
"I was expecting a bunch of bikes out front," said Judge Thomas Estes at a hearing in Amherst for 15 students who were arrested at a protest demanding that the University of Massachusetts divest its stock in fossil fuel companies. Campus police arrested a total of 34 students, mostly undergraduates, over the course of a five-day sit-in at the administration building.
The judge's dig, a reference to the apparent failure of the students to use emission-free transportation to the courthouse, was received amicably. Perhaps there was a note of condescension in the remark, or a suggestion that the students were less than earnest. But news reports gave the impression that it was good-natured.
Technological advances will continue to be essential, but technology alone can't drive the transition to clean energy.
College students have been calling for divestment from fossil fuels since 2012, and the movement has notched some notable wins. Stanford divested its holdings in coal in 2014. Here in Massachusetts, Hampshire College has developed a policy of socially responsible investing, including the elimination of fossil fuel holdings. Just last week, Yale announced that it would begin divesting from fossil fuel companies, albeit with a modest $10 million sale of stock.
And at UMass last week, the judge's sarcasm notwithstanding, the students were able to secure a commitment from the leaders of the UMass system to put divestment on the agenda of an upcoming meeting of the Board of Trustees. That falls short of their goal, but it's a significant victory for the students nonetheless. They moved the ball further down the field than either MIT or Harvard, where the administrations have adamantly defied divestment movements that have support from both students and faculty.
Harvard is an interesting case not just for its high profile, but for having produced some of the most well-articulated arguments for divestment. Activist Benjamin Franta, writing in Huffington Post last year, makes the case that divestment is not about wreaking financial damages on fossil fuel corporations. Rather, according to Franta, divestment works on three levels: institutional, social and political.
When an institution divests from fossil fuels, it fosters an ethos of climate change awareness. Administrators at colleges and universities will be inclined to develop policies that align with the decision to divest. In other words, divestment serves as a touchstone that encourages institutions to make carbon reduction part of their institutional DNA.
At the social level, divestment shapes public opinion by sending a signal about the ethical dimensions of climate change. A principled stand against fossil fuels by a respected institution bolsters the climate justice movement while eroding the social capital of the climate change deniers. It raises the issue from mere economics to a moral plane — an appeal not to the pocketbook but to our responsibilities and our legacy.
Franta's third point is that the increasing isolation of fossil fuel corporations reduces their political clout in Washington. Over time, with fewer and fewer institutions entangled in the balance sheets of Big Oil, it should be easier for lawmakers to enact legislation that runs counter to the interests of the fossil fuel industry.
So it comes down to politics. Technological advances will continue to be essential, but technology alone can't drive the transition to clean energy. The free market has failed to account for the true cost of burning fossil fuels, so government intervention is imperative. That's where politics becomes important, and that's where divestment can make a significant contribution.
A majority of Americans accept the reality of anthropogenic global warming, but only a tiny fraction do anything about it.
For universities, divestment as a tactic to combat climate change remains controversial. But regardless of that debate, the students arrested at UMass and the others who participated in the divestment sit-in should take satisfaction in what they've done. They crossed the boundary between passive awareness and political action.
Consider how a 19-year-old student might feel, perhaps far from home, being cuffed and led to a squad car, standing in a courtroom, parsing the words of a snarky judge. It takes real courage to leave your comfort zone, to make a stand for a principle, and to face the consequences.
A majority of Americans accept the reality of anthropogenic global warming, but only a tiny fraction do anything about it. At a time when politics in this country has become dysfunctional, or even farcical, the students at the UMass sit-in remind us that sustaining our democracy requires active participation.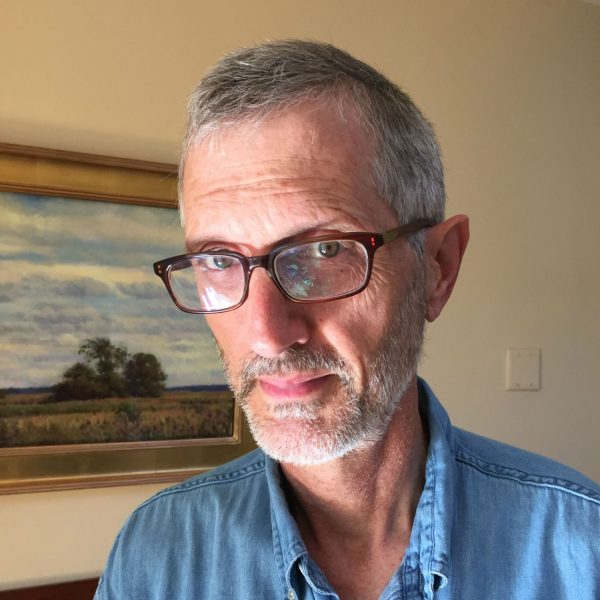 Frederick Hewett Cognoscenti contributor
Frederick Hewett is a freelance writer living in Cambridge. He writes about energy, climate, politics and Boston.