In Golf As In Life, Arnold Palmer Changed The Game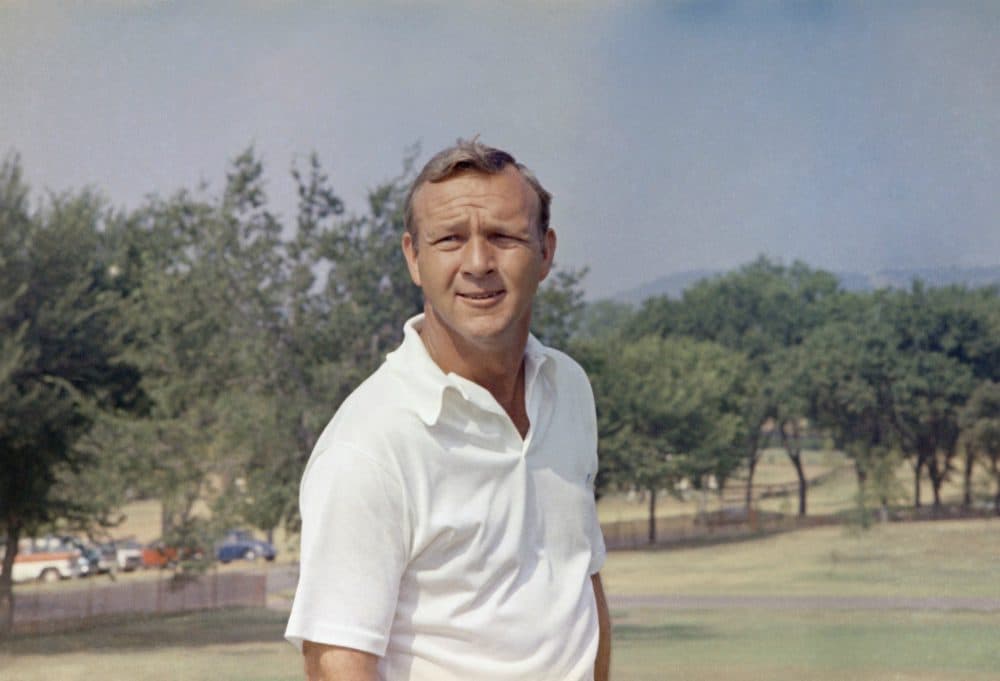 This article is more than 4 years old.
Arnold Palmer was not the greatest golfer who ever played. He was, probably the most popular, however, and certainly the most significant. The entire sports landscape changed because of Palmer, and we are still living with those changes today.
In the late 1950s, professional athletes were more or less like the rest of us, if more famous. They lived in normal houses, made slightly above average wages, took jobs in the off season, and, after their careers were over, had to find other means of employment to make ends meet. It was a regular life.
Then three things happened. Television sets began to appear in every American living room. The charismatic, telegenic Palmer began winning lots of golf tournaments. And a visionary Cleveland lawyer named Mark McCormack used Palmer to more or less invent the field of sports marketing. The rest, as they say, is history.
He grimaced. He grinned. He gritted his teeth and marched on. And afterwards Palmer was always a gentleman in victory and defeat.
We would have gotten there eventually, but the fortuitous confluence of Palmer, McCormack and television certainly sped up the process. Everything you have been reading about Palmer is true. The son of a greenskeeper, he was a man of the people, without artifice, gregarious and fun. Men wanted to drink with him. Women wanted to dance with him. He was the perfect corporate pitchman. Only there was no such thing at the time. McCormack once told me that, before Palmer signed with him in 1959, Heinz had a deal with Palmer (Heinz was based in Pittsburgh; Palmer was from nearby Latrobe) that paid the rising star $250 a year — plus free ketchup.
That changed in a hurry. McCormack knew that many American businessmen played golf, and they would pay far more than what had been the going rate to rub elbows with the likes of Palmer. Zeroes began being added to those numbers — lots of zeroes. Palmer soon formed his own company. He had his own line of clubs, then of clothes. Dry cleaners bore his name. Miniature golf courses. He became a brand.
It was all new. He and McCormack were inventing it as they went along. Of course none of it would have worked if Palmer hadn't been so successful on the golf course, winning seven major titles between 1958 and 1964, including four Master's championships, and 62 PGA tour wins in total. He is rightly credited with rejuvenating the British Open, which American golfers had been ignoring for years before Palmer played in it in 1960. (He finished second that year, then won The Open in 1961 and '62.)
Arnie's army of fans continued to grow even after a young superstar named Jack Nicklaus began to steal his thunder on the golf course. In a way it endeared Palmer to the public more than ever. Arnie was human. He was flawed, a lion fighting off both age and a younger, stronger version of himself. Some of his flame outs were almost unbearable to watch. From the middle of the fairway, he double-bogeyed the 18th hole of the 1961 Masters to lose by a stroke to Gary Player. He lost three U.S. Opens in playoffs, the first in 1962 to a 22-year-old Nicklaus in Oakmont, Pa., Palmer's backyard. Memorably, he blew a 7-stroke lead in the last nine holes to lose the 1966 U.S. Open to his good friend Billy Casper in a playoff.
But he also made famous final round "charges." Hitching up his pants, biceps rippling, Palmer came from seven shots down to win the 1960 U.S. Open at Cherry Hills with a final round 65. In the 1962 Masters, he birdied the 16th and 17th holes to get into a three-way playoff, then on Monday shot 31 on the final nine-holes to make up a three-stroke deficit on Dow Finsterwald and Gary Player.
He won and lost dramatically. We, the public, felt both the joys and horrors through the television screen, because Palmer wore his emotions on his sleeve. He grimaced. He grinned. He gritted his teeth and marched on. And afterwards Palmer was always a gentleman in victory and defeat.
So his brand endured, long, long after his playing days were over. He built golf courses. Hosted a great golf tournament. He had a beverage named after him. He sold motor oil, watches, rental cars and prescription medicines, a trusted spokesman to his dying day. And he was a role model for three generations of  golfers.
A King who truly was a man of the people. We shall not see his like again.
Everyone who ever met Arnold Palmer has a favorite memory. Mine comes from late in his career, during the 1989 PGA Championship at Kemper Lakes Golf Club in suburban Chicago. The PGA was the one major Palmer never won, but a month shy of his 60th birthday, he gave it one last run. I was interviewing the first round leader in the press tent when I noticed that Palmer, my childhood hero, was two-under after five holes. Let's go watch the legend, I thought to myself. By the time I caught up with his group, Palmer was three-under after six. This was fun. He birdied the seventh, and his "army" was suddenly in full throat. It was the first time I'd ever seen it in person. A fifth straight birdie on the eighth hole ignited roars that could be heard all over the golf course. People literally began running from all directions to join the throng. Palmer kept it up. After 16 holes he was six-under and tied for the lead. A bogey-bogey finish muted the hysteria, but the 59-year-old King had caught lightning in a bottle one last time and was the first round story. It was electrifying.
But what I best remember was that, during that run that had his fellow pros looking up scoreboards and smiling, Palmer continued to be approachable to fans. Professional golfers must wait on almost every hole before teeing off, and while most chat with their caddies or playing partners, Palmer, in contention in a major for the first (and last) time in years, passed the time by chatting with spectators and signing his elegant autograph for anyone who offered a pen.
A King who truly was a man of the people. We shall not see his like again.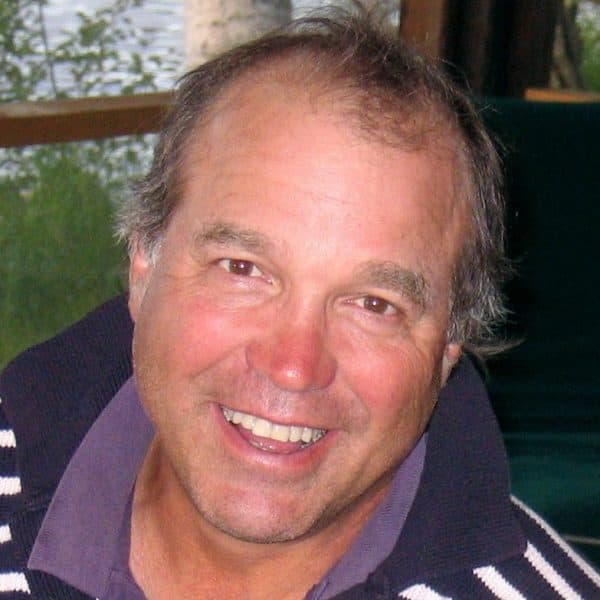 E. M. Swift Cognoscenti contributor
E.M. Swift wrote for Sports Illustrated between 1978 and 2010, covering a wide range of sports but specializing in the Olympics. He is now a freelance writer living in Carlisle, Mass.