Parenting Through An R-Rated Presidential Campaign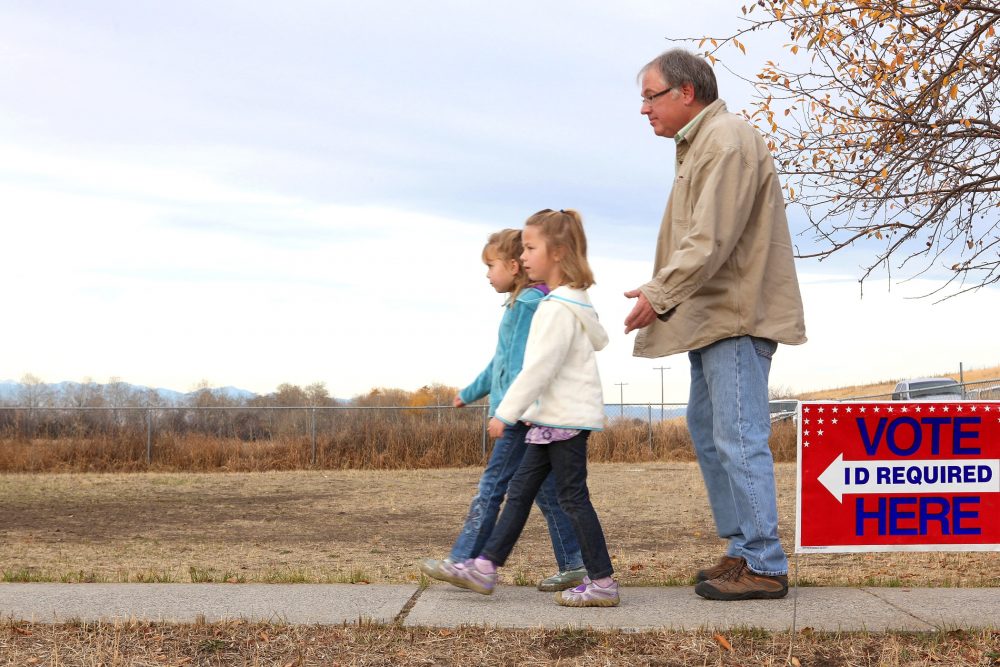 This article is more than 6 years old.
COMMENTARY
The high-conflict nature of the election season was brought into stark relief as I stumbled across a family photo from 2008.
In the picture, my then 12-year-old daughter hoists a political sign for Barack Obama and a local candidate for state rep; she is smiling and squinting in the bright sunlight. In the background, boosters wave signs for both Democratic and Republican candidates.
We were participating in the democratic process, one that values diversity and discourse. It's hard to imagine that camaraderie now. I am concerned about what children are learning in this turbulent campaign season. Many parents want to ignore the process entirely, but we must resist that urge.
As an early childhood educator, I believe it is vital to teach children about the electoral process and the importance of voting. As parents, we share our political leanings with them, translating the complex concepts we care most about into language they can understand. One family might be passionate about education or LGBT equality. Another might be focused on women's rights or immigration. Each family has its own way of approaching the concerns of the day. Children learn from us this way.
Many parents want to ignore the process entirely, but we must resist that urge.
As hard as it is to imagine now, I was raised by parents who belonged to opposing political parties. The feisty dinnertime banter between my Democrat mother and Republican father fueled my interest in politics. They almost never agreed politically, but I knew what they were passionate about. I'm sure that sparked my interest in politics, and my dedication to vote in every election. This is what we need to strive for in our children: political engagement.
I have encountered many parents who want to shield their children from politics. I don't blame them. The current presidential race has become an R-rated affair. One candidate in particular flunks the behavior guidelines of every kindergarten in the country (no name calling, keep your hands to yourself). Parents are delicately navigating around topics of racism, sexism, fear of different religions.
Of course, every political race has its moments of rancor. There were sharp, vivid battles between the candidates over the past several national elections. But they were within bounds of normal debate, and they seem tame now.
Here are six strategies that parents of any political persuasion can use in the current over-heated campaign season:
Act as a buffer
Frame inflammatory rhetoric in terms that helps kids feel safe. One child I know, born in Guatemala and adopted by parents in upstate New York, asked her mother if she would have to go back to Guatemala if Donald Trump won the election. Absorb the stress that children are feeling; try to take it off their plate.
Rephrase
If a candidate says something extremely negative, try to rationally rephrase it in terms your child can understand. "I think what he/she is trying to say is… and I agree/disagree with that."
Correct misinformation
Children absorb snippets of news and overheard conversations. Be calm and correct any misinformation your child has shared with you.
By using these strategies, we can rebuild some of what has been torn down during this campaign.
Emphasize your own values
Communicate what you want for our country, what you look for in a candidate—not simply what you don't like about "the other side."
Model civility
Be courteous to the neighbor who has a lawn sign for the candidate you oppose. When with your children, resist the urge to sneer at a passing bumper sticker. Passing on your values to your child does not have to include tearing down those who think differently. Underscore that it is a hallmark of democracy to accept the outcome of an election, whether we agree with it or not.
Vote with your children
If you can, bring your child into the voting booth, or review a practice ballot. Celebrate the voting process. Make it visible and honorable; turn your children into future voters.
By using these strategies, we can rebuild some of what has been torn down during this campaign. We can teach children that fellow citizens can agree to disagree, and everyone has a voice at the ballot box. We need to emphasize to our youngest citizens-in-training the motto on the Great Seal of the United States, a concept that many adults have lost this year: E Pluribus Unum: out of many, one.