The Challenge Now? Make Trump See All Of Us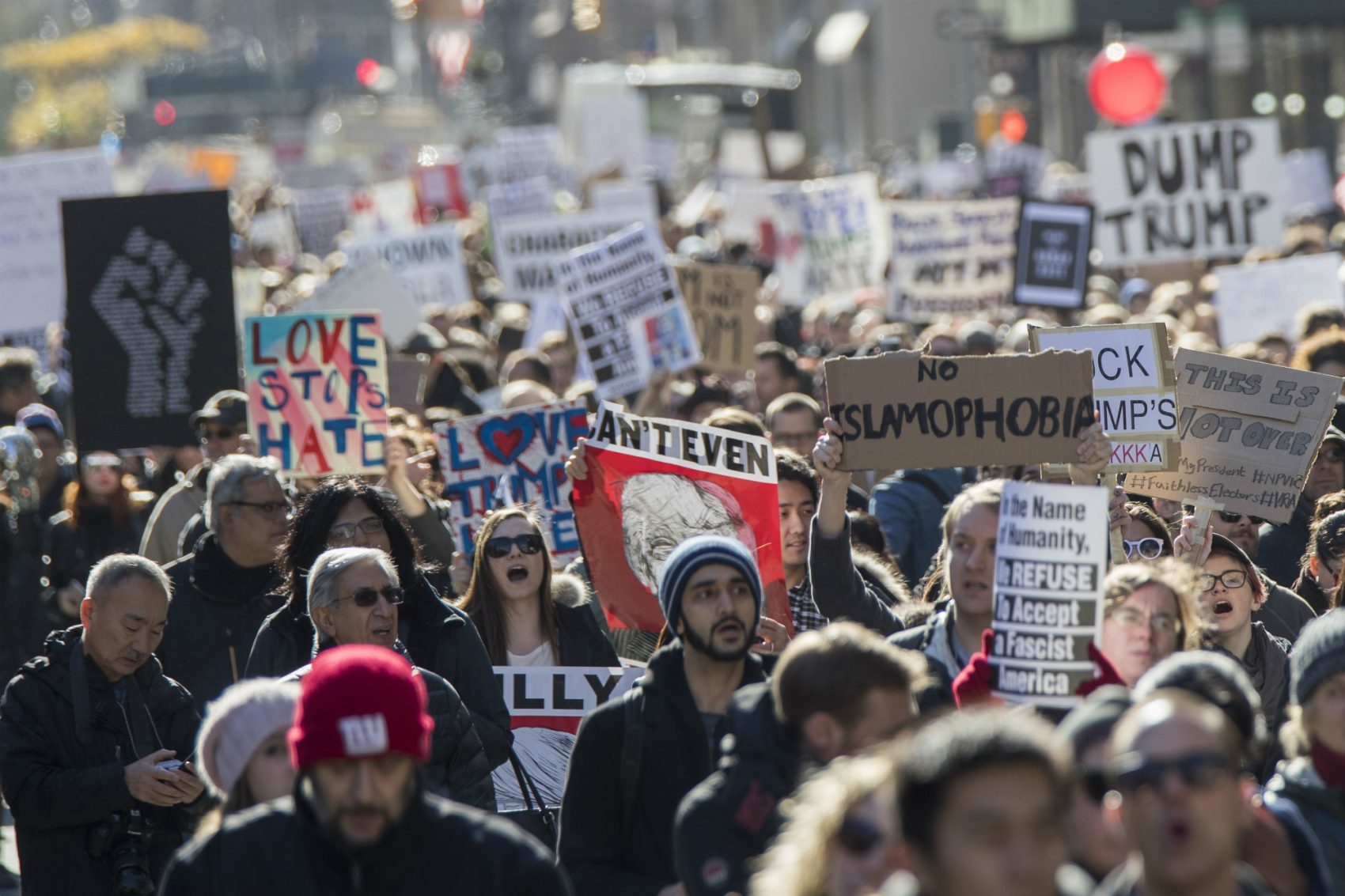 This article is more than 6 years old.
COMMENTARY
With considerable reluctance, I'm going to skip over the part of this story where Hillary Clinton soundly defeats Donald Trump for the U.S. presidency. By the time all the ballots are counted, she will have won the popular vote — or what other countries quaintly call "the election" — by up to 2 million votes.
But as we all know by now, the voting system in this country is rigged in such a manner that the will of individual voters has been quashed by an antiquated Electoral College system that allows losers to be deemed winners.
Trump is president-elect, and, thanks to gerrymandered congressional districts, he has a GOP Congress ready to decimate Obama's legacy.
What would happen if every single American who didn't vote for him...were to write a good, old-fashioned letter to Donald J. Trump, care of the White House?
But it's still quite unclear how Trump will lead, even to Trump. He sounds conciliatory in victory and has a gracious meeting with Obama. Then he goes on Twitter and accuses protesters of being paid professionals.
As I've long argued, the guy doesn't have ideas. He has impulses. But those impulses are governed, at least to some degree, by a desire to be adulated.
The way he found adulation on the campaign trail was by traveling in a bubble of Americans — mostly white, mostly male, and seething with resentment — who reveled in his outbursts, even (and sometimes especially) when they were cruel and violent.
But Trump is soon to be the president of all Americans; he can't live inside that bubble. The opposition's most vital mission in the days and weeks to come is to make sure he doesn't. 
If we want President Trump to reckon with the human toll of his rhetoric and his most dangerous proposals, we have to confront him with our humanity.
Prejudice thrives on abstraction, after all. That's why Trump's message resonated so strongly in racially isolated areas. He offered a vision of America that reduced this nation's "others" to villainous cartoons: Mexican rapists, Muslim conspirators, African-American thugs, and so on.
It would be understandable for those groups who have been threatened, and who feel most vulnerable, to remain silent or even leave the country. But now is the precise moment for them to come out of the shadows and reveal themselves not as cartoons, but as patriotic citizens with the same hopes and dreams and fears as any Trump supporter.
This can certainly be accomplished through peaceful protests of the sort taking shape across the country.
But I keep thinking about another form of political action.

What would happen if every single American who didn't vote for him -- every person of color and Mexican immigrant and Muslim, every disabled person and feminist and Gold Star parent -- were to write a good, old-fashioned letter to Donald J. Trump, care of the White House?
These letters need not say a thing about policy or his history of hate speech. They could simply serve as an introduction, a way of saying: I'm here. I exist. I believe in the dream of this country. These are my children. My 5-year-old wants to be a fireman. My 7-year-old sometimes gets bullied at school. You represent me, too.
I have this image in my head of millions of envelopes, each addressed by hand, arriving at the White House every single day. So many letters that they form piles all around the residence and spill onto the lawn. They become impossible to ignore.
What this little pipe dream represents is a wish that the presidency will enlarge Trump.
I realize this is foolish, that character is destiny and that the presidency is far more likely to magnify Trump's venality than to awaken his conscience. But one thing to remember is that Trump, despite being a celebrity brand bound up in a glittering image of worldly sophistication, has led an incredibly provincial life, hidden away from the have-nots of this nation in penthouse towers and exclusive golf clubs and lavish estates.
The only way he's going to lead all of us is to see all of us.
On the campaign trail, he routinely painted America as an apocalyptic hellscape on the brink of ruin. It was a rich man's paranoid version of life beyond the gilded bunker. If there is any hope for a Trump administration, it resides in the possibility that the presidency will force him to become less sheltered and to confront the realities of the nation he now leads.
America is not an apocalyptic hellscape. It is a country full of citizens in need. They need the dignity of work, a livable wage, medical care, education, shelter. These needs stretch from the rural ZIP codes that found in Trump a savage savior, to the urban enclaves where he was reviled him as a shallow demagogue.
The only way he's going to lead all of us is to see all of us.
And if he refuses to open his eyes or look in our direction, we have to find peaceful but persistent ways to make ourselves seen.