One Of The Greats, Gone: An Appreciation Of Gwen Ifill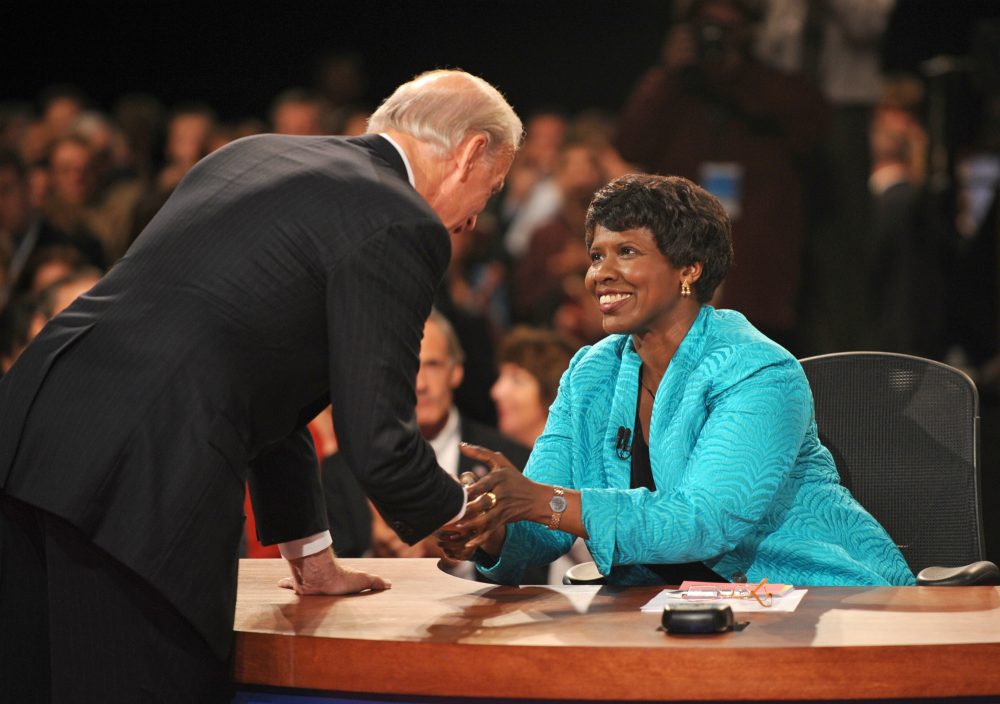 This article is more than 5 years old.
COMMENTARY
Losing Gwen Ifill would have always been a profound loss, but at this moment, her death at the age of 61, to cancer, feels like Greek tragedy: The day after our new president-elect appointed an avowed white supremacist to sit 15 feet from the Oval Office; the same day Massachusetts Attorney General Maura Healey launched a new hotline for citizens to report increased incidents of harassment; and just hours before one of President Obama's final press conferences, in which he soberly answered questions about the future of our democracy. (Oh, how I wish Obama had his "anger translator" with him behind the podium.)
Ifill was the child of immigrants from Barbados and Panama. She had Boston roots: She was a graduate of Simmons College and a young reporter for the Boston Herald American, just as the city was roiling from court-ordered busing to enforce school desegregation. She worked at The Baltimore Evening Sun, The Washington Post and The New York Times before transitioning to television and NBC News, in 1994. In 1999, she moved to PBS to moderate "Washington Week" and serve as a senior correspondent on the "NewsHour." And in 2013, after moderating the vice presidential debates in 2004 and 2008, she became one half of the first all-female anchor team on the network evening news.
'I have a flat spot right in the front of my head from trying to break down walls my entire career...'

Gwen Ifill
She addressed her trailblazer status in a 2014 commencement address at American University. "I have a flat spot right in the front of my head from trying to break down walls my entire career," Ifill said, "forcing diversity of thought and opinion into newsrooms and onto the air. Whatever else you do with your lives, I hope you remember to fight those battles too." There's no more relevant sentiment these days.
The "NewsHour" devoted 45 of its 55-minute broadcast Monday night to remembering Ifill. It ended with an excerpt of a conversation, before an audience, between her and her close friend Michele Norris, formerly of NPR.
Ifill told the story of watching Melba Tolliver on the news as a little girl in New  York City, and how seeing Tolliver and "her afro" didn't make her want to be on television, as much as it made her want to "tell the story." And that's precisely what Ifill did.
She understood her power. "As long as I remember that there's someone on the other side of the piece of equipment – the camera – who is watching me with expectation, and it can shape what they do next," she said, "I have to take what I do seriously every single day."
Without exception, Ifill's colleagues, in remembering her, talked about her grace under pressure, her unwillingness to suffer fools and her humanity. "Class. Civility. Rigorous journalism. Please tell me everything @gwenifill represented isn't dying," tweeted Jodi Kantor.
I loved Ifill's toughness. I loved her competence. I even loved how much she loved "Hamilton," a work she evangelized. And I really loved her sense of humor. In a Q&A on Reddit a couple of years ago, someone asked what she'd be doing if she weren't a journalist. "I would be somebody's background singer. Preferably in sequins," she wrote. Ifill engaged on social media, and Twitter especially, without diminishing her stature with snark and carelessness.
Throughout the 2016 presidential campaign, I never missed the NewsHour's "Politics Monday" segment. Ifill never got cynical; she kept asking questions. She covered the campaign, including its least savory aspects, without contributing to the feeling that it was a blood sport.
...someone asked [Ifill] what she'd be doing if she weren't a journalist. 'I would be somebody's background singer. Preferably in sequins.'
It seemed to me that Ifill found a useful balance in her work that I imagine most journalists aspire to. I never doubted her motivation, even when I didn't agree with her reporting. In our hyper-polarized politics, her questions and curiosity helped me understand what was at stake, not just who won and lost. She helped me make sense of the world.
The dignity and grace with which Ifill evidently faced the end of her life is an example to us all. For months, I've been wondering, "Where's Gwen?" She never let on how sick she was (or that she was even sick at all), and PBS respected her privacy.
I'm glad they did. I also wish that those of us who have spent decades setting our clocks to the NewsHour's opening swell -- lest we miss even a minute — could have let her know, before she was gone, how very much we'd miss her.