Holiday Cards: Seeking Our Better Selves, In Rose Gold Foil
COMMENTARY
I love rose gold foil. Apparently, so does everyone else who purchases personalized holiday cards online from Minted. The week after Thanksgiving, I receive the first of what will amount to a bucket of holiday photo cards proclaiming progeny and proving folks know what good taste looks like. Each year, I do the same.
Problem is, despite the range of personalization options, the photographs look less like people I know and more like a wash of faces that belongs to our homogeneous culture that fetishizes children, especially ones who: wear matching plaid anything, sleep (like a baby) swaddled in a blanket with a little knit cap, go to Christmas tree farms in Vermont or dress as a family in white and/or jump on the beach at the same time.
Sometimes, I look at the photo cards and think ungenerous thoughts. Why do they always get to: Go to Europe? Not brush their hair and look gorgeous? Laugh as a group? When the photos are a little out of focus, I worry. What happened to them this year?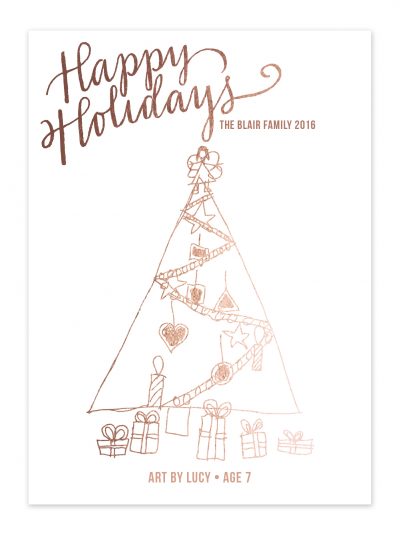 Long before we had children, my husband and I wanted them. We used our wedding photo for the requisite first married holiday card, but the next year we wondered whether we should send a photo of just the two of us? Maybe our dog? Dress the dog up? We sent nothing.
We still didn't have children for a couple more years, so when I finally caved and decided to send a card out anyway, I went big tent. I sketched a Christmas tree and covered the holiday gamut: Merry Christmas! Happy Hanukkah! Feliz Navidad! And mixed in a little holiday subversive element: Jesus is Coming, Look Busy!
This year, when no perfect family image emerged for the holiday card, I stepped away from my iPhone library. I didn't want anyone to feel left out because they didn't have kids or a wedding picture or a sweeping Vermont vista to back them up. I was tired of relying on a picture of us and Triple Thick™ paper stock to convey affection. I wanted less Minted and more of us in our holiday communiqué.
"This year, no photo," I said to my husband. "Great," he said. So I retreated to my office and opened a box of watercolors to express our own seasonal gratitude. But, now, I realized, it was all about me. No, I needed us to be all in, so I pulled my three young girls — a 10-year-old and twin 8-year-olds — around the table and announced we'd make our own card as a family.
I got out nearly new Sharpies and outlined a tree. "Just add on," I said. I put Christmas in my heart. I believed. I turned on Kings College Choir Christmas and thought about bourbon.
What started out as a delightful evening of family on task turned into family illustrator infighting. My 10-year-old, Dosia, is unfortunately, fond of drawing cats, which the rest of us — sorry, cat lovers — hate. We negotiated: one cat. She slipped in a second and tried to pass it off as a dog. Dosia put "lipstick" on Francie's angel, which compelled Francie to put a black sharpie "X" through Dosia's angel.
We started over.
Another tree. Dosia's sketchy approach would never translate into my vision of just the right foil printed line drawing. I offered some gesture drawing "tips." What began as gentle, if slightly edgy, "Try the Sharpie," became full-on art bully, "Be decisive!" I could resist the urge no longer. I opened up my laptop.
I put Christmas in my heart. I believed. I turned on Kings College Choir Christmas and thought about bourbon.
"See," I said, showing the kids a whiff of holiday wonder drawn for Minted by 7-year-old Lucy, and printed in rose gold foil. "Like that."
Lucy had drawn a Christmas tree with minimal fuss but with a really cool strand of large-bulb lights that zigzagged down the center. I couldn't help it. I had to have not only the rose gold foil but also the Seussical lights. I drew a tree like Lucy's and replicated the lights.
"But," Dosia, pointed out, "that's their idea and I thought we were going to do ours."
"The problem is," I said, before I could stop myself, "theirs looks better."
Clara quit the tree and began drawing tiny hot air balloons and inscribed each one with a single, tiny message: peace, hope, sleep.
Dosia put her head on the table. "Can't we just send a picture?"
Snap. Caught in my own trap. I went back to trolling for a photo. One function of holiday cards is that they can make us look better than we usually are. In the end, even with innumerable possibilities for personalization, the online templates still show less a snapshot of us as individuals than a picture of the landscape of conformity — a land that lets our better selves shine in rose gold foil.
Put me down for 100.