How A Black Businessman Helped Save William Lloyd Garrison's Newspaper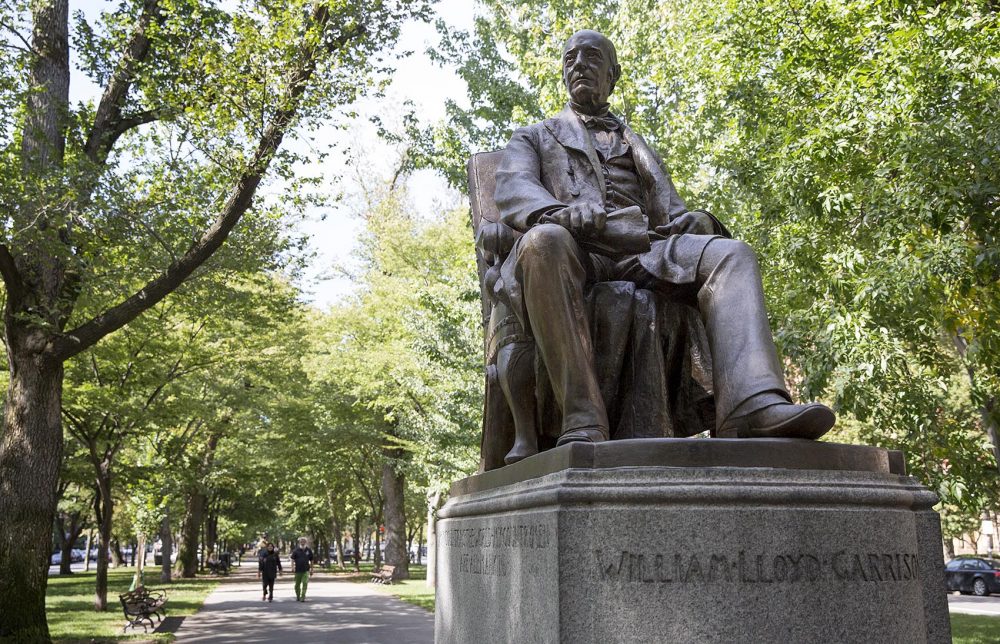 This article is more than 5 years old.
COMMENTARY
You may have seen the elegant statue of the abolitionist William Lloyd Garrison that sits grandly on the Commonwealth Avenue mall, between Dartmouth and Exeter streets. I'm always happy when I come upon it because Garrison has long been one of my heroes. Lately, though, I've come to realize that the estimable white man alone in his big chair could use some company.
Let me explain.
First about Garrison: He was born in Newburyport in 1805. After a tough childhood, he apprenticed at several newspapers, and by 1831 he started publishing The Liberator, which quickly earned a reputation as the most radical, important and forward thinking of the abolitionist newspapers. So much so that in 1835, Garrison nearly lost his life to a Boston mob. They found his ideas — that slaves deserved immediate freedom, and that women had the right to speak out as abolitionists — threatening and abhorrent. After tying a rope around his waist, the enraged group dragged him through the streets until a sheriff finally managed to rescue him, and spare him lynching.

The Liberator might never have made it even to its second issue had a black businessman not given generously to support it. His biographer, Henry Mayer, notes that Garrison had no money to pay the printer. However,  "...[o]n the day the bill was due Garrison went to the post office and found a check for $54 from James Forten, the black leader from Philadelphia, who asked the editor to consider the money as advance payment for 27 subscriptions. Names and addresses were carefully enclosed, along with Forten's ardent hopes that Garrison's efforts to combat slavery and prejudice would not be in vain."
James Forten (1766-1842) was a remarkable man. In her memoir "Negroland," Margo Jefferson tells how Forten started working in a sail-making firm when he was just 8 years old, and by 23 had become the owner, "running it so well that it made him one of the richest men, black or white, in the city."
He prospered, Jefferson notes, even though he refused to do business with ship owners who traded in slaves. When not manufacturing boat "rigging," Forten "organized against slavery and colonization, [and] fought attempts to curtail the rights of free blacks, and supplied much needed funds to help William Lloyd Garrison start The Liberator."
For all of James Forten's accomplishments, (he is listed in the encyclopedia of "100 Greatest African Americans") nowhere — as far as I can see -- is there a statue to honor him.
I do not believe that every brave, accomplished American has to have his/her likeness cast in bronze. But I do believe that we are overdue to nudge our abolitionist narrative. Writers like Colson Whitehead ("The Underground Railroad," published last year) are rightfully interrogating the tale as it has long been told — as are many in the black community, as are students and faculty on some campuses.
I do not believe that every brave, accomplished American has to have his/her likeness cast in bronze. But I do believe that we are overdue to nudge our abolitionist narrative.
The rest of us need to do our part, too, to update this story. Here in New England, we love our abolitionists — especially now that the past seems safely past. Certainly, we love focusing on those among our forefathers who helped black people find freedom as opposed to the many who profited from it. And that's okay. But without the company of other narratives, the white abolitionist one obscures the great efforts made by slaves and free blacks to move the country against slavery.
So, enough already with the tale of the solitary white guy acting alone. How about we cast a second statue of James Forten, and place it beside the one of Garrison? Not only would it help heal an historical omission, I'm absolutely certain William Lloyd would applaud the effort — and savor the companionship.