The Week That Was: Airstrikes, Apologies, A Pulled Pepsi Ad, And More
---
Editor's Note: Every Friday, Tom Keane offers up assorted observations, conundra and miscellanea about the week that was. Here's his round-up for the week ending April 14, 2017.
---
It was week when Pepsi apologized, Sean Spicer apologized, Oscar Munoz apologized, and Bill O'Reilly … went on vacation.
How many bombs does it take to get to 50 percent? President Trump saw his approval ratings jump after he dropped 59 Tomahawk missiles on a Syrian airbase. And that is why Kim Jong-Un should be very nervous.
"I love WikiLeaks" I wonder if Putin wishes he could have a do-over on Russia's tampering in the U.S. election. By leaking information on Hillary Clinton, he was hoping to defeat a candidate he hated. Now, arguably, things are worse with Trump than they would have been with Clinton. Which raises the question: Did the Russians also hack into Trump's computers? And if so, when's the big reveal?
"Logical fallacy." And by the way, Eric Trump's claim that the Syrian strike validates "the fact that there is no Russia tie" is ludicrous. It could, of course, prove the opposite: that Trump, desperate to refute the Russia allegations, did so as emphatically as possible.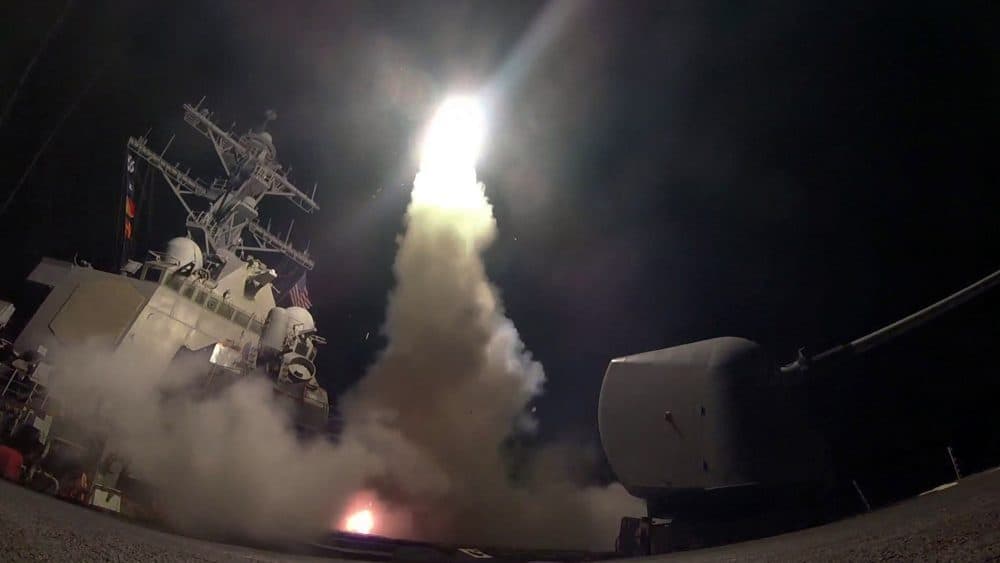 Small victories. Democrats were thrilled when they just barely lost a congressional election in Kansas. Yes, really. Thrilled. And that tells you a lot about the party these days: It measures its successes by the narrowness of its losses.
End run. Massachusetts is trumpeting the news that some driver applicants who passed Uber and Lyft's background checks failed the state's own check. How so? Largely because, in a major reform five years ago, the Bay State banned private employers from performing background checks that delve more than seven years into a job applicant's past. It was a controversial policy, one intended to allow people with checkered histories a chance to start anew. But, somewhat hypocritically, the new policy didn't apply to the state itself. So now a classic rebound job – driving – is off limits to ex-cons. And companies unhappy with the seven-year policy have a solution: Just let the government do it.
Where's Olivia Pope when you need her? Hasn't United Airlines ever heard of crisis management? Ever since the 1982 Tylenol murders, when some bottles were laced with cyanide, it's been one of the basics of business school. Heck, there's even a TV show about it. But instead of learning from everyone else's mistakes, United made a series of textbook errors after a passenger was forcibly dragged off a plane. CEO Oscar Munoz spent days glossing over the incident, calling it "re-accommodation," defending the employees involved, and taking shots at the passenger himself. Everyone else watching this saga unfold knew exactly how it would end: With groveling apologies. What took Munoz so long?
Foot in Mouth Disease. If it took Munoz a long time to finally say "sorry," at least he got there. But Sean Spicer's Assad-was-worse-than-Hitler apology just dug him further into a hole. My favorite: His attempt to explain that Hitler had not used toxic poison "on his own people." Except that the German Jews were, of course, Hitler's "own people." Does Spicer survive in the soon-to-come shake-up of White House staff? My guess is both he and Steve Bannon are gone.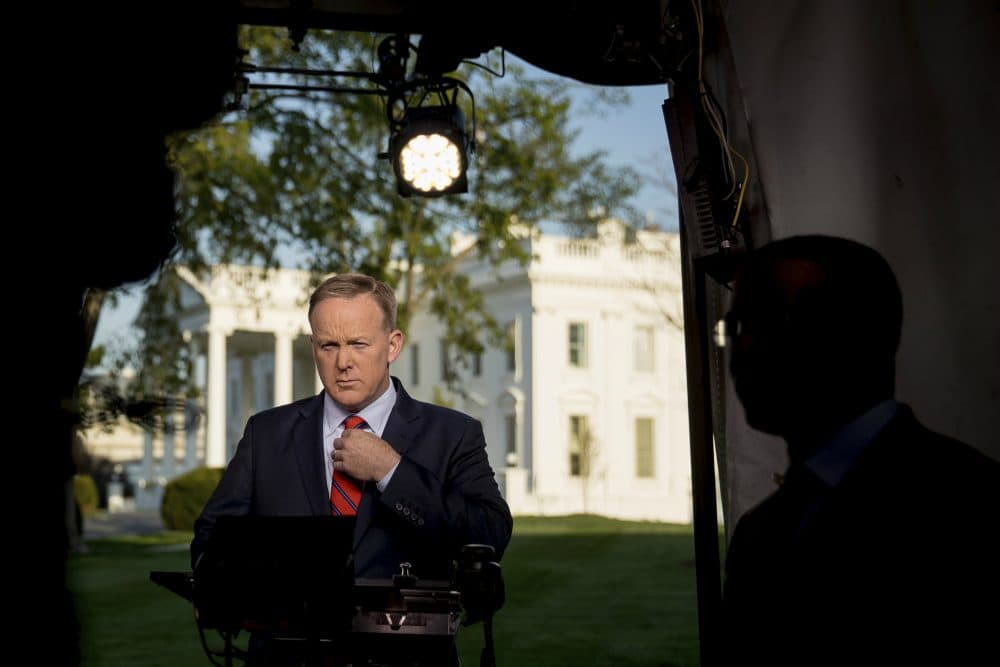 Ch-ch-changes. That shake-up, by the way, is a sign of Trump's rapidly shifting positions. He now likes NATO. He's no longer a big fan of Putin. He's willing to cut a trade deal with China. And the "America Firster" is now suddenly (and sometimes scarily) engaged with the world, be it Syria or North Korea. The question is: Has reality just hit him square in the face? Or did he never believe this stuff in the first place?
Congratulations, Governor! A new poll finds that Charlie Baker is the most popular governor in the country. Three-quarters of Massachusetts residents approve of the job he's doing; a scant 17 percent disagree. Given that Baker's a Republican in a solid-blue state, those numbers elicit some head scratching. I'm not sure why, though. Baker is studiously non-ideological, caring more about problem-solving than partisan one-upmanship. Moreover, on a host  of issues, including spending and transgender rights, he's to the left of many of the commonwealth's Democratic politicians – including, notably, Robert DeLeo, speaker of the House.
Slugs. And finally, media across the country hailed a report from British researchers that a hot bath can burn as many calories as a 30-minute walk. The excitement goes to prove, I think, that we'll look for any possible excuse not to move.