The Week That Was: Comey Fired, Russian Hacking Backfired, Nudity On Stage And More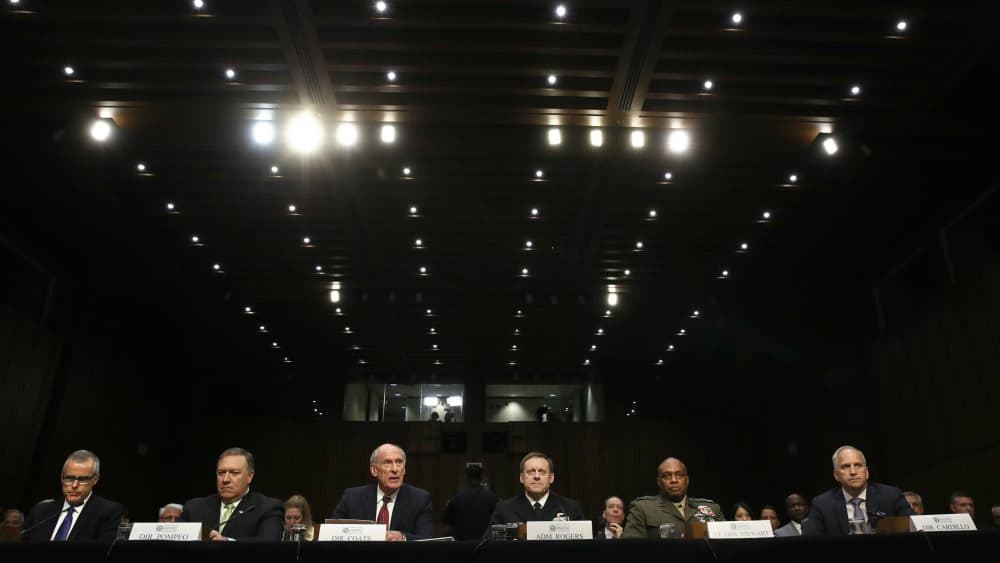 This article is more than 4 years old.
Editor's Note: Every Friday, Tom Keane offers up assorted observations, conundra and miscellanea about the week that was. Here's his round-up for the week ending May 12, 2017.
---
It was the week where Donald Trump proved that French voters really made the right decision.
The strongman's club. Venezuelan president Nicolas Maduro moved to rewrite his country's constitution, completely abandoning any pretense at democracy and giving him near-dictatorial powers. Great! Another new BFF for Donald Trump!
Getting what you asked for. For months, Democrats have been demanding that FBI Director James Comey be ousted from his job and so finally Trump fired him and Democrats were then outraged that FBI director Comey had been ousted from his job.
I am not a crook. Of course, the outrage over the Comey matter has to do with timing. Comey deserved termination — he essentially threw the election to Trump — but that was months ago. So why the sudden firing? The suspicion is that Trump was trying to thwart Comey's investigation into his campaign's Russian ties. If so, it was a huge miscalculation. The FBI will be more determined than ever to prove it is not a political pushover. Comey is now expected to testify next week before the Senate Intelligence Committee. And the cries for some sort of independent investigation continue to mount. Instead of sweeping the Russian issue under the rug, Trump has succeeded in making it front and center.
Look here! Look here! As the Comey termination erupted into a full-scale media conflagration, with the White House providing shifting explanations as to how and why, Trump responded by … issuing another executive order. This one takes aim at voter fraud and, as with so many of the president's previous executive orders (including ones boosting trade, reviewing the federal government's role in education, examining national landmark designations, reducing tax burdens or buying American), is more fluff than substance — public relations moves aimed at placating a particular constituency or, as with the most recent order, trying to distract attention from what's really going on. Here's betting no one takes the bait.
Qui n'avance pas, recule. The French election really was a repeat of the U.S. election, but with a different outcome. Emmanuel Macron was the unapologetic globalist while Marine Le Pen — with a troubling background of bigotry — was the Trump-like nationalist. Much of the commentary following Macron's win was of the "yes, but" variety, pointing out Le Pen's new prominence. I'm not buying it. A 66-34 win is a landslide. French voters gave Le Pen a thumping from which she'll not soon recover — and at the same time, set their nation on a new course.
And while we're at it, can we bring back happy hour? Massachusetts liquor regulators went after Budweiser for providing inducements to bar owners (such as beer dispensers with prominent logos) in order to get them to sell its products. Why is this a crime? In other fields of commerce, it happens all the time. Food companies, for example, pay expensive "slotting fees" for prominent placement in supermarket aisles. It's time for the Bay State to stop trying to tell liquor businesses how they can compete and simply let them compete.
Fight Club. Chaos continued in the nation's airlines. A fight broke out on a Southwest flight to Burbank, California. Passengers at the Fort Lauderdale-Hollywood International Airport nearly rioted after Spirit Airlines canceled flights. A family was booted from a Delta flight when they refused to give up a toddler's seat. And an American Airlines flight attendant got into a confrontation with a passenger after removing her baby stroller. So, should we all start traveling by automobile? Nah. I remember family trips with my siblings in the back of my parent's sedan. I'll take the perils of the perhaps not-so-friendly skies any day.
Never nod if you can wink. Russia got a taste of its own medicine as hackers released embarrassing emails describing efforts by Prime Minister Dmitry Medvedev to hide his ill-gotten wealth. Everyone was quick to assign blame to the hackers and to the weak security of the internet, but really, the incident underscored two key points everyone should know. First, emails (or texts or Instagrams or whatever) are incredibly easy to share, meaning they are essentially public documents. Second, if you don't want everyone reading one of your emails, maybe you shouldn't write it in the first place. Antiquated as they may seem, phone calls or — even better — private conversations are much more secure.
Overexposed. And finally, the Boston Children's Theatre caught flack for featuring a nude scene in one of its productions. Granted, nudity can be a legitimate artistic choice. But the BCT's original mission — and I once sat on its board — was theater for children by children. The play at issue, "One Flew Over the Cuckoo's Nest," however, is so adult that children are warned off from attending. And the undressed actor in question is 21 years old — a grown-up by any measure. So now we have theater for adults by adults. BCT, I fear, has lost its way.