The Week That Was: Au Revoir To Paris, Boston Calling, Gov. Campaign Heats Up And More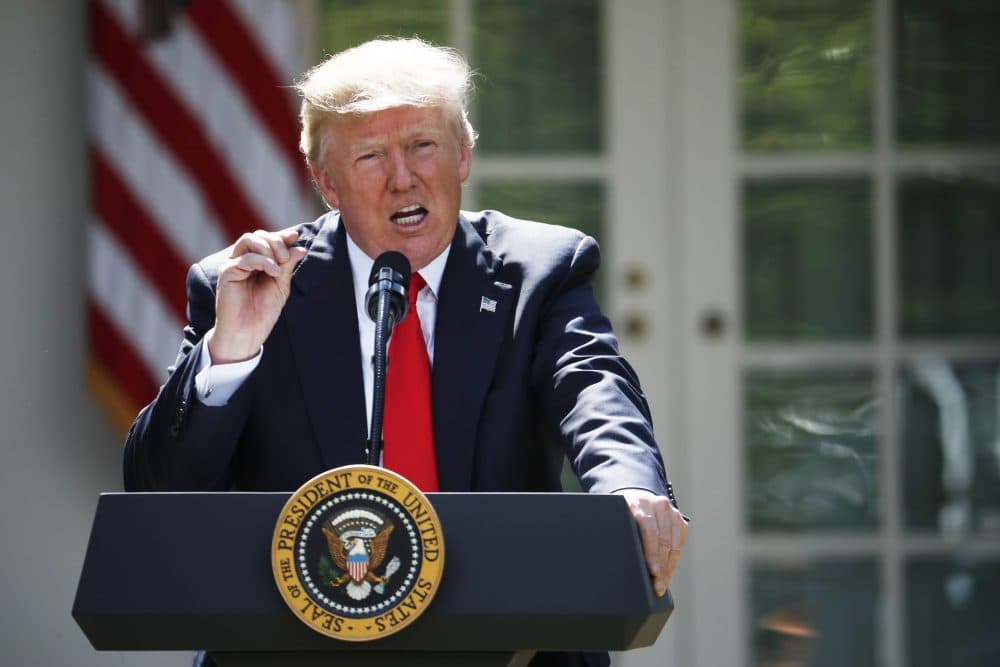 This article is more than 4 years old.
Editor's Note: Every Friday, Tom Keane offers up assorted observations, conundra and miscellanea about the week that was. Here's his round-up for the week ending June 2, 2017.
---
It was the week when the president returned from his first overseas trip and things in Washington, D.C. returned to normal — normal in Trump's world, meaning frenetic.
Gambling going on in here! People were shocked, shocked when Trump announced Thursday that the United States was withdrawing from the Paris climate accord. Shocked why? Because a politician actually fulfilled a campaign promise? It would have been shocking if the president had announced he had changed his mind, and that the opinions of Europeans and Democrats mattered more than those of his core supporters. Trump may be many things — thin-skinned, sexist, narcissistic, naive. But when it comes to retail politics, he's not stupid.
Cleaning house? The long-awaited shake-up of the Trump White House commenced, with the resignation of communications chief Mike Dubke. And then ... nothing. Everyone, from Spicer to Bannon to Conway to Priebus, remains in place. Meanwhile, the White House is in turmoil: The Russia investigation proceeds apace. Fired FBI chief James Comey may give bombshell testimony next week. White House staffers continue leaking and infighting. And Trump's relationship with Congressional Republicans remains fraught. The one thing we thought we'd get from the "You're fired" guy was decisiveness. Instead, he appears paralyzed.
Loose lips. Why is everyone so upset that the president's son-in-law, Jared Kushner, tried to set up a secret back channel for communications to the Russians? Given the antipathy of the outgoing administration to the incoming one, it's not unreasonable the Trump folks might avoid using official lines of communication — at least until they were in charge. And talking to people in other countries, especially if you're president-elect, is no crime (and please, spare me the Logan Act foolishness — as Alan Dershowitz cogently points out, that 1799 law is a piece of unenforceable nonsense). Sure, it could be the back channel effort was an attempt to communicate something nefarious. If so, that's a problem. But in that case, the issue would be the message, not the medium.
Sink or swim. Salem city councilors refused to support an ordinance protecting its "sanctuary city" status. Witches? We love them! Immigrants? Not so much. A pox upon the council.
I dare you. Charlie Baker's campaign said it intends to raise $30 million for his re-election. It's an unprecedented, intimidating amount designed to strike fear in the hearts of possible first-tier Democratic contenders already unnerved by the governor's status as most popular in the nation. If they don't run — which seems the case — we're left with second-tier Democrats (such as Newton mayor Setti Warren or Deval Patrick administration official Jay Gonzalez) whose low name recognition and lack of funds likely ensures electoral ignominy. So why would they run? First, you never know — lightning can strike. Second, and more realistically, a well-run losing campaign can establish bona fide candidates for the next time. And on their second try for the job in 2022, Warren and Gonzalez would be able to tell voters one thing first-tier Democrats can't: They weren't chicken.
Unbeating heart of the city. The music festival Boston Calling finished a successful three-day stint on City Hall Plaza, proving once again how important the downtown area is to the cultural life of the city ... oh, I'm sorry. It was held in Allston? Allston?? Isn't that somewhere next to Cambridge? And doesn't the festival's move after four years on the Plaza prove critics right? Gimcrack events like Boston Winter notwithstanding, City Hall Plaza remains an amazing waste of space. Raze it. Build something else.
Sickening. The trial of Bella Bond's alleged killer kicked off this week. Bond is the toddler whose body washed up on a beach two years ago. Her mother's boyfriend is charged with first-degree murder. But as the proceedings commenced, it became quickly apparent this is a he said, she said story, neither credible, each blaming the other. Mom's already off the hook; she cut a deal with prosecutors to testify. And it's hard to believe a jury will find guilt beyond a reasonable doubt. Both could walk.
Dentists would approve. And finally, Sugar Heaven in the Back Bay closed suddenly this week. Is this a telling comment about a shopping district increasingly dominated by big chains rather than mom and pop retailers? Or maybe the real story is less about corporate consolidation and more about improving health. According to the USDA, per capita sugar consumption is down, from a high of 89.3 lbs. per person in 1999 to 75.7 lbs. in 2015. Given the health risks of too much sugar, perhaps the only thing "heaven" about the candy store was that it shortened the amount of time to get there.