James Comey's Missteps
This article is more than 5 years old.
It's hard not to like James Comey with his candid and forthcoming manner. The former director of the FBI seems a towering throwback to the solid values of truth, justice and the American way that are so rare in public life today.
Yet, Comey was too eager for President Donald Trump to accept him, which may ultimately lead to the president not being charged with obstruction of justice.
According to a statement Comey provided to the Senate Intelligence Committee, the president told Comey at a one-on-one White House dinner, "I need loyalty."
Comey replied, "You will always get honesty from me."
Trump paused and said, "That's what I want, honest loyalty."
Comey said he would provide that.
He compromised. Comey decided he did not want to push the issue further, although he realized, "it is possible we understood the phrase 'honest loyalty' differently."
Unless any audio tapes are released containing their conversations, it will be Comey's word against Trump's.
Honest loyalty means straight forward allegiance, but it's not exactly what Comey intended since he said he had stressed the need for the FBI to be independent.
During another meeting in the Oval Office, Comey went along to get along again. It was on Feb. 14, the day after National Security Adviser Michael Flynn had been fired for lying to Vice President Mike Pence about talking to Russian contacts. After the meeting, Trump asked five other officials to leave so he could speak to Comey alone. President Trump said, "I hope you can see your way clear to letting this go, to letting Flynn go. He is a good guy. I hope you can let this go," according to Comey's testimony.
Comey replied only that "he is a good guy." Comey did not say, he would let it go.
Comey could have called out his new boss and said, "Mr. President, this is an inappropriate conversation. I am unable to discuss this with you further because I need to preserve the independence of the FBI."
Or, he could have asked a clarifying question, such as, "Mr. President are you ordering me to discontinue an investigation?"
Instead, Comey agreed with the president, while being careful to make no promises to him.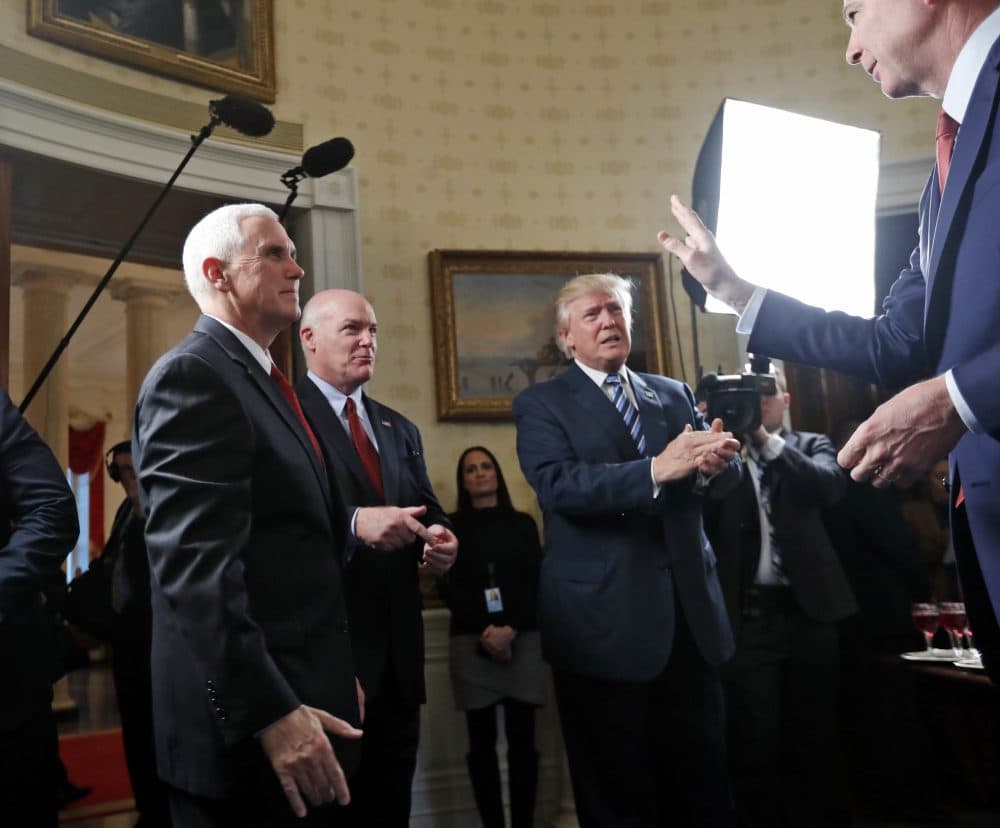 Comey told the committee he didn't respond more strongly because he was "stunned" that the president would ask him such a question. But it also appears that Comey was trying to hold onto a job he had told the president he loved, while at the same time, not being compromised by that president. Comey told members of the committee he inferred that the president expected patronage in exchange for allowing Comey to keep his FBI job.
To avoid conflicts of interest in the future, Comey told his immediate boss, Attorney General Jeff Sessions, that he would not meet with Trump without Sessions again.
Yet, Trump still pursued Comey, calling him on the phone. The president was very disturbed that the Russia investigation had caused a cloud to form over his administration. According to Comey, Trump asked him "what we could do" to "lift the cloud" and "get out" the word that Trump wasn't being investigated.
"I told him I would see what we could do, and that we would do our investigative work well and as quickly as we could," wrote Comey to the committee.
Again, Comey had the opportunity to tell the president that it was inappropriate for them to discuss the subject and that he could have the White House Counsel call the Justice Department. Instead, Comey said he told the president three times that he was not the subject of an investigation while trying to ease out of awkward conversations.
Still, the whole affair is a useful lesson for workers everywhere about a hostile work environment.
In April, Trump called Comey to find out what he had done to "get out" the word that he wasn't being investigated. The president reminded Comey that of "that thing we had" perhaps recalling the honest loyalty. At that point, Comey referred the president to the Justice Department. Comey was fired in May, but didn't understand why until he saw the president explain it to a reporter; it was because of the Russia investigation.
After Comey's public testimony on Thursday, Trump's private attorney Marc Kasowitz denied Trump asked Comey for loyalty, denied Trump wanted Comey to let Flynn go and denied Trump impeded any investigation of the Russians.
Unless any audio tapes are released containing their conversations, it will be Comey's word against Trump's. The untimely ending of Comey's long career is unlikely to result in Trump being charged with obstruction of justice because Comey said himself that Trump did not order him to drop an investigation. Comey never forced the president to declare his intentions, either.
Still, the whole affair is a useful lesson for workers everywhere about a hostile work environment. If a boss uses intimidation or coercion to try to get employees to do something they feel is wrong, the first thing for them to do is clarify what is being asked and to take a stand. It puts the boss on notice to back off or make corrections before anything goes too far.