One Year On, 4 Things You Can Do To Honor The Victims Of The Pulse Nightclub Shooting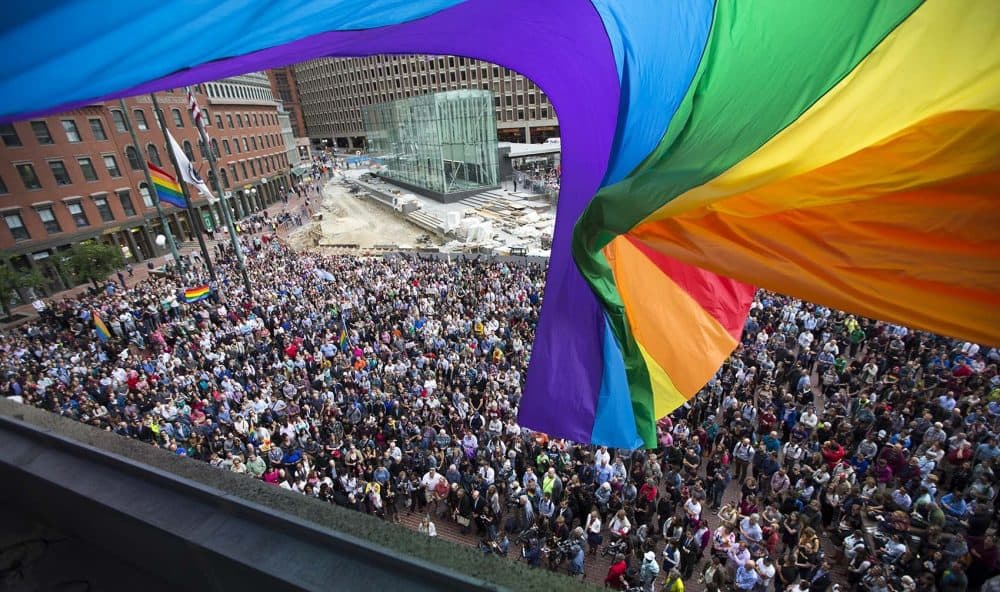 This article is more than 5 years old.
When I stepped into my first gay pride march in Boston in 1988, I was scared. Out of the closet for a year, I felt exposed. It seemed risky to put myself out there in such a public way to celebrate the LGBTQ community and to demand rights and protections. As we marched, I scanned the faces of the sidewalk crowds for signs of verbal abuse or violence. I wondered if my presence in the march would somehow impact my career aspirations of becoming a teacher. In 1988, AIDS was ravaging the gay community, gay teachers were being fired, and many people chose to stay in the closet.
I remember looking up at the rooftops as we marched along Boston Common on Beacon Street. Was there anyone up there, ready to throw something or even shoot? I chided myself for being paranoid, and made an effort to relax into safety within that exuberant crowd of gay men, lesbians and others who seemed so free of fear and suspicion. And I kept coming back to Pride, year after year, feeling more and more free as discriminatory laws were struck down, as legal protections were enacted.
How can we mark this date? Mark the enormity of its brutal loss of life and sense of safety in the LGBTQ community? I have a few ideas.
I was just about to hit the 30-year mark in my career as an educator when the worst mass shooting in American history struck in Orlando, Florida. It's hard to keep them all straight at this point: the massacres, the number of dead, the kind of gun used, the empty thoughts and prayers of politicians. But one year ago, on June 12, 2016, a gunman chose a gay nightclub, a place pulsing with joy and beauty and music and a largely Latinx crowd, and killed 49 people. Even now it takes my breath away, both for its magnitude and cruelty, and for how we as a country simply move on, numb and weary.
How can we mark this date? Mark the enormity of its brutal loss of life and sense of safety in the LGBTQ community? I have a few ideas.
1. First, don't minimize that this was an assault on an out, joyful LGBTQ gathering. It was targeted. It was done during Pride Month, on the club's designated Latin Night. Say it aloud, remember it. It cannot be forgotten.
2. Support the LGBTQ community by going to Pride marches. The one in Boston is happening Saturday, June 10, and there are more across the country. Wave a rainbow flag, show you are with us and that you honor and remember this tragedy, that you support our freedoms and that no ounce of progress can be taken for granted.
3. Speak up to your political representatives when LGBTQ rights are taken away or assaulted. Right now, it looks like the 2020 census will simply omit counting LGBTQ people in a mind-blowing effort at erasure.
4. Lastly, give that gift of awareness to the next generation. Buy books for kids that celebrate the LGBTQ community and that include LGBTQ people in them. In this way, you promote visibility and equality, and you pass on those values to the kids in your life, sowing seeds of justice for future generations.
I study a photo of my young self, marching along Beacon Street with my '80s-style flowered shorts, pink shirt and my shaking knees. Look at where we were: the corner of Beacon and Joy. As we remember the lives lost and the trust broken at Pulse, as we fight for the protection of our rights and lives in a sometimes hostile national and international landscape, let's not forget that we can refuse to be silent. We can refuse to be made invisible. We can be a beacon. And don't forget the joy.