50 Years On, Remembering The 'Our World' Broadcast And What It Means Today
This article is more than 5 years old.
This week marks a little-remembered but transformative anniversary. On June 25, 1967, the first live, multi-satellite-enabled, international television broadcast in history was aired.
Roughly 10,000 technicians and producers worldwide wrote scripts, shot footage and coordinated transmission among four satellites across the International Date Line. Over 1.5 million kilometers of cable was used to quite literally link up the planet and enable the broadcast of "Our World," a three-hour aggregation of short, wide-ranging documentary segments, to 31 countries on every continent but Antarctica.
Multinational and democratic, "Our World" represented the birth of what media maven Marshall McLuhan dubbed in its Canadian introduction, "the global village." He believed that the simultaneity enabled by this technology would create empathy and mutual responsibility between peoples and cultures.
For the artists, technicians, and journalists involved in its making, "Our World" was not only a technical marvel, but a social elixir. Narrative voice-overs between the show's segments offered urgent expositions of humanity's challenges, framed in hopeful explanations of how technology would help us address them. "Our World" was to be the pixelated proof that through the efforts of "ingenious men on five continents," led by educated humanists, mankind could transcend its political divisions and enlightened liberalism could harness our efforts to the greater good.
"Our World" was to be the pixelated proof that ... [we] could harness our efforts to the greater good.
But the entire effort was nearly derailed four days before the June 25th broadcast when, in an act of protest against Western coverage of the Six-Day War in the Middle East, the Eastern Bloc countries withdrew from the effort, taking their crews and one of the four communications satellites with them.
The profound nature of that war, the festering and spreading impact it would have on peoples, ideologies and governments for the indefinite future, was obscured by its speed. But it was precisely in speed, in near simultaneity of experience, that the show's producers saw the potential for unity. Dismissing the Soviet complaints as a piece of "vintage Cold War rhetoric," the American anchor of "Our World," Paul Nevins, gravely voiced the team's vision.
"For the moment we're going to ignore our differences and focus on what we have in common," he declared in the American introduction to the worldwide broadcast, as maps of the continents were linked by curving, glowing lines on screen. " ... For we are, in a sense, electronic Magellans, on an exploration without precedent."
With those words, the simulcast began.
Some of the "Our World" segments — such as an in-depth look at Habitat and Cumbernauld, two large, planned communities that exist to this day — offered bold predictions that didn't pan out. Some featured artists — Leonard Bernstein, Joan Miro, Alexander Calder and The Beatles (who debuted "All You Need Is Love" in what would be their last live television performance) — have extraordinary legacies.
Others, like the long-forgotten stars of Zeffirelli's "Romeo and Juliet," had careers that flared and then fizzled over the course of mere months. But alongside segments featuring the famous were seemingly mundane portions such as an overhead view of the morning commute in Paris or a brief glimpse of Austrian steelworkers on the job.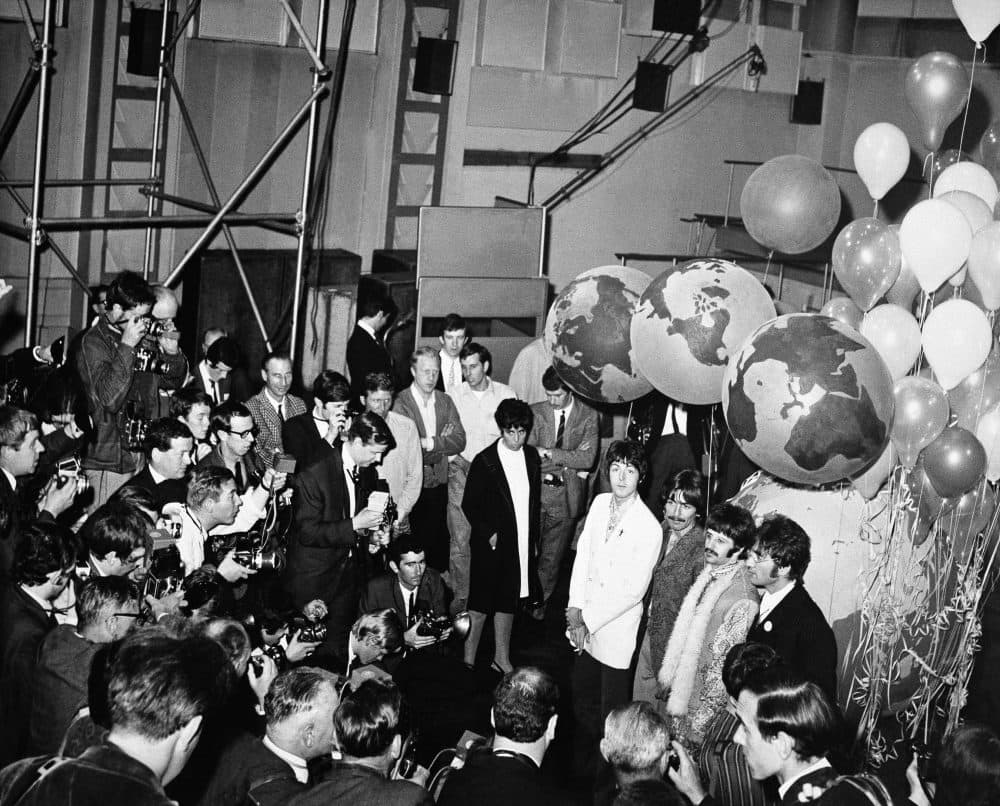 The producers' choice of scenes seems to have been driven by their laudable trust that the mundane habits and sights that bore us at best in our own daily lives would somehow be invested with greater meaning when we saw them occurring in someone else's, continents away. "People are people," the producers seemed to be saying. "We all go to work, raise children, enjoy a day at the beach, get stuck in traffic." By hop-scotching through time zones, by showing the daily routines as they occurred, they hoped that they could break through non-temporal boundaries as well.
An estimated 400 million people watched the broadcast, the largest television audience to that date. But more significantly, this was probably also the broadest and most concurrent experience of any sort in human history. Other natural events — climate changes, epidemics and wars — had a much more profound impact, but they unfolded much more gradually over time.
I was 13 when the broadcast occurred, already shaped by the civil rights movement and involvement in the anti-war struggle. In 1967, idealism and technology briefly merged to stoke the belief that through large-scale, electronically enabled experiences, humanity would finally understand that we shared a single, sprawling but unsteady home, and join together to remodel it. That hope shaped and still drives me.
I sometimes think of [it] as representing the fulcrum between before and after. But on good days, I think that perhaps it is also a story about still ...
Now I'm now counting down the months until I'm eligible for Medicare. McLuhan's 1967 vision of an electronically enabled global village has finally come to fruition, and the landscape is cluttered with crap: Fake news and Kardashian derriere shots are transmitted at nearly the speed of light. But so too are signs of suffering and calls to action passed from person to person and nation to nation almost instantaneously. We now have the infrastructure for empathy on a massive scale.
And so these days, when I feel overwhelmed by despair, by the apparent trouncing of unrealized dreams, I turn to Rebecca Solnit's indispensable collection of essays about the nature of hope. "It's always too soon to go home," she writes. "And it's always too soon to calculate effect ... Cause-and-effect assumes that history marches forward, but history is not an army. It is a crab scuttling sideways, a drip of soft water wearing away stone, an earthquake breaking centuries of tension."
I sometimes think of 1967 and "Our World" as representing the fulcrum between before and after. But on good days, I think that perhaps it is also a story about still, not just about the flare-up and extinction of idealistic energy, but also about its gestation, and the speed at which it travels through time and culture.
On good days, I start to believe that what I remember isn't over.