A Mother's Response To The Health Care Debate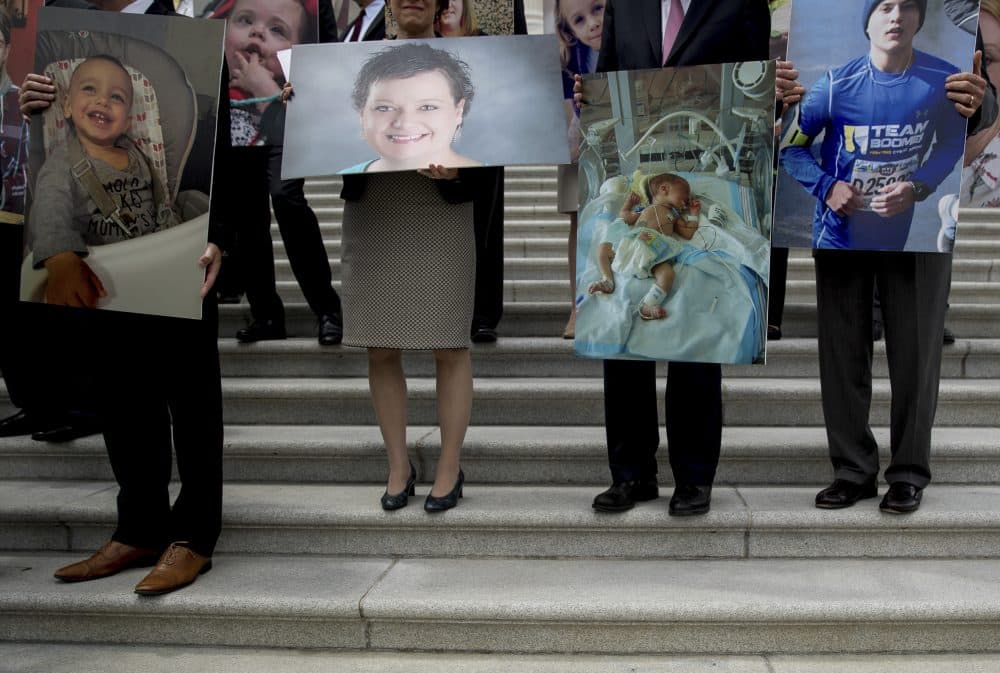 This article is more than 5 years old.
As parents, our primary goal is to keep our kids safe. We follow them around as toddlers, keeping them from falling off tricycles and running into roadways. When they become teenagers, we lecture incessantly and hold our breath when they leave the house, only temporarily exhaling when they come home safely at the end of the day. We worry, and hope they won't have to feel the same fears.
When medical issues arise, we set our outward worries aside and put our brave faces on each day. That is what we did when our son was diagnosed at the age of 6 with a rare metabolic disorder that, simply described, makes too much protein in his body as dangerous as sugar is to a diabetic.
For more than two decades, we have dealt with hospitals and medical experts and navigated a maze of insurance coverage, access to rare medications and the development of life-changing eating patterns. Through it all, we were grateful for the insurance safety net and wonderful specialists that kept our child alive and allowed our optimism to be grounded in reality.
Our instinctive efforts to protect our children cannot serve as a shield against devastatingly bad public policy.
That optimism allowed us to raise our son with the ability to live with his disorder as a basic part of his life, without it defining him. It allowed his own optimism to grow and develop and ensure that he could pursue his dreams. Just like everyone else hopes to do.
Notwithstanding their seven year crusade to eliminate the Affordable Care Act, Mitch McConnell and Paul Ryan are failing yet again because they refuse to address the fundamental barrier to achieving their goal. Simply put, health care is deeply personal for everyone. If you are part of a club, as they are, where the loss of Obamacare leaves you in the elite pool of those who qualify for a better plan, then the health care debate is merely policy. To the rest of us, their proposals mark a very real movement towards a lifetime of profound stress.
Even as the House and Senate proposals are particularly cruel to the poor, the bills do not spare many from their ravages. We have seen the outpouring of anger at congressional offices across the country, as people share stories of how their lives, or the lives of their loved ones, depend on insurance coverage for treatment that will not be available to them under the proposed legislation.

These stories are each heartbreaking, and when they come from people we know, they are that much more real. When my son recently shared some of his own story in a Facebook posting, empathy morphed into searing sadness as I saw the fears he carries after a lifetime of trying to protect him. Here is what he wrote:
If you are reading this, that means we are, on some level, friends.
Many of you know that I have a pre-existing condition (the reason I can't eat much protein and drink cola when I feel bad).
My survival depends on my access to thorough healthcare - I take a medicine 3x daily, the annual pre-insurance cost of which is roughly $100,000. And this isn't one of those evil-CEO-quintuples-the-cost-of-an-epi-pen $100k: very few people need my medication, so there is no economy of scale, and the R & D and legal costs of bringing a drug to market are expensive.
Last year, after a month without my secondary, less significant medication, I was hospitalized and very nearly died. Without my (expensive) primary medication, I would die.
This GOP bill health care bill is a threat to my life. This bill opens the door for a life-time cap to be instituted on my insurance coverage, a cap I would reach, without difficulty, after a few years (sooner if I have another crisis).
This GOP bill is a threat to my life. Please, call your senators. It takes 3 minutes.
Our instinctive efforts to protect our children cannot serve as a shield against devastatingly bad public policy. At 30 years old and newly married, and even with the safety net of a loving extended family, my son's Facebook posting is a searing reminder of the psychic costs of the current health care debate.
All of our stories matter and must be told ceaselessly until some critical mass of both parties develop the collective backbone to stand up to the speaker of the House and the Senate majority leader. Health care challenges cannot be solved by taking money from the poor to give to the rich. Nor are they solved by giving the president a "win," as though any bill, no matter how devastating the consequences, should warrant a victory lap in the Rose Garden. And they certainly cannot be solved without a diversity of voices and experiences at the table as full participants.
Complex problems warrant nuanced solutions that bring together a bipartisan commitment to forge true compromise. In this case, our lives -- and the lives of our children — depend on it.