The Week That Was: Trump Warns North Korea, Volvo's Electric Ambition And More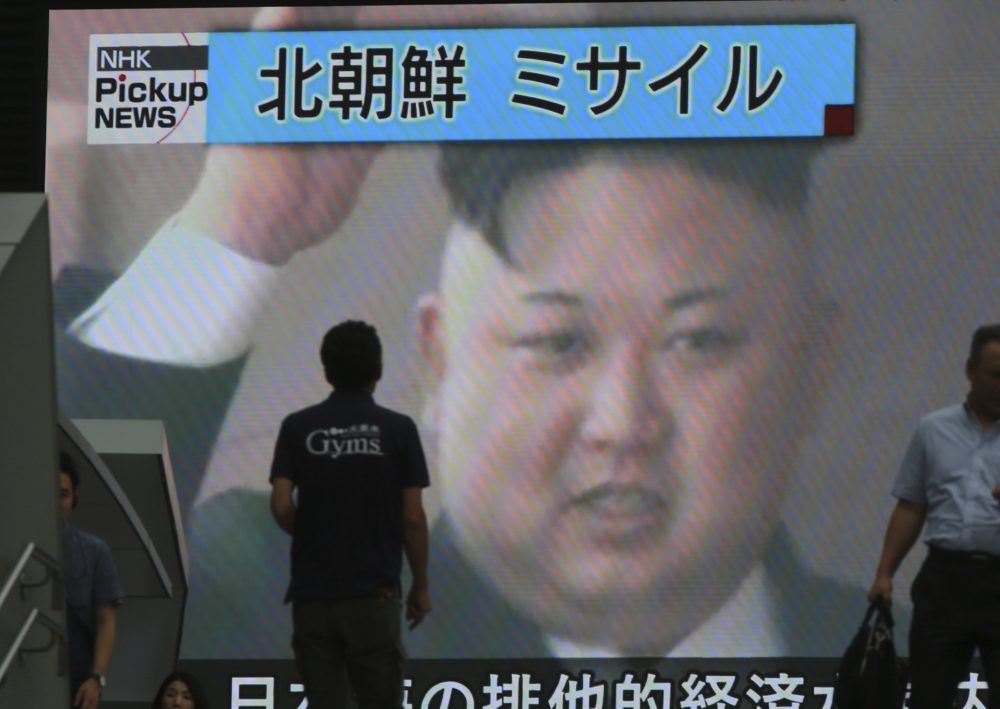 This article is more than 2 years old.
Editor's Note: Every Friday, Tom Keane offers up assorted observations, conundra and miscellanea about the week that was. Here's his round-up for the week ending July 7, 2017.
---
It was the week when President Trump headed off to Europe, giving staff at home hope that the jet lag would leave him too exhausted for social media.
Who needs a military when we've got a president that tweets? Before he left town, though, Trump responded to North Korea's launch of an intercontinental ballistic missile with several scathing tweets aimed at the country's dictator. "Does he have anything better to do with his life?" mocked Trump. "Perhaps China will … end this nonsense once and for all!" he threatened. The president then warned of even more "pretty severe things" if North Korea kept up its misbehavior. And what might those "things" be? Pyongyang will know it's really in trouble when Trump tweets a video of himself body-slamming a man labeled "Kim Jong Un."
Can we start making plans for 2020? Trump was set to meet Friday with Russian President Vladimir Putin at the G20 meeting in Germany. Transcripts of the U.S. president's conversation with the man who hacked America's election likely won't be released, but I imagine Trump's first words will be, "Thank you, thank, you, thank you."
Soon to be known as the G19. That G20 meeting may feature nice words from Putin, but "Make America Great" isolationism on everything from climate change to defense to trade means, as the Washington Post writes, it's increasingly "Trump against the world." Ronald Reagan once remarked that an alien invasion from outer space might serve to unite all the countries on Earth. Trump may be that alien.
The status quo looks better and better. Meanwhile, Republican members of Congress on their summer recesses caught heat from voters over health care. The latest wrinkle: The GOP plan would increase premiums in January by 20 percent. Talk about a job-killer — mainly, for any pol who votes yes.
Bad vacation. Summertime sales-tax "holidays" have been an on-again, off-again thing in Massachusetts. In past years, retailers argued a holiday would boost sales. Studies show that's not true; tax holidays merely shift the timing of consumer purchases. So, this year there's a new argument: Brick-and-mortar retailers need the two-day holiday to help them compete against internet retailers collecting no sales tax. But in fact Amazon, the biggest e-tailer of all, has for several years been collecting sales taxes from Bay State residents. And more to the point, a tax holiday is just a short respite. How about reducing or eliminating the sales tax altogether, so consumers would benefit every day in the year — not just two?
Cooties. Harvard's Fox Club, one of the university's traditional all-male final clubs, had over the last few years tested a plan to admit women as members. This week it announced it was reversing course, going back to its old single-sex ways. That potentially puts it at odds with the school's administration, which is pushing to essentially prohibit all single-sex groups on campus — a plan that would affect all-female finals clubs as well. The administration is wrong on that score. Students should be free to associate with whomever they want. On the other hand, it's disheartening that some of the nation's best and brightest are still caught in a throwback mindset from over 50 years ago.
The end is nigh. Volvo announced that beginning in 2019, all its cars would be electric or hybrid. Volvo is actually owned by the Chinese meaning that a communist dictatorship now is environmentally more progressive than the United States.
Pot's not addictive, but taxes are. Public health advocates seized on a plan by Bay State pols to boost taxes on pot, arguing for new taxes on booze as well. What!? A bunch of stoners persuade voters to make weed legal and now I have to pay more for my beer and wine? Can I get my "yes" vote back?
Explosions in Boston. Everyone's happy. These days, our first reaction to any mass tragedy is to assume it's terrorism. A cab at Logan airport jumped a curb, injuring 10, and authorities rushed to assure the public it wasn't intentional. Some might call this the new normal. Yet the next day, 400,000 people gathered on the Esplanade to watch a concert and fireworks. Merely the fact that so many people showed up in one spot brings hope: Terrorism may be on our minds, but it hasn't made us hermits.
Men of the cloth. And finally, True Religion, a maker of way-too-expensive jeans, this week sought bankruptcy protection. Apparently, its investors lost faith.