Sessions Feigns Concern For Asian-Americans To Gut Affirmative Action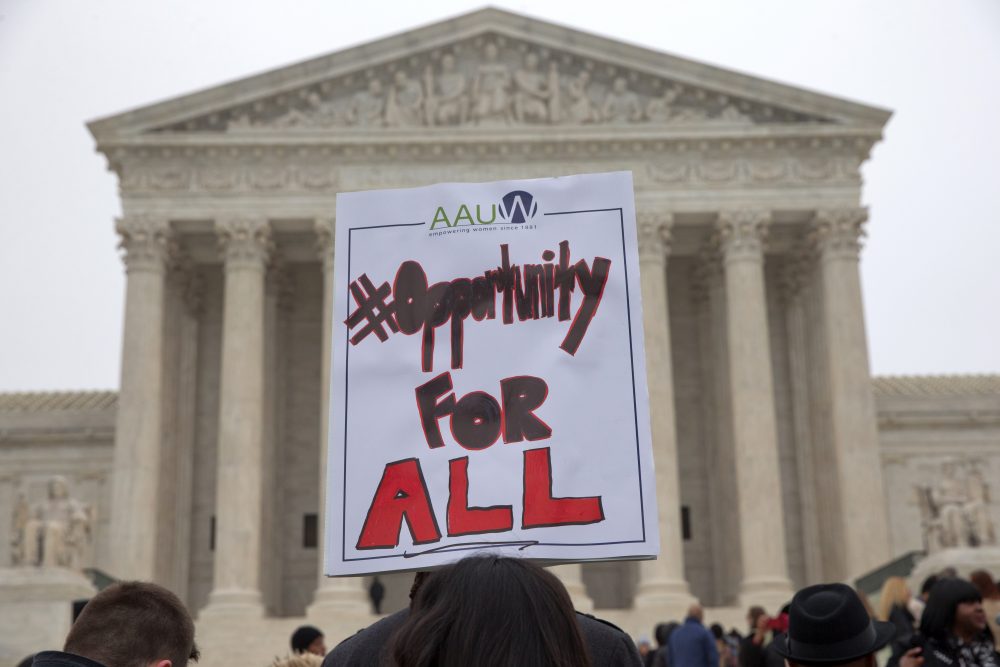 This article is more than 5 years old.
On Aug. 2, President Trump announced his support for a bill that could cut immigration by half within a decade by limiting the ability of split families to reunite and together salute Old Glory, thereby trampling mercilessly over the lives of immigrants, including Asians -- 1.3 million of whom are undocumented — and blaming them, along with Latinos and other immigrants of color, for the country's economic woes. But the day before, Trump's Department of Justice had declared that it would attempt to dismantle affirmative action to benefit allegedly wrongly excluded Asian-Americans. "Model minority" one moment and foreign pestilent the next. There is a back story to this seeming contradiction, and it involves a recent decision of the Supreme Court, which Attorney General Jeff Sessions aims to undermine and ultimately reverse.
In 2016, the Supreme Court upheld an affirmative action program in the case of Fisher v. the University of Texas, providing the (faint) green light colleges seeking to expand racial diversity in their communities have long sought. The plaintiff, Abigail Fisher, a white woman rejected by UT Austin's undergraduate program, claimed that UT improperly used race as a factor in its admissions decisions. Fisher also argued that UT's policy hurt Asian-Americans as much as it did white applicants.
The school's defense was that while race played a role in its general admissions policy, its approach was, as the Constitution requires, narrowly tailored to achieve diversity. Justice Kennedy, who wrote for a 4-3 majority, found no proof that the policy discriminated against Asian-Americans. But it was Justice Alito, in dissent, who went whole hog for the plaintiff's argument that Asian-Americans were the real victims of the policy. Alito wrote that the appellate courts ignored the finding of the trial court that "Hispanics are better represented than Asian-Americans in UT classrooms. In fact, they [the Kennedy-led majority] act almost as if Asian-American students do not exist…."  Indeed, one could be forgiven for thinking that Abigail Fisher was herself Asian-American, so vociferously did Alito pursue this claim of discrimination against Asian-American UT applicants.

Lest one make the mistake of viewing the recent news as merely Sessions's crass attempt to crawl back into President Trump's circle of "strong," not "weak" men, look at the current state of the half-century old anti-affirmative action campaign.
It ramped up in the 1980s when Ronald Reagan famously declared that affirmative action constituted an un-American "quota system." Opponents of the policy have persistently exploited whites' anxiety about their own access to limited opportunities, and effectively but falsely framed the issue as one of procedural fairness. As Reagan argued, affirmative action is antithetical to Dr. Martin Luther King's "color-blind society."
This week's news beats on the same drums, but with a perverse twist.  It's not whites whose rights are in need of defending against affirmative action policies, but rather Asian-Americans.
Now, in the realm of political discourse, if not of law, it makes perfect sense for Sessions's Justice Department and other like-minded thinkers to place the burden of defending white advantages on the shoulders of the so-called "model minority," since it neatly masks that the central objective of affirmative action opponents is to retain white dominance in these elite institutions. It also falsely conflates the status of whites and Asians, a vastly heterogeneous group of Americans most of whose members are not in the SAT stratosphere, and who still face racism perpetrated by whites.

Studies abound attesting to the ubiquity of the "bamboo ceiling" and the perpetual designation of Asian-Americans as "foreigners." Moreover, in pitting African-Americans and Latinos against Asian-Americans, the DOJ borrows from a timeworn American playbook that taps into disingenuous racial stereotypes. Asian-Americans, the trope teaches — although smarter, more industrious and self-motivated than other people of color — are being displaced by groups relying on unwarranted historic grievances and government assistance to win college acceptances.
Transforming Asian-Americans into honorary whites for purposes of the affirmative action debate is a win-win for Alito and others on the right — and now, Sessions. The Justice Department appears to be lining up its ducks to support cases brought against Harvard College and the University of North Carolina by Edward Blum, president of the anti-affirmative action Project on Fair Representation. Add this to the overdrive initiatives to reverse any progress the Obama administration made on civil rights: abandonment of the Civil Rights Division's program monitoring police departments, cutting back on protections for people with disabilities, establishing a phony "voter integrity unit," putting a man with little civil rights experience in charge of the division and, most outrageously, attempting to ban transgender Americans from military service and stripping away other safeguards against discrimination affecting LGBT individuals.
Would that it was true, what President Trump has tweeted: that Jeff Sessions is "weak."