The Case For Classics: The Relevance Of Ancient Greece In Today's World
Once upon a time, classics was viewed by the Western world as the strongest educational foundation, a portal to a civilized life and a high-level career. But even when I majored in Ancient Greek many decades ago, the classics department was small, and by now, the field has come to seem outmoded — "irrelevant," I think, is the operative word.
This is easy to understand. Classics seems musty. And what kind of job will a mastery of enclitics and proclitics get you? Yet as I glance from my old Ancient Greek primer — its opening chapters filled with such vocabulary as "democracy," "laws" and "truth" — to what is happening today, I have to ask: Irrelevant? I think not. An education in classics seems more pertinent — more necessary — than ever.
Students in their very first year of Greek can read Plato's account of Socrates, who will instruct them in reasoning and logic, as well as civics. Any teacher may use the Socratic method, but here students learn it from the master, acquiring a sharp tool for poking holes in our flimsy public discourse. "Did that senator make sense? Wasn't that a total non-sequitur?" they will ask, putting their Latin to use. And after observing Socrates, the "gadfly," mercilessly probe his opponents, they'll scorn the softball questions in our congressional hearings and media interviews. "Was that a question?" they will ask. "Or just a big wet kiss?"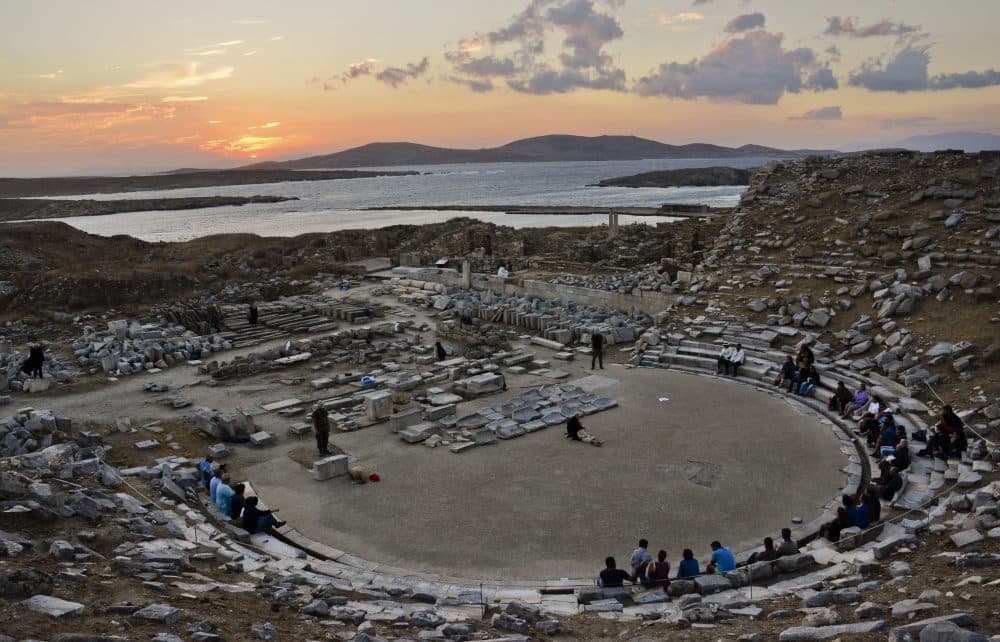 Immersed in translation and constantly consulting the great Liddell and Scott — the Greek equivalent of the Oxford English Dictionary — students learn definitively that words have agreed-upon meanings, and different agreed-upon meanings in different contexts. They will realize that words don't mean just what Humpty Dumpty says they mean, and contexts can't be ignored.
From the tragedians — Sophocles, Aeschylus, Euripides — students gain a moral compass. They learn that actions have consequences. If you chop up your nephews, boil them and feed them to their father (your hated brother) — you will pay! If you sacrifice your daughter for a good wind to sail by — you will pay! And if you've been warned that you will kill your father and marry your mother and are foolish enough to marry an older woman and murder an old man — you will pay! Students may observe that some people think they can get away with anything — just because they're special, or perhaps because they're CEO or president. But the Greeks make it clear in the tragedies that only the gods can get away with anything, and they reserve this privilege for themselves.
Delving into Thucydides, students soon perceive that democracy has always been difficult, politics has always been complicated and history repeats — which might encourage them to change the story line. They also learn that brilliant political analysis requires more than 140 characters. From the Romans, they learn that Republics are fragile, that imperial rulers demanding subservient fealty can be ruinous and that great empires can actually decline and fall. It can happen here.
Classics teaches students not only how to think, but also what is important in life to think about.
In Homer's "Iliad," students learn that war is hell. Soldiers may fight nobly, but war is hell all the same. As students read about fathers grieving over sons, warriors grieving over fallen friends, a people grieving over a destroyed culture, they may find themselves weeping with the ancients. Homer's song will make them wary of warmongers who, scornful of diplomacy, see battle as the way forward.
Throughout, classical works ask students to think about values (that aren't monetary). Greek philosophers, statesmen, poets, playwrights and historians didn't worship wealth. They had a great deal to say about justice, wisdom, the greater good and arete, a word that has no true equivalent in English. Students' efforts to translate this word — "excellence?" "virtue?" — may help them question our gilded age. They might even consider a career in public service.
None of this reading is likely to come easily: Ancient Greek is a complex language. But the struggle to memorize more verb forms than any English-speaker would think possible will prepare students for any career: All jobs require hard, often tedious work that even Google, for all its value, can't do for you.
Ancient Greek doesn't offer much of a career path these days, and with college costs rising, I don't foresee its revival. But for the individual — for all of us — I see the field's abandonment as a loss. Classics teaches students not only how to think, but also what is important in life to think about. Who better than the ancient Greeks to help a youngster become a mensch?