What's So Terrible About Kneeling During The Anthem? It Never Represented Our Country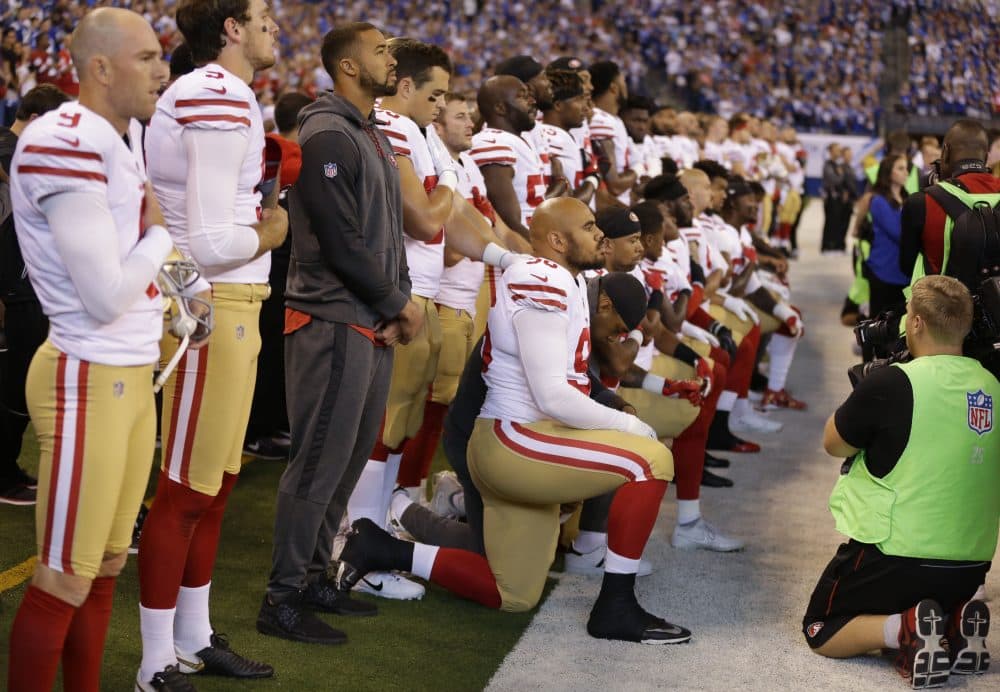 This article is more than 4 years old.
Kurt Vonnegut wrote in "Breakfast of Champions" in 1973 that our nation "was the only one with a national anthem which was gibberish sprinkled with question marks." He added, "It might have comforted [Americans] some if their anthem and their motto had mentioned fairness or brotherhood or hope or happiness, had somehow welcomed them to the society and its real estate."
Now, suddenly, we're being chastised for not revering that national anthem. Why?
There have been many serious protests against "The Star-Spangled Banner," including Jimi Hendrix's distorted rendition at Woodstock to protest the Vietnam War and the recent decisions of former quarterback Colin Kaepernick and other NFL players to protest racism and police brutality. President Trump suddenly called national attention to these actions on Sept. 22 by stating in the middle of an Alabama election rally that NFL owners should fire players who followed Kaepernick's example. He's followed up on this several times. When he threatened to use the tax laws to penalize the NFL if it didn't crack down on kneeling players, Commissioner Roger Goodell directed the owners to ensure that players stand during the anthem.
Few of the protests have related to the song itself, although the values that song expresses are certainly questionable. Francis Scott Key, who wrote the lyrics during the War of 1812, was a slaveowner who defended slaveowners as a lawyer and prosecuted abolitionists as a U.S. attorney. (Key also represented some slaves and freed a few of his own, but thought African-Americans should "return" to Africa — even those who were born here.) We don't often hear the third stanza, which disparages former slaves who fought for the British: "No refuge could save the hireling and slave / From the terror of flight or the gloom of the grave."
Content aside, the anthem was never loved for itself, because it's not a very good song. When Congress designated it as our national anthem in 1931, at the urging of veterans' groups who thought we should have one and southerners who were promoting Confederate ideology, there were other contenders including "America the Beautiful," "America" (the God Save the King/Queen sound-alike) and "Yankee Doodle." There were battles in the press, during which the patriotism of opponents of the song was questioned, that are being echoed in today's media.
Some objections to the eventual winner related to its warlike nature. But most supported the New York Herald Tribune's opinion that it had "words that nobody can remember to a tune that nobody can sing." That judgment has stood the test of time. Ask Christina Aguilera, Roseanne Barr, Michael Bolton and Steven Tyler, among others who have been embarrassed while performing it at sporting events.
The tune, taken from a 19th century drinking song called "To Anacreon in Heaven," has been a perennial problem for singers. Research by the Smithsonian Institution concluded that there was a reason: The range is over an octave and a half. "It's a very wide range," says Kenneth Slowik of the Smithsonian Chamber Music Society. "Basically, the notes are very high." Tenor Dan Holm, who sings it at Smithsonian ceremonies, says, "I'm always practicing the first part of the song to make sure I'm low enough, but still starting in a comfortable place so I can hit both the high and very lowest note." Even choruses have trouble with it.
Before the anthem was approved, two sopranos sang it before the House Judiciary Committee to prove that it was singable. It passed muster and President Hoover signed the bill in 1931, notwithstanding Time's comment that "despite its other virtues, the song isn't exactly easy to sing."
There's still abundant sentiment for replacing the anthem. Irving Berlin's "God Bless America" has been added to the frontrunner list, as has Woody Guthrie's "This Land Is Your Land," despite objections to its left-leaning sentiments by people who don't mind "hireling and slave." It's hard to find the perfect national anthem with a simple tune and simple words. "God Save the Queen" (or King) and "O Canada" pass that test, but they're taken and the lyrics — as with most of the candidates — don't meet First Amendment criteria.
Do we really need a national anthem? We've lived without one for 155 years. Sweden doesn't have an official one, and Spain's doesn't have any lyrics. We seem to need one for two weeks every two years — at the Olympics, although the Olympics are supposed to be about individuals and not countries. But why at American sporting events? We don't play it before movies or plays or concerts. "The Star-Spangled Banner" became popular at ballgames after the Chicago Cubs played it during a wartime game in 1918, and owner Harry Frazee of the Red Sox — best known for trading away Babe Ruth — latched onto it. Sure, people at games still break into applause at the end. But they're usually applauding for the singer who made it through without either forgetting the words or missing the high notes.
People may disapprove of kneeling while the anthem is played because they consider it impolite or even tasteless, but they can't fairly say that it dishonors our country or even our flag. They have to remember that the song never represented our country, and certainly never embodied any of our ideals. As Rodney Dangerfield might have said, it never has gotten much respect. Meanwhile, some NFL team may be missing out on a pretty good quarterback.