Move Over, Dickens. Americans 'Invented' Christmas
"The Man Who Invented Christmas" is diverting moviegoers and critics this season with its account of how Charles Dickens conceived the most enduring holiday story outside of the Nativity. The film, adapted from the same-titled book, depicts the composition of "A Christmas Carol" in 1843 as the product of the great writer's acquaintance with sundry, real people — a "humbug"-spewing grouch, a waiter named Marley with whose name Dickens christens Ebenezer Scrooge's dead partner.
Dickens's classic fathered the appreciation and rituals of Christmas that we observe to this day, or so the film and its title suggest. But, per our president's orders to Make America Great Again, let's set the record straight.
The Englishman Dickens didn't invent Christmas. We in the former colonies did.
I hope it's not jingoistic to point out that the filmmakers weren't au courant with recent academic study into Dickens's debt to Americans. Boston University researchers in 2013 persuasively argued that writings about Christmas and ghosts by, of all people, humble Massachusetts millworkers inspired Dickens, who visited Lowell mills the year before he published "A Christmas Carol."
Admittedly, the millworkers' musings are obscure compared to the internationally beloved story of Scrooge and his haunting. But even before the BU research, it was no secret that Dickens, for all his genius, was a latecomer to the literary resetting of the Christmas table.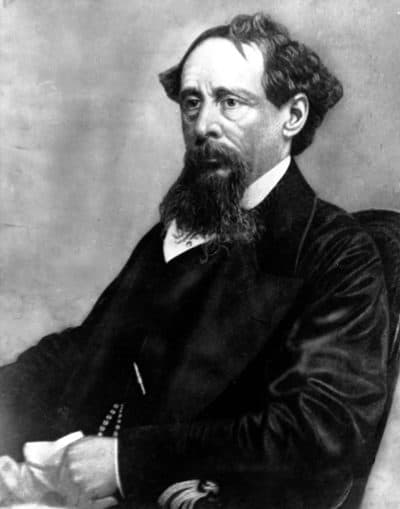 A centuries-old orgy of public drunkenness, sporadic violence and home invasions by hooligans extorting food and booze for caroling, Christmas appalled the genteel middle classes here and in Europe in the early 1800s. Determined to yoke yuletide yahoo-ism, artists and others in the U.S. re-scripted the holiday as a time for family and children, starting almost two generations before the "Carol."
In 1809, Washington Irving published "A History of New York," which poked fun at early Dutch colonists in America and their beloved St. Nicholas. But Irving made Santa Claus a figure of joy who smoked a pipe, flew in a wagon, and stuffed stockings hung by the chimney with toys.
A decade later, Irving, then living in England, issued a short-story collection, "Sketch Book of Geoffrey Crayon, Gent." Its most famous tales recount Ichabod Crane's fateful encounter with a Headless Horseman and Rip Van Winkle's coma-copying slumber. But Irving also devoted several essays to Christmas. One, about Christmas Eve at an English manor, included a blazing hearth fire, games, mince pie, mistletoe and caroling.
Irving's was a nonviolent, joyful yuletide. "In the depth of winter," he wrote, "when nature lies despoiled of every charm and wrapped in her shroud of sheeted snow, we turn for our gratifications to moral sources."
The holiday really took off in the 1820s, though the "moral sources" Irving envisioned were only part of the story. "The festive air of churches, draped with nature's greenery, shining with candles, and filled with music, invited wary strangers to enter," says Penne Restad in "Christmas in America: A History." The decade also saw the beginning of the bane of future generations of scolds, the commercialization of the feast of Christ's birth.
Determined to yoke yuletide yahoo-ism, artists and others in the U.S. re-scripted the holiday as a time for family and children, starting almost two generations before the "Carol."
New York stores "stayed open until midnight during the Christmas season," Restad writes. She quotes a contemporary observer who described "whole rows of confectionery stores and toy shops, fancifully and often splendidly, decorated with festoons of bright silk drapery, interspersed with flowers and evergreens." No less than Harriet Beecher Stowe would grouse about the materialistic bent the holiday had acquired.
Some of her fellow writers welcomed it as a sedative for Christmas rowdiness, however. "A Visit from St. Nicholas," traditionally attributed to Clement C. Moore (though that's debated) was published by a New York newspaper in 1823. Whoever wrote the poem, he sculpted enduring cultural images of the gift-bringing "jolly old elf" in red and his "eight tiny reindeer."
In short, the modern Christmas had sunk roots before Scrooge strolled dyspeptically across the printed page. That's no slur on Dickens, a magician with words who penned lines like the description of Christmas as "the only time I know of, in the long calendar of the year, when men and women seem by one consent to open their shut-up hearts freely, and to think of people below them as if they really were fellow passengers to the grave, and not another race of creatures bound on other journeys."
There's a spark of the eternal in a book that, over the century and three-quarters since publication, not only has enchanted readers but nimbly lent itself to adapters as diverse as Alistair Sim and the Smurfs.
There's no denying that "A Christmas Carol" had an outsized role in recasting the holiday. "More than any other single work, [it] provides the paradigm for the moral attitude and obligation that Americans adopted toward Christmas charity," Restad writes.
The point is that when he "reinvented" Christmas, Dickens surfed a wave that rolled in from across the Atlantic, and from elsewhere. Queen Victoria, influenced by her German husband, adopted his homeland custom and put a Christmas tree in Windsor Castle in the 1840s, which caught on after a magazine ran an illustration of the royal custom.
Sharing credit for the Christmas we enjoy today: There's a fitting attitude for the season of giving.