The Week That Was: Perennial Politics, Law's Legacy And Prohibited Phrases
This article is more than 5 years old.
Editor's Note: Every Friday, Tom Keane offers up assorted observations, conundra and miscellanea about the week that was. Here's his round-up for the week ending Dec. 15, 2017.
---
It was the week when Donald Trump finally notched a win.
Teamwork. Many folks have wondered whether politics in Washington is broken. They got their answer this week. Yes. The tax plan passed Congress with nary a single Democratic vote. In the same way that Obamacare in 2009 passed with nary a single Republican vote. There may be new players on the field, but the game remains the same.
Bad timing. With Republicans on the ropes and Trump's approval ratings at historic lows, can the tax legislation reverse the GOP's fortunes? Polling shows only 33 percent of Americans approve of the so-called reform, thinking it a giveaway to corporations and the rich funded by the middle-class. That speaks to smart messaging by Democrats, who have pounded away at those themes. But Republicans hope that, once voters actually get to file under the new system, they'll change their minds. Maybe. But here's the problem. Come April 15 of 2018, taxpayers will be filing based on the old system. It won't be until April 2019 that they file under the new. That's four months after the 2018 midterm elections. Republicans: Be afraid. Be very afraid.
The anti-Scrooge. Here's something that could give the GOP hope, however. Both AT&T and Comcast have announced they'll give every one of their employees a $1,000 bonus after Trump signs the tax bill. With over 300,000 employees between them, that's a big chunk of change — and seems to make good on Republicans' belief that companies would share the wealth from their tax cuts, rather than keeping it to themselves. Is a new era of corporate enlightenment upon us? Don't hold your breath.
Priorities. New data showed that life expectancy for Americans actually dropped in 2016 for the second year in a row. We've gone from a high of 78.9 years to 78.7 and now to 78.6. The reason: Deaths from drug overdoses. There were 63,600 of them in 2016 alone. It's an issue that's ripe for Congress to address but … hey, how about those tax cuts!
Human error. An Amtrak train derailed in Seattle, killing three and injuring scores. Trump instantly tweeted that the incident proved the need to spend more on the nation's infrastructure. It then turned out that the likely cause of the accident was the train traveling at 80 mph in a 30-mph zone, suggesting that what we really need to spend more money on is learning how to read signs.
Newspeak. In a move that was both Carlin-ian (the late comedian George, that is) and Orwellian (George, as well), the Centers for Disease Control told employees, according to the Washington Post, that certain words are now banned from official use. The agency offered up no substitutes, however. (CDC Director Brenda Fitzgerald later denied that any words were banned, saying some staff were told to avoid some words in budget documents.) Here's the list of the prohibited words and my suggested alternatives:
Entitlement: My inheritance.
Diversity: My house cleaner.
Fetus: Something worthy of extreme protection except when it comes to health care.
Transgender: Sure, I have on some frilly underthings but HEY, WHAT ARE YOU SAYING?!
Evidence-based: Tweeted by the White House.
Science-based: Retweeted by Breitbart.
Vulnerable: GOP majority.
Good riddance. When people we know to be bad finally die, we struggle to find something nice to say about them, trying to see the balance in their lives. Thus it was upon the passing at age 86 of Cardinal Bernard Law, the man who protected a series of abusive priests in Boston. And so we struggled. And struggled. And struggled. And failed.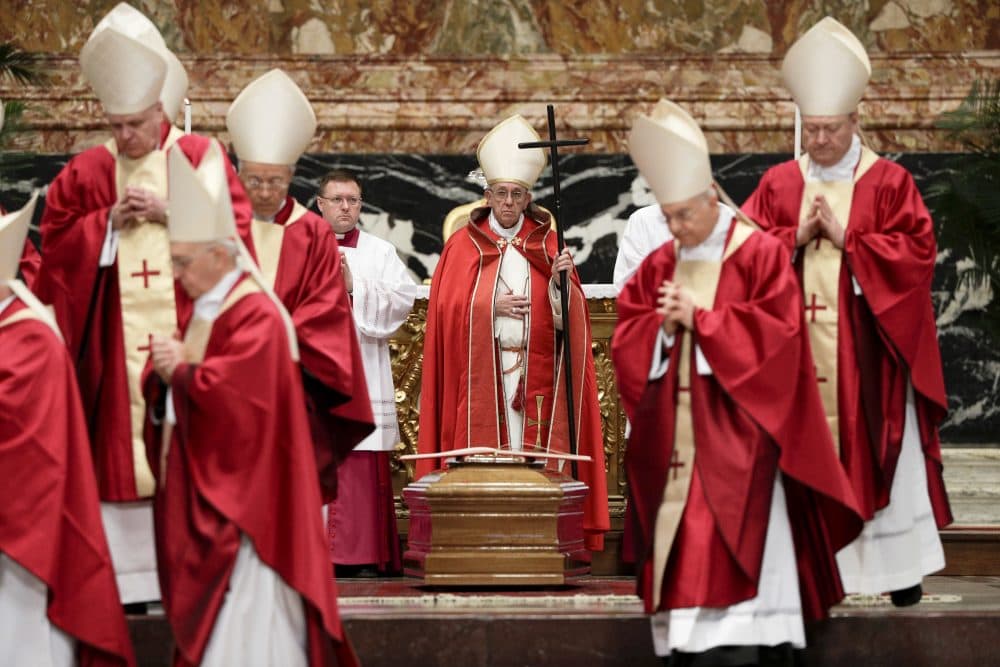 Viral marketing. Politico revealed that the Pentagon for years had in place a secret program to investigate UFOs. Suddenly, no sooner than you can say "Star Wars: The Last Jedi," we were inundated with stories about mysterious fast-moving objects in the sky. Good product placement, Disney!
Why you should use Android. And finally, Apple admitted that it secretly installs new software in old iPhones that throttles back performance, making them slower than they were before. The company says it does so to prevent the phones from accidentally putting too much computing demand on aging batteries. Sure. The real reason, of course, is that it makes us start thinking, "Boy, I need a new phone." And hey, looks like Apple is just about to release a new model!