Why I'm Staying With You, Boston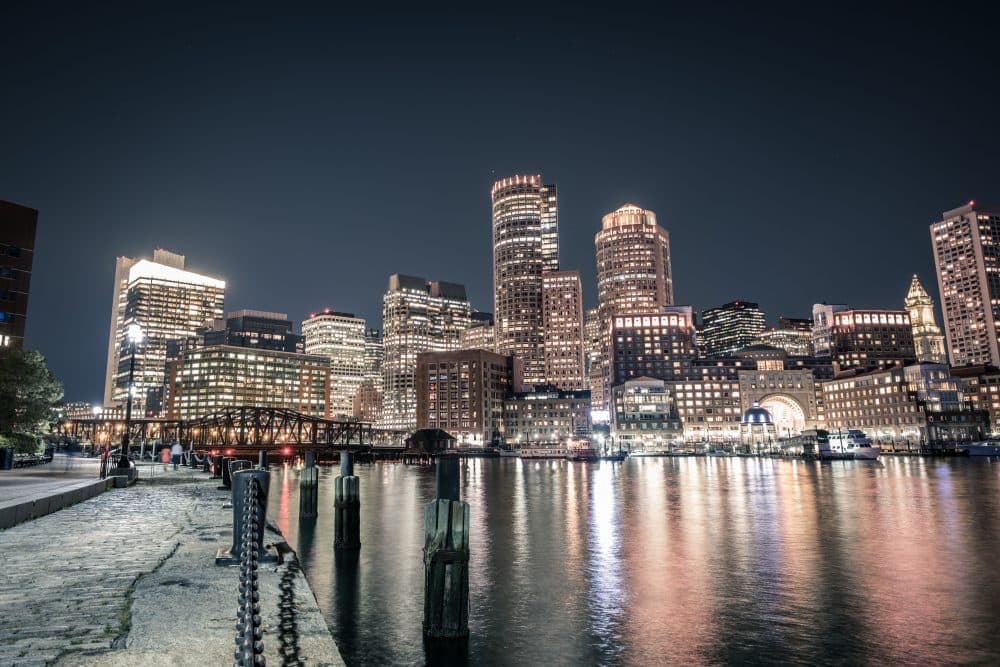 This article is more than 4 years old.
Dear Boston,
Last Friday morning, left out in the cold by the Orange Line, waiting for a shuttle bus to appear at Wellington Station, shivering in the merciless polar air with hundreds of other stranded commuters, I thought about leaving you.
I wondered what it might be like to shack up in another city where the trains and buses not only run on time, but where they run.
This moment of civic temptation opened the floodgates of fantasy.
I longed for the elation one must experience in cities where the rent for a modest three-bedroom apartment (with roommates) is low enough to leave the average resident with enough leftover cash for groceries, the utility bills and a few nights out on the town.
I marveled at the fact that a night on the town in most U.S. cities can be considerably cheaper thanks to the existence of happy hour, and a lot sexier too. While you still force clubs to obtain cabaret licenses to play music that people might want to dance to, many other cities have moved on and let fun happen.
But what really blew my mind was imagining the other folks one might encounter at any given watering hole or dancehall in another city: imagining what the late night crowd could look and sound like in an urban area without a such a grotesque history of racial segregation and discrimination.
I've lived with you for most of my adult life, and in that time, I have utterly failed to encourage you to evolve ...
It would be a lot easier for you if people like me just packed their bags and hit the road. Many people are leaving you — particularly the working classes, the young and the artistically-minded. I've watched it happen for all the years we've been together. Once-proud and hopeful residents slip through your fingers each week, but you never seem to reflect. You simply turn your attention to the next wave of residents who've come here for jobs in health care, education and tech. You woo them, use them and when they've had their fill — when they finally realize not only how screwed up you are, but how deadset you appear to be against reckoning with any of their reasonable grievances — you don't even try to convince them to stay.
I know this sounds harsh — frankly, a lot of it should — but what I'm going to tell you next may surprise you.
I am at fault for letting this happen.
I've lived with you for most of my adult life, and in that time, I have utterly failed to encourage you to evolve: to become the city that so many of my neighbors and I sincerely want you to be. The city that we know you can be.
When the MBTA ground to a standstill during the winter of 2015, we should have been out in the streets and at the doors of the State House calling for renewed public transit investment and a 21st-century public transit system that runs as smoothly and reliably as the T once did. But we weren't.
When the police began escalating their crackdowns on DIY indie music events in Allston — the same neighborhood in which Aerosmith began shredding guitars nearly 50 years ago — we should have talked about what kind of ripple effect this could have for culture and creativity in Boston. But we still haven't.
When a WBUR poll revealed that affordable housing was the most important issue for Boston voters in 2017 — particularly for communities of color and, in theory, white liberals who stand in solidarity with those communities — we all should have paid more attention to the mayoral candidate (and Roxbury native) who challenged Marty Walsh's mediocre record on addressing the issue. But we didn't.
Today, and going forward, the complacency stops. Say goodbye to the days of being enabled by those of us who should have been boosting you to do better. I know you can be rather provincial, but if you've looked outward to the expanse of America anytime since January 20, 2017 — the day that Donald Trump moved into the White House — you've no doubt noticed something beautiful and exciting happen in countless cities and towns: Millions of common curmudgeons like me are finally connecting the dots of civic engagement. They're finally realizing that regular people can change their environment by doing things like participating in local elections, showing up at town halls, and simply talking more about the issues that matter: at work, at the bar or with strangers on a moderately delayed train.
So there you have it, Boston. Not only am I staying, but I've never been more excited for a new year with you like I am for 2018.
Things around here are going to change.
I'm not going to let you down again.