Trump Gets A Reset. For Now
This article is more than 5 years old.
Editor's note: Many of you have come to expect and enjoy Tom Keene's weekly news round ups. He valiantly wrote 52 of them, amid one of the most tumultuous news years in recent memory. We won't be featuring those regular news round ups anymore, but we will continue to feature Tom Keane and we look forward to his smart commentary. Herewith... 
---
This may be the week Donald Trump saved his presidency. A good speech — as well as decent atmospherics and some strong data — can do that.
The 80-minute State of the Union was not, it should be stressed, a great speech.
Trump kept cocking his head upward, preening, his fleshy neck too much on display. He had this unnerving habit of clapping at his own applause lines, the smack-smack of his hands far louder than the cheers from the often-boisterous Republicans on the floor.
Nor was the language itself particularly stirring. Trump's media folks may well try to tell us this was the best speech ever, watched by more folks than ever, destined to be carved into marble and memorized by grade-school children along with the Gettysburg Address. But honestly, I think not. (Although I will grant that his hands-raised ode to the Capitol itself – "And freedom stands tall over one more monument:  this one.  This Capitol.  This living monument to the American people" – did give me the shivers.)
But it was a good speech. For one, it sounded like many that have come before it. Heart-tugging name checks. Glorying in what has been done. Promises of what will come. And lots of mom-and-apple-pie language ("heroes," "family" and, yes, "moms").
Most importantly, it was measured, well-paced, clearly spoken and seemingly rational. This was not the crazed man of the early morning tweet. In sounding like his predecessors, Trump was sounding -- dare one say it -- presidential. (Indeed, John Kelly, any way you could persuade your charge to now use a TelePrompTer while on Twitter?)
As we all know, this first year of the Trump presidency has been a soap opera — one documented well in Michael Wolff's "Fire and Fury" — but one had the sense that, kicking off the second year, there was some sense of stability. Trump, perhaps, may finally be getting his footing, and his Tuesday address was a strong statement to that effect. (This, of course, doesn't mean the soap opera is over; even now, the Stormy Daniels-Melania Trump plotline continues to play out.)
And then there were the Democrats. Dour, sour and clad in black, they looked more like a morticians' convention that ended up in the wrong building rather than the exciting, appealing alternative.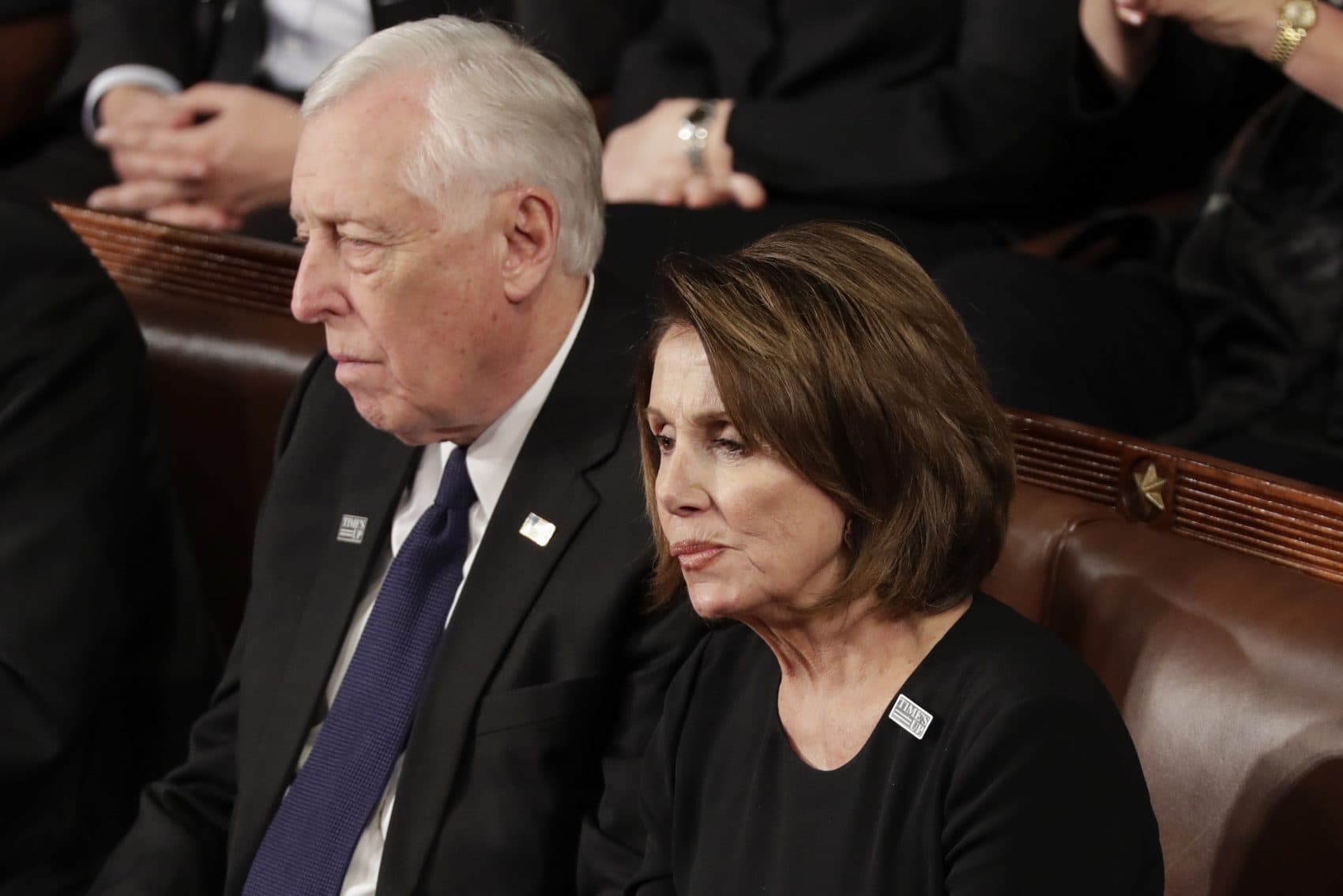 Yes, I know black was intended to be a political statement — a reminder of #MeToo, Times Up and (most importantly) Trump's own alleged incidents of sexual harassment. Maybe some viewers picked up on that. But to most, the Democrats just looked mad. Angry they had lost. Furious at Trump. Unwilling (with some exceptions) to smile or give a small handclap to even the most innocuous of lines. "I wanted it burned into my eyes," wrote Massachusetts' own Sen. Elizabeth Warren in an email I received. "America isn't prouder when Donald Trump embraces bigotry, hatred and fear – and calls that patriotism." "OK," I was thinking as I read her words. "What's your proposal?" There was none; her email ended quite simply: "Donate Now."
Ahh, politicians. Never miss an opportunity for a buck.
The last two months have not been good for Democrats. Around Thanksgiving, it seemed as if they were riding high. Trump's approval ratings were low and getting lower. A few key fall elections spoke of voter discontent with the Trump brand, leading to hopes of a Democratic surge in November 2018. But then the tax bill passed — and in the process, the Obamacare mandate was gutted. It was a GOP two-fer. In January Democrats forced a weekend shutdown of the government over immigration policy — and promptly caved on a Monday morning. They looked inept. They were inept.
Most telling though, have been the numbers. Trump's raison d'etre is economic. The chest-thumping, the hostility towards immigrants, the America First attitude — all of that comes back to the economy and especially to the plight of those at the lower end of the spectrum, the white, blue-collar workers seemingly left behind.
Their man, it seems, is delivering. The economy is at full employment. Wages are finally starting to climb. Companies — perhaps spurred by federal policies, or perhaps because they would have anyway — are announcing openings of new plants and headquarters. Maybe this is just the fruit of Obama's eight years but in politics, we credit or blame the guy in office and that guy is Trump. (And, by the way, if the economy were tanking right now, Democrats would be loudly crowing about the Doncession or the Trumpression.)
A CBS poll taken after Trump's State of the Union found 75 percent of viewers approved of the speech. I have little doubt that in the days to come we'll see the president's favorabilities begin to climb. With the State of the Union, Trump has managed a reset. He can mess it up, of course – Russia or an errant tweet could undo everything. Yet today, Groundhog Day, I have this image in my mind of millions of Democrats opening their doors, walking out, seeing their shadows and running back inside. Three more years of Donald Trump.
Or perhaps, seven.