Two Hikes, Decades Apart, Bookend A Life Well-Lived
This article is more than 5 years old.
Soon after our arrival in New Zealand, my husband and I learned one surefire truth: When a native Kiwi tells you that a hiking trail is "moderate," you can bet that you'll be climbing upward at 90-degree angles in places, possibly on your hands and knees. There might even be ladders involved.
Our third day, this truth revealed itself in the form of the not-so-subtly named "Devil's Staircase," a series of stone steps leading toward the summit of the Tongariro Alpine Crossing. We are not expert hikers by any means, but I had decided to add this 19.2-kilometer trek to our itinerary because the Tongariro National Park is a World Heritage site. The hike would take us past three volcanic peaks — not to mention the landscape that served as the setting for Mordor, home of the Dark Lord Sauron, in the movie "Lord of the Rings."
The first hour of the track was ridiculously easy, mostly flat and with stunning views of Mt. Ngauruhoe, a.k.a. fiery "Mt. Doom" in the movie. Now, however, as I began trudging up the Devil's Staircase, a steep ascent from 1,400 to 1,600 meters above sea level, I caught a glimpse of ant-like figures far above me and alternated between feeling ecstatic that I was walking on ancient lava flows and wondering whether I'd make the summit.
...this hike was as good a metaphor for life as anything else: sometimes you have to stop and gasp for breath, but boy, the views are so worth it.
I turned 60 a couple of years ago, the same year that the last of our five children left for college. Time has telescoped in weird ways since then. Dropping my youngest son off at his college dorm room, I could vividly remember the day I was deposited in my own dorm room, even as I felt the twinge of arthritis in my left knee while carrying boxes up the stairs.
Thanks to yoga, I can bend over and place my hands flat on the floor. I ran my first 5K last year and hope to run a 10K this summer. Meanwhile, the lines on my face seem to have multiplied overnight.
Further proof that I am on the wrong side of being young: the AARP stalkers had found me and I now qualify for a discount at our local movie theater. (Believe me, I take it. Two dollars is two dollars.)
As I began climbing the Devil's Staircase, it occurred to me that this hike was as good a metaphor for life as anything else: sometimes you have to stop and gasp for breath, but boy, the views are so worth it.
When we reached the summit, we became the ants crossing the open ridge, and I breathed a sigh of relief. Then I realized that we had to descend a terror-inducing scree slope toward the Emerald Lakes below. I warily sidestepped down the whole thing, stifling girly whimpers and wishing I'd worn actual hiking boots.
The lakes stank of sulfur, but were such a wondrously vivid teal color that I couldn't stop looking at them. We stopped to eat lunch on some sunny rocks upwind of the lakes, and it was then that it came to me: a memory from long ago, one that I have treasured as a way of visualizing my old age.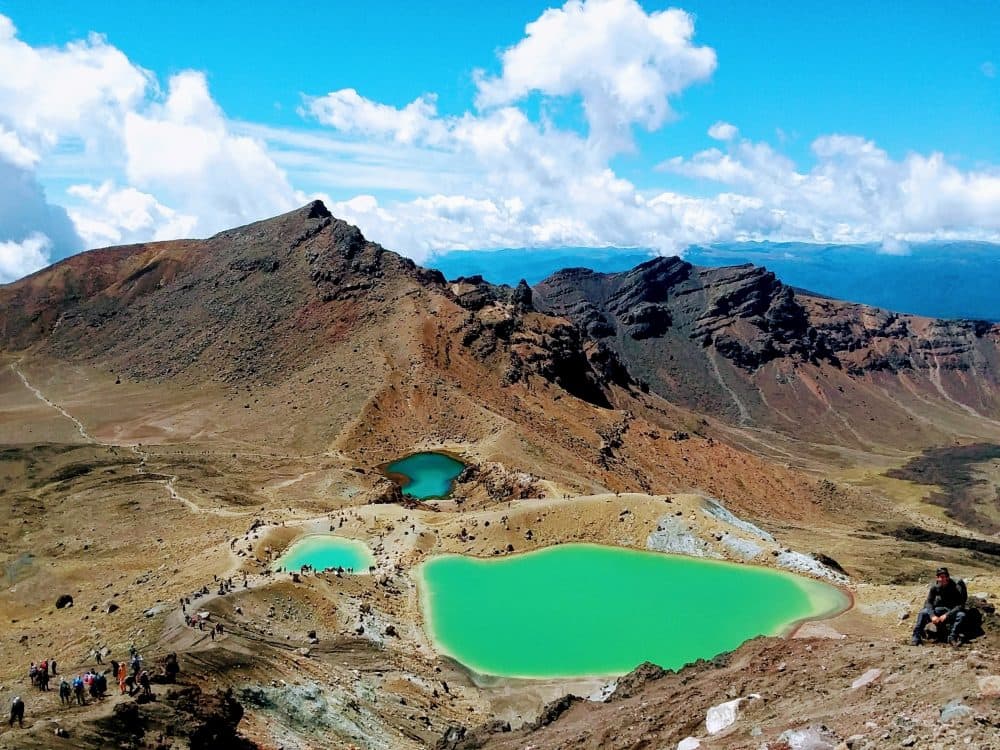 The year before I turned 30, I quit my job, sublet my apartment, and followed a man I thought I loved to go trekking in Nepal. I knew little about the country. I knew even less about myself. The relationship didn't survive, but I did, even crossing a Himalayan mountain pass of 18,000 feet in thigh-deep snow despite having neither a winter parka nor snow pants.
One of the most powerful memories I've carried with me from that trip has nothing to do with the Nepalese villages or the snow-capped peaks, however. It is the image of a woman I saw for a few brief moments.
I was sitting on a stone wall, having lunch, when she came striding toward us. This woman was not outfitted in any of the usual backpacker's gear, but instead wore a denim skirt, white sneakers, and a hat with a small striped umbrella attached to it to shade her face from the sun. She greeted us in a ringing British accent as she walked by.
Most striking of all was the woman's age: she had to have been in her late 70s.
"I want to be like her someday," I said to my companion that day.
As the memory came and went, I glanced up from my lunch by the Emerald Lakes and spotted a couple of backpackers skidding down the scree slope toward me. They were in their 20s, and I could tell by their expressions that they were surprised, or maybe even amazed, to see people as old as their parents on the trail.
I hoped that the girl staring at my absurdly green cargo pants and pink Brooks sneakers was saying to her friend, "I want to be like her someday."
Meanwhile, I stood up and dusted myself off, ready to keep moving.