Remember Paul Ryan For His Record
This article is more than 4 years old.
The meanest trick the Beltway elite ever pulled off was convincing us that Paul Ryan, who announced his imminent retirement from Congress this week, was a policy wonk and an overall good guy.
This is how Ryan was characterized by mainstream media outlets and his colleagues when he entered the political big leagues in 2012 as Mitt Romney's pick for vice president. Ryan's clean-cut looks, soft-spoken manner, Midwestern amiability and his obsession with crunching budget numbers betrayed a sense of smooth professionalism. Here was a man, the mythmakers reasoned, whom we could count on to govern with just the right balance of mathematically-sound fiscal responsibility and human decency.
In recent years, the gloss of Ryan's mythology began to fade, especially after the unlikely rise of Donald Trump. By doing almost nothing to stymie Trump's momentum, Ryan compromised his squeaky clean reputation, which might explain why he's decided to jump ship. Ryan can't survive as long as he's symbiotically attached to a man who defended neo-Nazis, bragged about sexually assaulting women and is the subject of an ongoing FBI investigation.
Ryan's governing mission has always been to dehumanize the poor and strip them of what little dignity they have.
Ryan is leaving Congress while he can still save face. But there's a big problem with that. Thanks to the relativism posed by having Trump in the White House, there's a high likelihood that Ryan's gambit to save his reputation will pay off.
No. It can't end like that.
Ryan might assume that American voters are so unsophisticated that they will appraise his career as though it existed in a snow globe independent of Trump and everything that he represents. But it doesn't.
Ryan's political agenda was so unpopular and so cruel to so many that he needed the political ascendancy of Trump in order to realize that agenda.
He needed a president capable of distracting the public from the reality that Ryan is not a decent guy.
Let's examine the ideological bedrock that spans Ryan's career. Whether we're talking about his attempts to repeal the Affordable Care Act, his contempt for social safety net staples like food stamps, or his successful advocacy of the tax reform bill that Trump signed last December, Paul Ryan's governing mission has always been to dehumanize the poor and strip them of what little dignity they have.
Realizing his agenda has hinged upon transferring trillions of dollars from the pockets of working people to the coffers of the wealthy, by cutting taxes and de-funding public programs that benefit the working classes. It also required Ryan to scrap any pretense of fiscal responsibility he might have possessed and allow the national deficit to skyrocket so that rich people can pay less in taxes.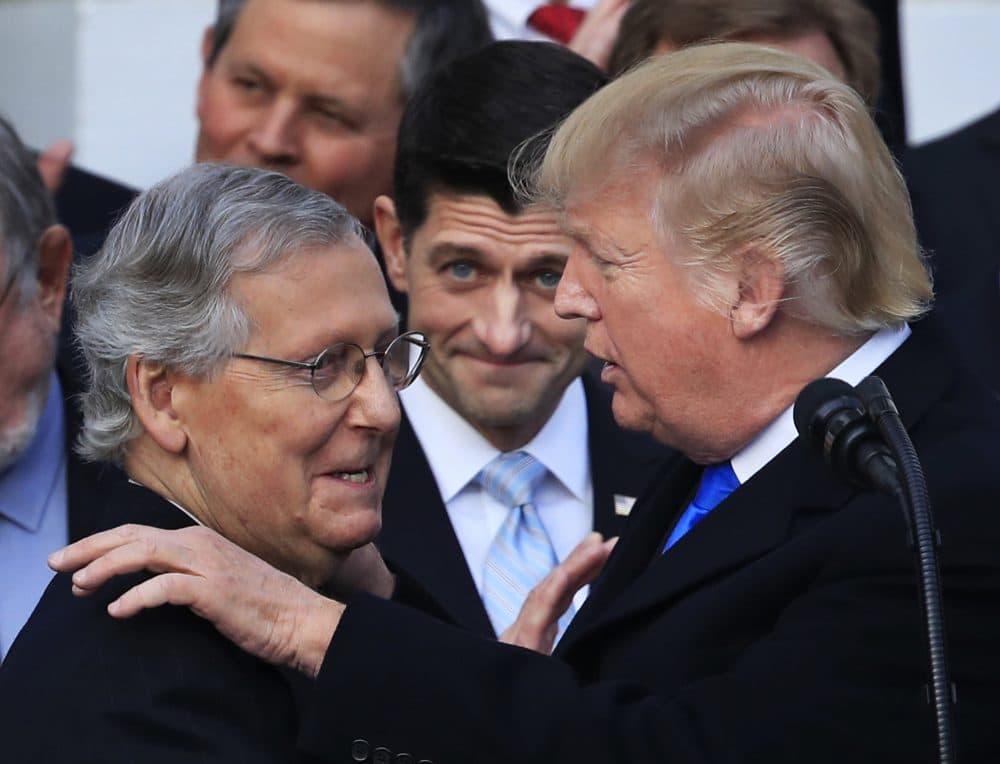 The diminishing availability of good-paying jobs renders Ryan's agenda downright ghoulish. But what makes it even more unconscionable is the fact that Ryan has personally benefited from the same programs that he spent years trying to cripple. 
Social Security survivor's benefits protected a 16-year-old Ryan and his family from insolvency after the death of his father. It allowed Ryan to pay for his education at Miami University, where he earned a degree in economics and political science. Aid from the federal government played an integral part in helping Ryan grab power.
This caliber of hypocrisy is so absurd that it brings to mind Hollywood movie villains. Remember that scene in "Titanic" when Billy Zane finally works his way onto a lifeboat and immediately starts shoving unlucky castaways back into the freezing Atlantic? That's essentially what Ryan spent his time in Congress doing to his fellow Americans.
It's tempting to believe that leaders within the Republican Party detest Trump and that this makes them "better" people: that men like Ryan represent an older, more reasonable kind of conservative that could make a comeback once Trump is gone.
We shouldn't kid ourselves. And we shouldn't let Paul Ryan get away with whitewashing his record.
The speaker of the House, unlike the leader of his party, is not the target of a criminal investigation, but holding him accountable for his actions is still very much within the public interest.