Does The First Amendment Protect Conspiracy Theories?
This article is more than 5 years old.
As a father, I can't imagine the pain of Neil Heslin, who sent his 6-year-old to school one December day in 2012, only to bury him after a gunman killed 26 at Sandy Hook Elementary School.
Even further beyond the bounds of imagination is the obscenity of Heslin being accused of faking his child's death, by an online cockroach who has grown rich peddling unhinged untruths about everything from 9/11 to vaccines to Barack Obama's birth certificate.
The insect in question is Alex Jones, founder of the website Infowars. He's being sued by Heslin and the parents of another dead Sandy Hook student, charged with defaming them by calling the shooting a hoax.
Journalists typically get the willies over such suits, seeing a slippery slope down which legal boulders can hurtle to crush press freedoms. So when Joshua Benton, director of the Nieman Journalism Lab, cheers the parents for going after "one of the most despicable human beings on the planet," we've got a man-bites-dog story.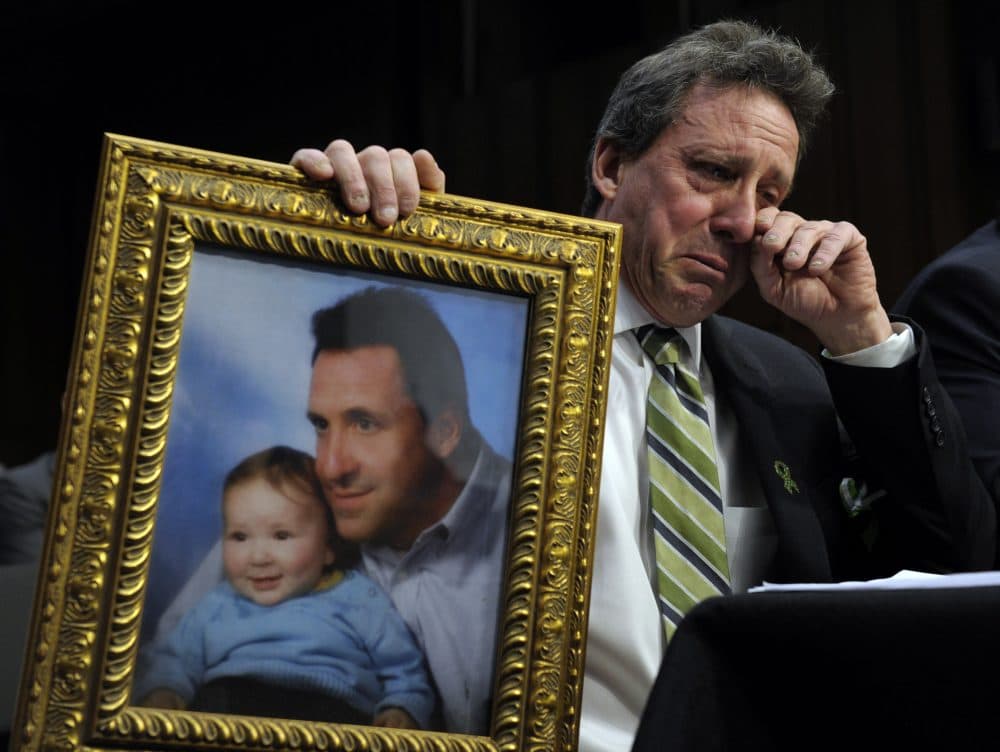 Benton is right. Jones is central casting's perfect villain, with a voice as graveled as a Vermont driveway and a passing resemblance to Tony Soprano, but it's his acts, not physical attributes, for which the courts will hold him to account. Here's hoping they do.
It's a cliche that the First Amendment doesn't let you falsely yell fire in a crowded theater and endanger the public. Jones stands accused of falsely yelling fire in the theater of cyberspace and jeopardizing the Sandy Hook parents, who say they received death threats after he insisted they'd fabricated the massacre.
Lawsuits have a way of focusing Jones's mind. He's backpedaled on Sandy Hook, finally admitting, by golly, the tragedy really happened. (Big of him, no?) He did a similar pirouette last year for his role in hyping Pizzagate, the fake news about Hillary Clinton running a child sex ring at a Washington pizza parlor.
That bit of BS prompted an armed simpleton to drive to the restaurant and get off several shots with an assault rifle inside. Mercifully, no one was hurt. Jones, possibly fearing litigation after the restaurant's owner sent an angry letter demanding a public retraction, complied.
If the Sandy Hook case gets far enough, it could answer a question posed by host Emily Rooney on WGBH's media criticism show, "Beat the Press": "At what point do kooky rants cross the line into unprotected speech?"
To win damages, the plaintiffs must prove Jones either knew his hoax claims were false or recklessly disregarded whether they were true, a former law professor told Texas Monthly: "What I understand is that he'll say these things at one point, and then later on, he'll say, 'Of course I know that wasn't true.' If he says things, and then says he knows it wasn't true, he's in trouble."
That's the legal side; what about the journalistic angle? Why are Fourth Estate members like Rooney and Benton wishing Godspeed to the parents?
Jones stands accused of falsely yelling fire in the theater of cyberspace and jeopardizing the Sandy Hook parents...
First, Jones is no journalist. Reporters can make mistakes, but they don't take regular dips into the murky waters of conspiracy-mongering. Second, his heedlessness truly could get someone killed, as Pizzagate demonstrated.
So the principle of personal responsibility, which American culture once exalted, indicts Jones. But there's a bigger issue. The Joneses of the country are caretaking an equally enduring but more odious American tradition, what one historian labeled the "paranoid style" in our politics.
In the recent book "Fantasyland," novelist/radio host Kurt Andersen argues that today's derangement rages like a wildfire because of two historical accelerants: the 1960s, whose do-your-own-thing ethos laid the predicate for today's believe-your-own-thing; and the internet, which lets fake news spread with unparalleled speed. The result is Donald Trump, who passed the 2,000-lies milestone in his first year in office, as tallied by the Washington Post.
You'll be shocked, I know, that Jones is a Trump supporter.
Jones shouldn't pay for Trump's sins; as I said, he's personally responsible for his rants. Still, the Trump-Jones-Sean Hannity ilk is a virus that has reached unusually virulent strength in our democracy, which depends on factual information and an informed citizenry. The Sandy Hook lawsuit won't cure that. But it just might alleviate the pain caused by an especially noxious germ.