The Plan To Replace The MBTA's Bus Fleet Can't Happen Fast Enough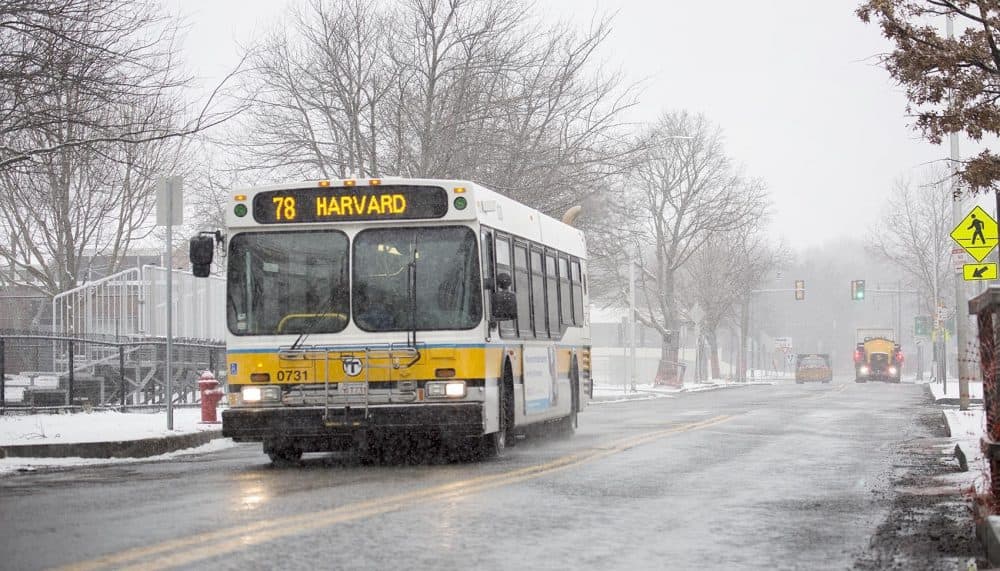 This article is more than 4 years old.
Ah, Rome — the Trevi Fountain, Piazza Navona, the Colosseum — and city buses exploding in flames.
That last item isn't mentioned on TripAdvisor, but according to a recent report in the New York Times, 20 municipal buses caught fire in 2017, and there have been ten more blazes already this year. These fires are the result of lax maintenance and old age. The buses that have been burning were built around 2003, meaning they'd been in service longer than twice their expected lifetime.
Back here in Boston plenty of  buses in the MBTA's fleet are just as old: more than 250 buses are at least 13 years old, roughly the same age as the buses igniting in Rome. The majority of the oldest T buses are diesel-powered 40-foot vehicles, and the rest are 60-foot Silver Line buses that can run on diesel or electric power from overhead wires. In a fleet totaling over 1,000 vehicles, these are the senior citizens. And they're ready to retire. 
... battery-electrics benefit not just the riders, but but everyone in the urban core environment.
What kinds of buses will replace those being withdrawn from service? On what schedule can the T purchase new buses? And, of course, how will we pay for them?
The MBTA has been working on all the answers, but it's complicated. The matter of infrastructure to support the storage, dispatching and maintenance of the fleet is inseparable from the matter of the vehicles. And, unfortunately, the T's bus garages are in worse shape than their buses.
The outdated Albany Garage in the South End and the Quincy Bus Garage, aged 77 and 88 years respectively, can only handle the older buses that won't even be on the streets in five years. Throughout the system, repair equipment is antiquated, and space restrictions create cumbersome working conditions that make even routine maintenance more expensive. The current garages lack the capacity to maintain a growing bus fleet in a state of good repair.
So, the MBTA is taking a unified approach to rejuvenating the bus fleet along with the facilities that support it. As they prepare to replace retiring buses, they're simultaneously figuring out how to modernize bus depots, streamline operations and accommodate more vehicles. They've sketched a plan that would close some garages, rehab or expand others, and build as many as four new ones at optimal locations, all in anticipation of an updated bus fleet. The existing garages aren't equipped for the next generation of bus technologies that are now emerging around the world.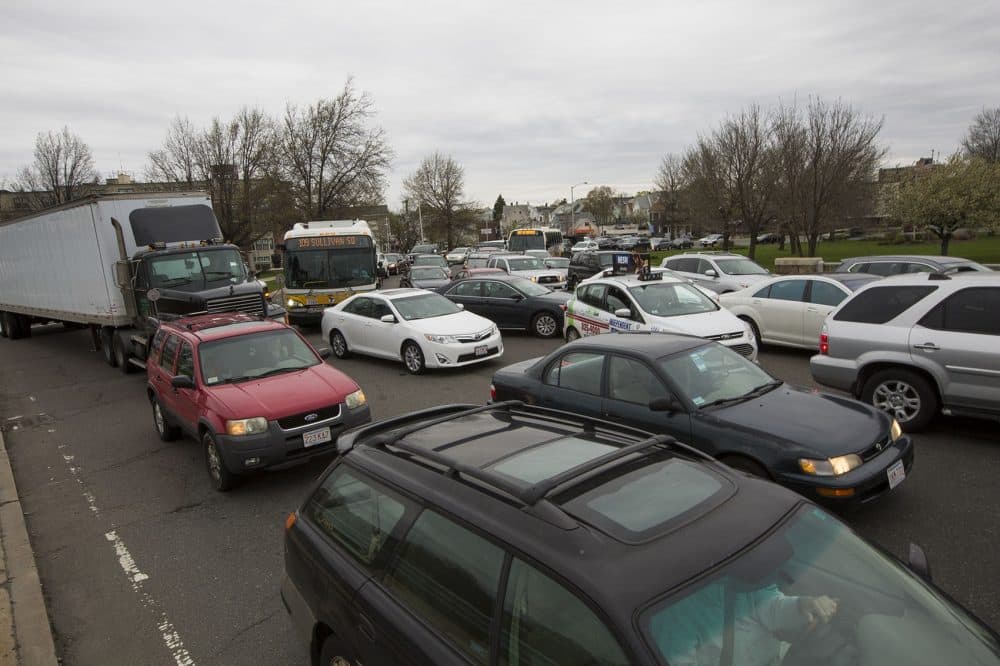 One new technology that's generating buzz is the battery-electric bus -- a bus with an electric motor powered by a rechargeable battery. Los Angeles has committed to an all-electric fleet by 2030, and New York City by 2040. Battery-electric buses have a far smaller carbon footprint than diesel or diesel-electric hybrids — a significant consideration as the commonwealth strives to hit its ambitious targets for greenhouse gas reduction. And with minimal engine noise and no noxious emissions, battery-electrics benefit not just the riders, but but everyone in the urban core environment.
What's more, battery-electric buses are cost-competitive with diesels and diesel-electric hybrids once you factor in their reduced maintenance requirements and lower energy costs. Federal grants and innovative financing can reduce up-front capital outlays, making the new buses that much more attractive.
These advantages of the new electric buses have not gone unnoticed at the MBTA. Using federal grant money, the T has ordered five 60-foot battery-electrics for the Silver Line, and delivery of those vehicles is expected this year.
But most of the MBTA buses are in the 40-foot category, so the T and the Department of Transportation are conducting a feasibility study of that class of vehicle. The study will determine the routes most readily suited to battery-electrics, estimate the costs of operation and maintenance, and nail down the requirements for the supporting infrastructure, including charging systems. Upon completion of the research, expected by the end of this year, the T plans to run a pilot project for 40-foot battery-electric buses out of their garage in North Cambridge.
In the meantime, complementary measures like dedicated bus lanes, traffic signal prioritization, and advanced fare collection systems are in the works. Combining these innovations with battery-electric buses could bring true bus rapid transit closer to reality in Massachusetts.
Battery-electric bus fleets are poised to become a compelling urban transit solution.
The conflagrations in Rome notwithstanding, city buses may be on the brink of a major rebound. The local bus, which has long been seen as a smelly, uncool "loser cruiser," is now being recast as modern, environmentally sound and socially responsible transportation. Battery-electric bus fleets are poised to become a compelling urban transit solution.
With this vision in mind, the MBTA should forego all future procurements of diesel and hybrid diesel vehicles and act decisively to get fully electric buses rolling on our city streets, as a matter of urgency.
Rhode Island just announced it will use its payout from the Volkswagen fraud case for the purchase of electric buses. New York, Los Angeles and other major cities have set dates to complete the conversion of their fleets to all-electric. The folks at the T deserve credit for the programs they've put in place so far, but now they need to step it up and find ways to accelerate their electric bus strategy.
And we shouldn't have to light a fire under them to make that happen.