The 'Roseanne' Reboot Should Never Have Happened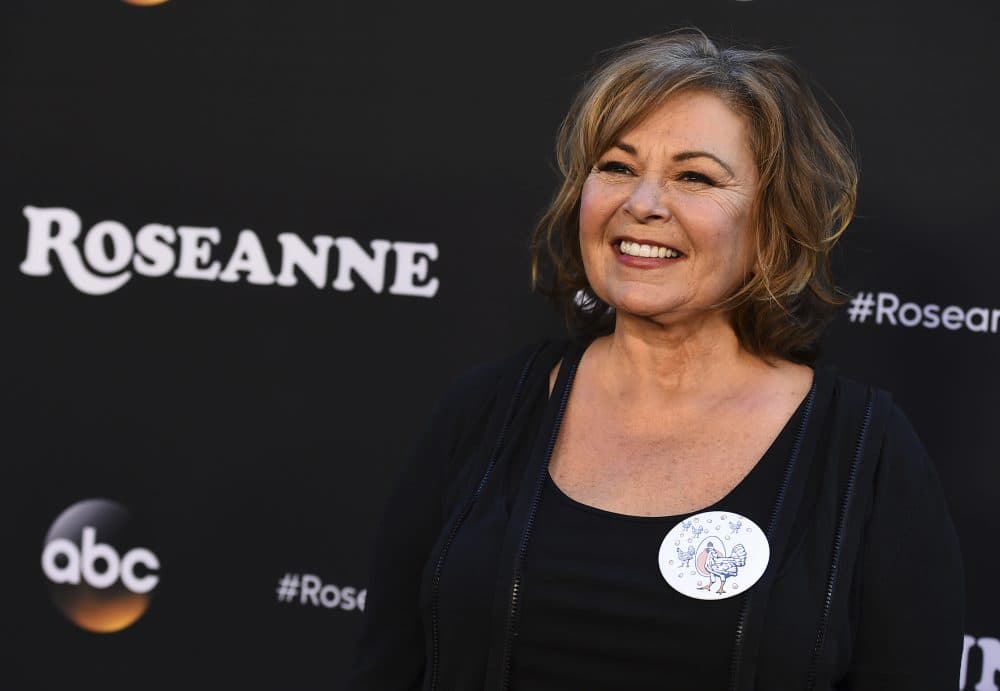 This article is more than 2 years old.
In the days ahead, a lot people are going to act surprised that Roseanne Barr went on a racist, vitriolic Twitter rant and torpedoed her own TV show.
It was a doozy of a tweetstorm and the lowlight was when Barr referred to former Obama White House adviser Valerie Jarrett as the progeny of the Muslim Brotherhood and apes. Within 24 hours of the racist tweet going live, ABC had pulled the plug and cancelled "Roseanne."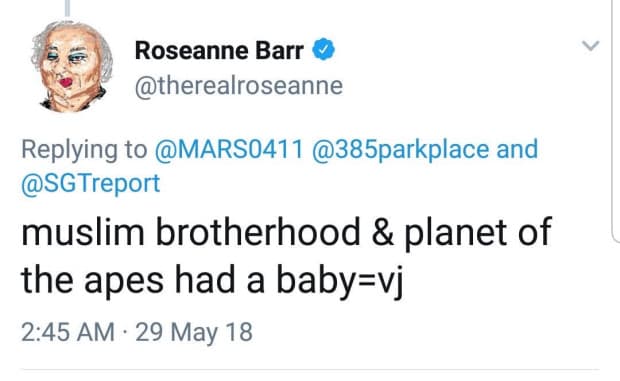 There is something rather baffling about Roseanne Barr's kamikaze meltdown. Even if you were already familiar with her track record of conflating black women with apes and comparing Muslims to Nazis — which, evidently, ABC executives were not — it's wild to watch a celebrity set fire to their primetime media platform, especially when that platform is massive enough to garner the attention spans of more than 25 million viewers, kudos from the president and a ton of money.
What kind of person would torch all of that by publishing a racist single tweet?
A coddled and enabled person. That's who.
The older version of the show, which ran from 1988 to 1997, didn't carry the same political baggage that the reboot arrived with. That's because it wasn't until recently when Barr allied herself with Donald Trump and began using her Twitter account to propagate stuff like the Seth Rich murder conspiracy theory and the alt right's ongoing fantasy that the liberal philanthropist George Soros is a Bond villain who sold out Jews to the Third Reich during the Holocaust.
So when ABC announced that "Roseanne" was coming back for modern audiences -- and that the character Roseanne would be written as a Trump supporter -- the narrative that quickly emerged was that the reboot would inject America's TV landscape with a highly visible primetime show that humanized more conservative viewpoints.
This is how a great deal of media coverage interpreted the show: as an act of televised diplomacy between everyone who voted for Hillary Clinton and everyone who voted for Trump. The reboot even tackled thorny issues like Islamophobia and immigration to further drive home the idea that "Roseanne" was resurrected to promote ideological reconciliation and tolerance in a politically polarized America.
If that alleged goal -- ideological tolerance -- sounds familiar, that's because a lot of writers, such as post-Trump New York Times hires Bari Weiss and Bret Stephens, have spent the last several months lamenting the marginalization of conservative voices and the way in which "intolerant" liberals often silence those whom they disagree with.
This premise hinges on the notion that the media landscape is liberal and biased. And it's on brand with NYT Opinion Editor James Bennet's rationale for adding conservative voices to the paper's op-ed section after the 2016 election. Bennet argues that the media landscape has a responsibility to elevate voices from both ends of the political spectrum. (Though curiously, the Times has yet to employ a single leftist columnist.)
Today's media landscape is comprised not only of major papers like the Times, but companies like ABC. The network's decision to invest in the "Roseanne" reboot — despite Roseanne Barr's allegiance with a controversial right-wing president — has been depicted as an act of natural political evolution. The idea here is that in bringing back her show, ABC wasn't endorsing Roseanne Barr's politics so much as amplifying them because a lot of people in America also harbor those politics.
The "Roseanne" reboot should never have made it out of the boardroom, but instead, it took off and enabled Barr's worst tendencies.
But the question nobody at ABC appears to have asked is how palatable or socially acceptable Roseanne Barr's politics actually are. Should a major network really amplify the voice of someone who uses their platform to foment support for a president known for mocking disabled people, stripping immigrants of their humanity, and calling for America to commit war crimes? Was it really that savvy for ABC to further enrich and empower a celebrity whose well-documented racist and transphobic beliefs only serve to worsen the pain and vulnerability felt by America's truly marginalized communities?
Roseanne Barr was fired for publishing a tweet that dehumanized Valerie Jarrett, but her history of contributing to the dehumanization of others -- through her support for Trump and her propagating of conspiracy theories — was not enough to disqualify her in the first place. The "Roseanne" reboot should never have made it out of the boardroom, but instead, it took off and enabled Barr's worst tendencies.
The "Roseanne" debacle is an embarrassment for ABC and an imperative for major networks to rethink getting into bed with prominent Trump surrogates for the sake of boosting ratings and reaching more conservative audiences. Tempting as it may be to write off Barr's tweetstorm as the ramblings of a fringe nut, the sentiments expressed in those recent tweets are implicitly expressed when Barr and her fellow Trump allies rally around the president during his most appalling moments. And those dark sentiments are shared by a great deal of Americans.
That doesn't make them worthy of broadcasting.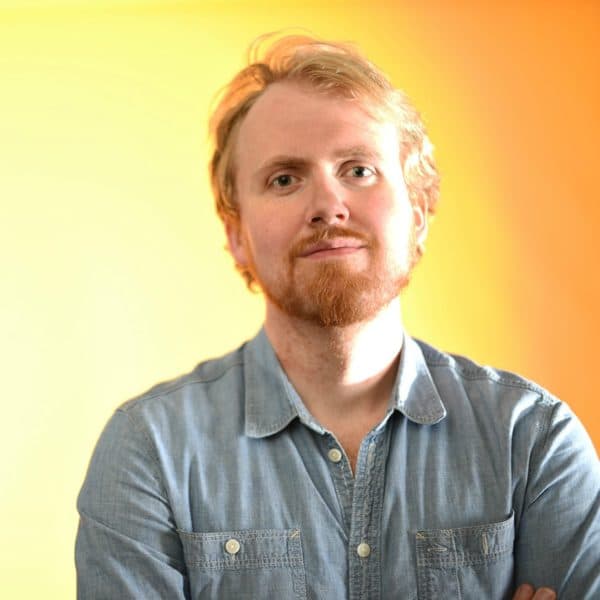 Miles Howard Cognoscenti contributor
Miles Howard is a freelance writer who covers culture, travel and transformational politics.