We Know How To Reduce The Number Of Women Who Die In Childbirth. Do We Have The Will?
On a recent visit to Sierra Leone, I met a lovely expectant mother named Susan Kellie. This was the fourth pregnancy for the 23-year-old with a shy smile, and she was sitting in the shade outside a maternal waiting home with other soon-to-be mothers. They had come because they lived far away and, once labor began, wanted to be near a clinic supported by Partners In Health, a global health nonprofit.
Kellie knows the importance of good care. She mourns the loss of a previous child, at a different clinic, and is doing all she can to keep this one — and herself — alive.
That's no small task. Sierra Leone has one of the world's worst maternal mortality rates. Nearly 1 in 17 women will die in pregnancy or childbirth, according to the World Bank. It's an abysmal statistic, especially when compared to the United States, where the rate is 1 in 3,800.
It's no mystery why maternal mortality is so high in Sierra Leone. With few other choices, most women give birth at home, where there is no electricity or running water. No sterile sheets or equipment. No doctor nearby, should complications arise. And no surgical ward or lifesaving medications, in case of obstructed labor or hemorrhaging.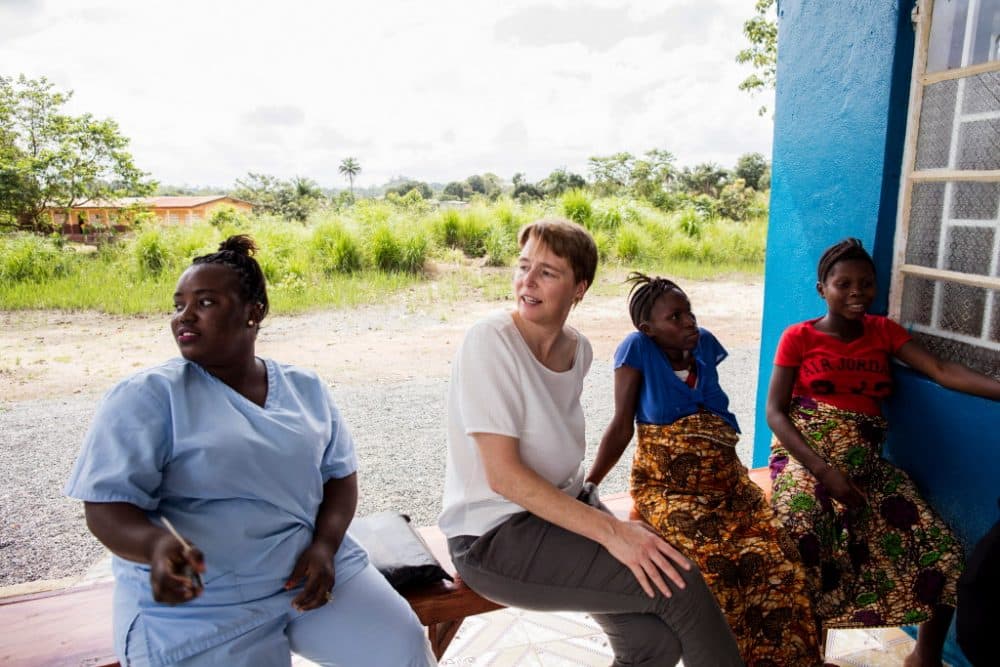 For Sierra Leonean women, pregnancy is a life-threatening condition. And they are hardly alone. More than 300,000 women around the world died due to complications related to pregnancy or childbirth in 2015, according to the Centers for Disease Control and Prevention.
Here in the United States, most women don't spend a lot of time thinking, "I hope I don't die in childbirth." It's not part of our day-to-day reality, any more than is dying from Ebola, malaria, or tuberculosis.
But that is false comfort.
Research shows that U.S. women run an outsized risk of dying in childbirth compared to other high-income countries. The New York Times, NPR and ProPublica, among others, have recently reported about the crisis. Black women are at especially high risk — being three to four times more likely to die during pregnancy or childbirth than white women.
The United States' maternal mortality rate places us behind countries including Saudi Arabia, Kazakhstan and Bosnia and Herzegovina — despite our possession of the world's most advanced and expensive health care system.
The reason why some women die in childbirth and others don't has nothing to do with biology or culture, and everything to do with apathy.
What I'm advocating for is not a miracle ... It's [a] system that values mothers and mothering.
We have the tools to reduce maternal mortality, to stop what my colleagues would call "stupid deaths," especially in poor countries like Sierra Leone. There is no need for high-tech inventions. The need simply is for everyday interventions — such as electricity, sterile birth kits, blood banks, medications to stop hemorrhaging, doctors trained to provide emergency cesarean sections and nurse anesthetists to assist in this most routine of operations.
We need community health workers who know when their neighbors are pregnant so they can accompany them to prenatal checkups, where complications are detected early. And we need waiting homes where expectant mothers, many of whom live far from health facilities, can stay to be near trained professionals when labor begins.
What I'm advocating for is not a miracle. It's a health system that patients can rely on for quality, reliable care. It's also a system that values mothers and mothering. We need both for humane maternal care — and that's true from the poorest to the richest nations in the world.
After meeting Kellie, I walked through the newly renovated Koidu Government Hospital, which also is supported by PIH. I passed through sections dedicated to labor and delivery. Nearby, an operating room stood open 24 hours a day, seven days a week, for emergency C-sections. I ended my tour in the recovery ward, where new mothers cuddled healthy infants.
None of these sections were fully functioning when PIH arrived at the height of the Ebola epidemic in 2014. Thankfully, for mothers like Kellie, they are now.
After returning home to Boston, I learned that nurses escorted Kellie from the maternal waiting home to the government hospital. Her labor wasn't progressing properly, and doctors knew they had to act quickly. She was admitted and prepped for surgery. Soon thereafter, a surgeon performed a cesarean section and delivered Kellie's healthy baby into her arms.
Since 2016, in the government-related hospitals PIH works with in Sierra Leone, births have increased 15 percent, neonatal deaths have dropped significantly and the waiting time for a C-section has dropped from a peak of 16 hours to just 45 minutes.
Think of what more could be done — there and in every nation where women risk their lives by giving life.