The Cynical Charade That Is The White House Press Conference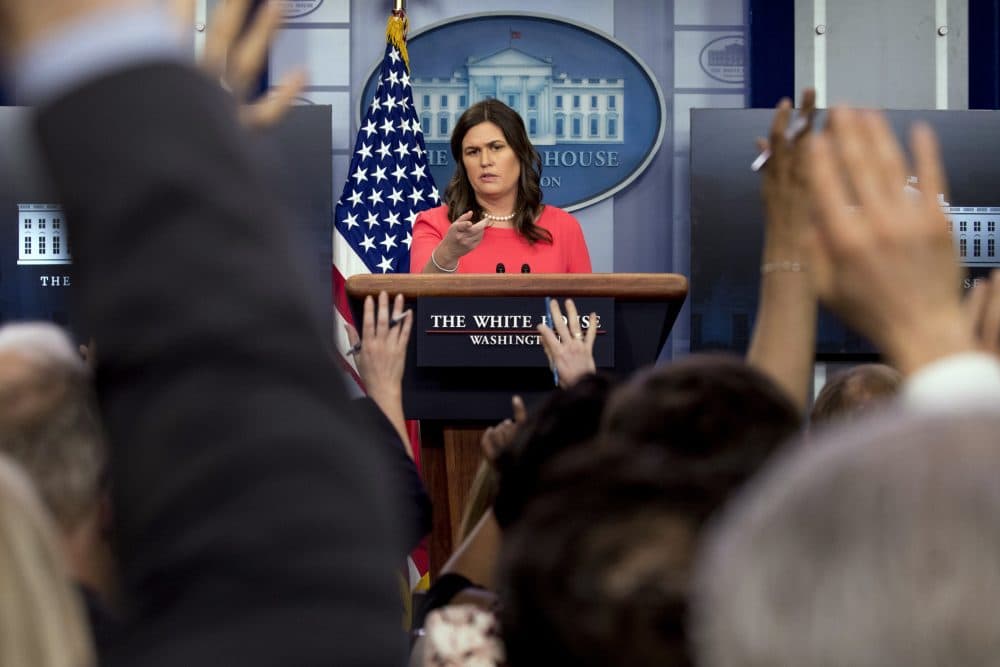 This article is more than 4 years old.
Let's start with a statement of fact: as president, Donald Trump has held a grand total of one solo press conference. It took place three weeks after his inauguration.
By way of comparison, Obama held 17 solo press conferences in his first two years. Bill Clinton held 27. Franklin D. Roosevelt held 154.
Simply put: Trump has been hiding from the press, hiding from questions he might face about his habitual lies, his sleazy EPA administrator, his unconscionable immigration policy, which separates babies from their mothers, his plutocratic tax cut, which has enriched executives and put Americans out of work.
Trump prefers to use communication channels — Twitter, Fox & Friends — that allow him to blast out his agitprop without the risk of being held accountable in real time.
Confronted over and over again about Trump's lies, [Sarah Huckabee Sanders] has transformed herself into an Orwellian figure.
He delegates that unpleasant task to his press secretary, Sarah Huckabee Sanders, who has become the public face of a leader increasingly isolated by corruption and cowardice.
Sanders, in turn, has abandoned the pretense of responding truthfully to questions from the press. Confronted over and over again about Trump's lies, she has transformed herself into an Orwellian figure. The bigger the lie, the more indomitable she becomes.
On Monday, her own deception came back to roost. Specifically, she was asked by a reporter about her claim that the president had nothing to do with drafting a false statement about his son's infamous Trump Tower meeting with Russians.
As a reminder, this was the gathering at which the younger Donald Trump — along with Trump's campaign manager and son-in-law — showed up hoping to receive dirt on Hillary Clinton. It represented an attempt by the Trump campaign to collude with America's chief foreign adversary.
The president's various lawyers now admit that Trump himself did cook up that false statement aboard Airforce One.
And thus, Sanders was asked the following question: "How can we believe what you're saying from the podium?"
The simple answer (which everyone in that room already knew) is that Sanders can't be believed. Her daily briefings are nothing more than staged events meant to promote the fantasy that Trump is the greatest leader in the history of mankind, the most honest, the most intelligent, the most intrepid.
The fact that reporters are now openly challenging official lies and evasions shouldn't be mistaken for moral progress. After all, reporters attend the daily press briefing not in pursuit of truth, but of ratings.
The more attention we give to Sanders, the more power she acquires.
The very presence of Sarah Sanders on the national stage amounts to a cynical charade, one that mimics the ascent of Trump himself. (Remember when he was just a fringe candidate with no coherent ideology beyond race baiting?)
The more attention we give to Sanders, the more power she acquires. Ultimately, this redounds to us, as media consumers. The more we focus on her daily parade of lies and evasions, the less we focus on stories that reveal the truth about this administration's cruel and disastrous policies.
I get how tempting it can be to hate-watch Sanders. It's a guilty pleasure right up there with reality TV.
But the goal of our democracy isn't to provide us entertainment. It is, in the words of Teddy Roosevelt, "to equalize opportunity, destroy privilege, and give to the life and citizenship of every individual the highest possible value both to himself and to the commonwealth."
That's only going to happen if we turn away from shameless propagandists and take charge of our own political destiny.