No, Melania Trump Isn't Trolling Her Husband — And She Isn't Moderating Him Either
This article is more than 4 years old.
Why, oh, why would anyone turn to Melania Trump as a model of an independent woman resisting her rogue husband? Yet exactly this meme has made it into print this past week in two of the country's foremost newspapers.
On Aug. 21, in The Washington Post's Daily 202, a column that purports to send along one "big idea" a day, James Hohmann based a headline on this claim, "Melania Trump declares her independence, again, with solo Africa trip."
The first lady had just announced a visit to Africa, and used the expression "global society" twice. In what world do these two actions, taken together with an anti-cyberbullying event, add up to independence? Has the bar for what constitutes female independence fallen so low?
Frank Bruni weighed in for the New York Times on the same day, hyping the notion that "Melania Trump could be our greatest first lady." You could read his column as tongue-in-cheek until he said he bought into the idea that she's somehow "trolling" her husband — acting out her estrangement in coded ways that suggest she has an independent spirit and a willingness to use it to undermine him.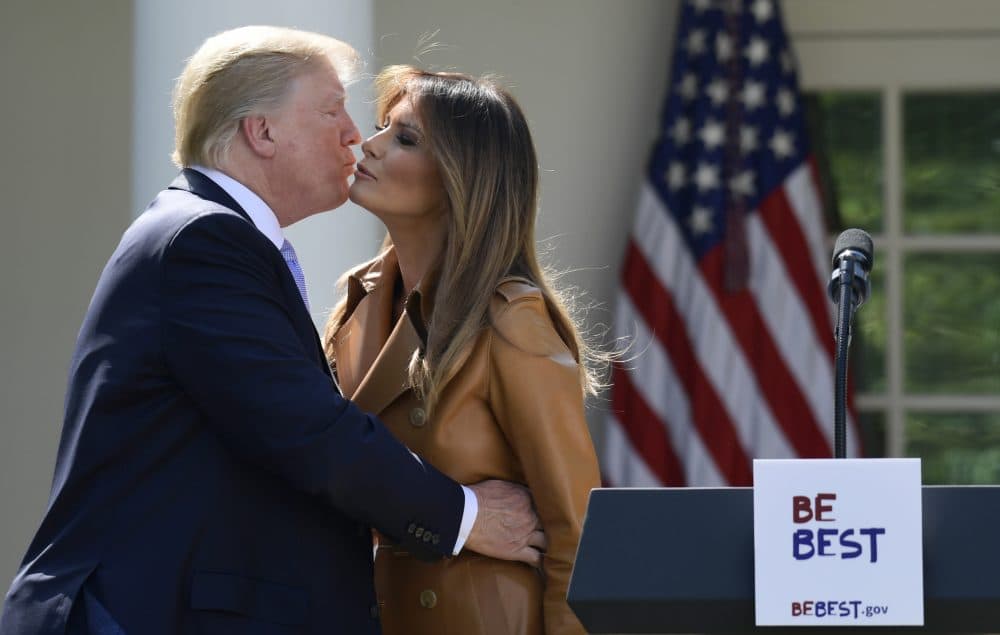 Both Hohmann and Bruni are closer to Washington gossip than I. So they might know something that an outsider cannot. In the absence of anyone but Mrs. Trump holding certain knowledge (though she could be as uncertain of her reasons for doing stuff as anyone), I find myself coming to a very different conclusion.
I grant you, like many news consumers, I believe that the first lady shows little public pleasure in her spouse. Perhaps that's incorrect, and she's more or less content. My own fantasy is that she had almost made it through the terms of her prenuptial contract and was readying to leave him and enjoy her settlement, when he unexpectedly won the election. Either all his squirrelly aides threatened about what would happen if she indeed departed, or they tried to appeal to her sense of loyalty and some imaginary greater good. Either way, by this hypothesis, she ended up as more or less trapped.
Why, oh, why would anyone turn to Melania Trump as a model of an independent woman resisting her rogue husband?
Let us pause here and get our terms straight:
"Independent woman" — Since 1879, when Henrik Ibsen first staged "A Doll's House," we've known that an independent woman who wants out of a marriage (and is not being physically terrorized by domestic violence) does three things: she takes off her wedding ring, she leaves and then she closes the door behind her. Period.
"Great first lady" — When I was a child, I remember my mother telling me how formative for her it had been to witness Eleanor Roosevelt renounce her membership in the Daughters of the American Revolution in 1939 when the group refused to allow the African-American singer Marian Andersen to perform in Constitution Hall in Washington, D.C. (The DAR didn't allow any black Americans to perform in their building.) For my mother, Roosevelt's action represented a firm show of principle. She wanted me to understand that decent people must not tolerate bigotry of any sort.
Back to Melania: To visit Africa in 1879 might have been bold. Perhaps even in 1939. But in 2018 to claim it as "independent" is nothing short of pathetic.
Let's be clear: Melania Trump's own public record to date includes parroting the utterly vile "birther" lie about Obama on a talk show; claiming to have written a speech that contained lines plagiarized from Michelle Obama; and dealing with her husband's immigrant debacle by saying that she herself, "followed the law" and that it's what people ought to do. She later visited the Mexico border wearing the infamous "I really don't care, do u?" jacket.
If you read Evgenia Peretz's extensive profile of Melania, published last year in Vanity Fair, you will find little evidence that the first lady is other than a very private woman with few interests, who, according to one of Peretz's sources, speaks only "when spoken to." A journey of 1,000 miles starts with a single step, but has she taken one?
Let me pose a second possible explanation of her behavior: The Republican Party is desperate that it's hemorrhaging women voters, and that its racism has alienated just about every person of color in America as well as so many of us Caucasians — or whatever we claim we are.
Has the bar for what constitutes female independence fallen so low?
While the president rants ever more wildly to keep his base glued to him, his and her advisers have urged her to take a few initiatives that they can label as independent and tolerant, so they can hold her up as a strong and decent female. Not only that, the party can then — as they love to — have it both ways. The president can act despicably, and she can walk back the outrage emanating from the White House by behaving like a less toxic person. As her appropriate tweet after John McCain's death illustrates, her current public role is as her husband's "better half."
Am I selling her short? I hope so. I would love to believe that she's seriously willing to subvert the cruel and dishonest man to whom she's married. But so far that fantasy seems beyond far-fetched.