You Can Call John McCain An American Hero. But He Played A Role In The Rise Of Trump
This article is more than 4 years old.
John McCain was a complex politician who took principled stands on issues like torture while also supporting bills that worsened wealth inequality and climate change. He was a traditional Republican senator who occasionally crossed the aisle to vote with Democrats and frequently castigated leaders of his own party whenever he felt that something stank.
And of course, no Republican figure incurred the wrath of John McCain more than Donald Trump, who insulted McCain's suffering and courage as a POW in Vietnam and sparked a years-long feud between the two men.
So it's no surprise that McCain's funeral was attended by virtually every elder statesman to have presided over American politics during the last few decades. The Obamas, the Bushes, the Bidens and many of their colleagues turned out to pay their respects to the late Senator.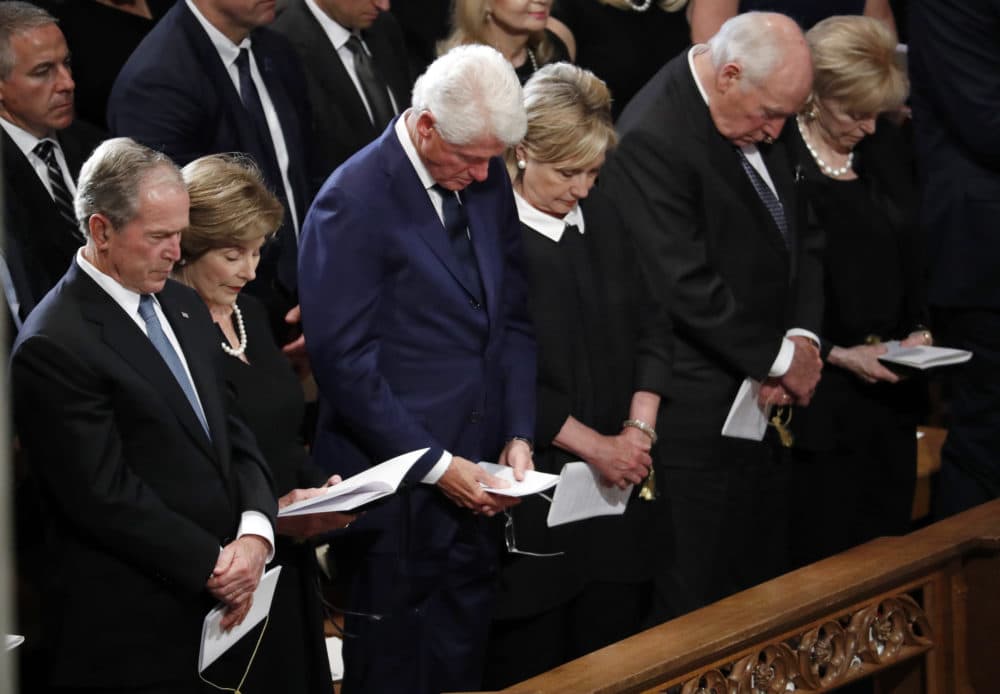 If there was one theme that cast the funeral in holy light, it was the dream of classical American decency. John McCain's war-of-words with Trump — a Vaudeville-style vulgarian — transformed McCain into a #Resistance hero during his final years in office. By virtue of merely criticizing the president when most of his fellow Republicans clammed up, McCain became a vessel for the beltway establishment's fantasy of a more civil, by-the-book kind of American politics.
In other words, the political elite saw John McCain as the embodiment of hope that Trump's reign of incivility will be temporary, and that when it's over, things will return to the way they once were.
And no moment during the funeral captured this sentiment more palpably than the coup de grace of Meghan McCain's eulogy for her father.
"The America of John McCain has no need to be great again," she said through tears. "Because America was always great."
At this line, the crowd burst into applause.
If the past week's media coverage of McCain as "saintly" is any evidence, this particular moment of the funeral will be relentlessly discussed and framed as a moment of recognition for McCain's ironclad principles. And those principles — which will evade any language of specification — will be presented as the natural antidote to the "unprecedented" crassness and cruelty of Trumpism.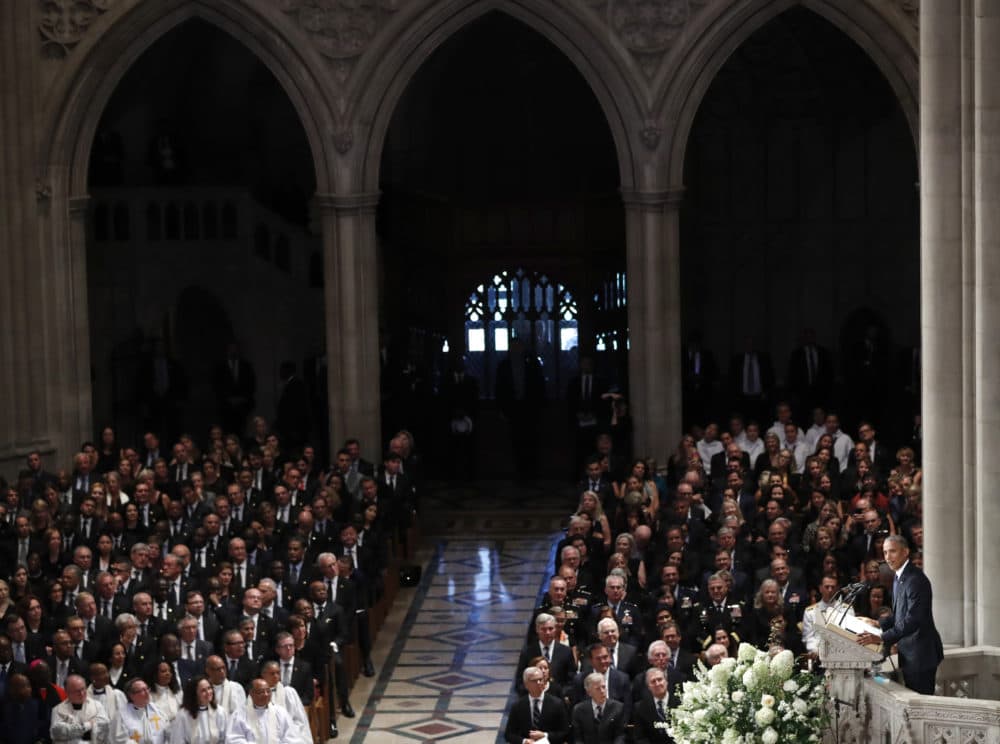 What McCain's elite mourners won't acknowledge is the hard reality that America's political establishment — including McCain himself — created President Trump.
Let's start with the Republican Party, which for decades knowingly appealed to racist white voters as a means of substantiating its power. This electoral playbook is best known as "the Southern Strategy," and it shaped the presidential campaigns of both Bushes and even John McCain's 1999 primary run. But by 2008, the Southern Strategy had become unpalatable enough that the Republican Party needed a subtler means of exploiting racial polarization for political gain. And they found it in voter ID laws, which have suppressed the votes of people of color and Millennials.
It's estimated that nearly 17,000 people in Wisconsin were deterred in the 2016 election by the state's new ID law — and those are people who tried to vote and were denied the right. One has to wonder how many stayed home knowing they'd be barred? (As a reminder, Trump carried Wisconsin by about 23,000 votes.)
To watch Republican figures like President George W. Bush lionize John McCain as the antithesis of Donald Trump is to witness a public figure absolving themselves of any responsibility for the rise of Trump.
But the Democrats also played a substantial role in paving the road for our current president. Decades of increasingly neoliberal policy making — tailored to the whims of more conservative swing voters instead of the Democratic Party's working class base — transformed the party into a cabal of Ivy League-educated technocrats who bought into Margaret Thatcher's treatise that when it comes to modern politics and society, "there is no alternative." Ideas such as universal healthcare became somehow unthinkable.
This abandonment of big ideas and bold thinking made life harder and more perilous for tens of millions of people in America. Many of us who haven't yet been swallowed by poverty are one accident away from getting eaten by it. The massive discrepancy between America's ballooning costs of living and its stagnating wages has eclipsed the future for the underprivileged.
In a climate like this, big ideas and bold thinking are the trick to getting people to care about politics again. Donald Trump took advantage by offering his supporters a big, bold idea steeped in racism, misogyny and fascism. None of the beltway elites — not even the great "maverick" John McCain — offered any counter-ideas as persuasive. Sure enough, Trump took the presidency. And there's been almost no substantive push-back on his policies from the vast majority of Republican officeholders.
If the establishment figures who lament the loss of McCain were merely private citizens, their lack of self-reflection would be easier to shrug off. But these illustrious men and women shape the policies of both major parties, as well as the political narratives that play out in the mainstream media. And even today, when "fake news" is a topic of concern on both sides of the aisle, the myth of John McCain — the fiction that he was a stalwart warrior against the forces of Trumpism — has somehow managed to afflict our political discourse.
This needs to change. If we truly want to bring an end to the reign of Donald Trump, we cannot make the mistake of buying into the beltway establishment's revisionist history and putting its figureheads back in charge. The establishment brought us here — to this precipice between democracy and kleptocracy.
And the establishment has refused to accept this.